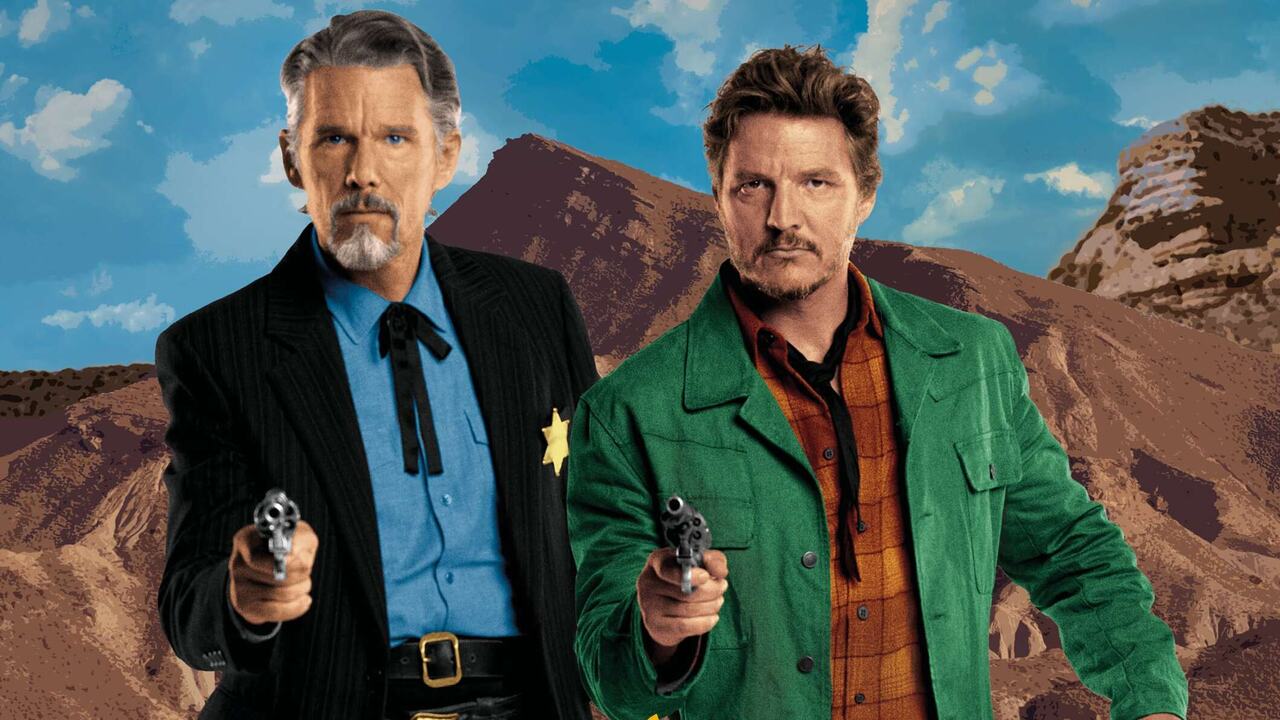 Pedro Almodóvar is one of the most acclaimed and influential filmmakers of our time, known for his colorful and provocative stories that often feature strong female characters and explore themes such as sexuality, identity, and desire. In his latest work, Strange Way of Life (Extraña forma de vida), he ventures into a new genre and a new format: a Western short film that stars two men, Ethan Hawke and Pedro Pascal, as old friends and former lovers who reunite after 25 years. The film, which premiered at the Cannes Film Festival in 2023, is a co-production between Almodóvar's El Deseo and Saint Laurent, whose creative director Anthony Vaccarello also designed the costumes. In this review, I will analyze the plot, the characters, the style, and the message of this intriguing and touching film.

The film is set in Bitter Creek, a small town in the American West, at the dawn of the 20th century. Sheriff Jake (Ethan Hawke) is a blond, stern, and cold man who has dedicated his life to maintaining order and justice in his community. One day, he receives a visit from Silva (Pedro Pascal), a Mexican rancher who was his childhood friend and his first love. They haven't seen each other since they parted ways 25 years ago, after a violent incident that marked their lives. They celebrate their reunion with drinks and stories, but the next morning, Jake reveals to Silva that he has a terminal illness and that he wants him to help him end his life. Silva is shocked and refuses to comply with Jake's request, but Jake insists that he owes him this favor as a friend and as a lover. Silva then agrees to accompany Jake to a secluded spot in the desert, where they plan to carry out Jake's wish. However, on their way there, they encounter some obstacles that will test their bond and their resolve.

Another thing I love about Strange Way of Life is its portrayal of queer love. The film shows that queer love is just as real and passionate as heterosexual love. Silva and Jake's love for each other is palpable, and the film does a beautiful job of capturing the intensity of their passion.

I believe that Strange Way of Life is a worthwhile film. It is a visually stunning and emotionally resonant meditation on love, loss, redemption, and the depths of masculinity. The film is also a significant step forward for queer representation in cinema.

Strange Way of Life is a film that challenges the conventions and stereotypes of the Western genre, which is traditionally associated with masculinity, violence, and heroism. Almodóvar subverts these elements by introducing a queer romance between two men who have different personalities, backgrounds, and values. He also explores the themes of friendship, loyalty, regret, and death with sensitivity and nuance. The film is not only a homage to the classic westerns of John Ford or Sergio Leone but also a tribute to Brokeback Mountain by Ang Lee, one of the rare examples of a queer love story in cinema that inspired Almodóvar. The film also references a Portuguese fado song by Amália Rodrigues that gives the title to the film and expresses the melancholy and passion of the protagonists.

The film benefits from the outstanding performances of Ethan Hawke and Pedro Pascal, who convey the complex emotions and the chemistry of their characters with subtlety and intensity. Hawke plays Jake as a man who is haunted by his past and who wants to end his suffering with dignity. Pascal plays Silva as a man who is warm-hearted and loyal, but who also has a rebellious streak and a sense of humor. They both wear costumes designed by Vaccarello that reflect their contrasting styles: Jake wears a black suit with a green tie, while Silva wears a green jacket with a red scarf. The costumes also create a visual contrast with the arid landscape of Almería, where the film was shot by Almodóvar's longtime collaborator José Luis Alcaine.

The film is 31 minutes long. However, I think that Almodóvar manages to create an effective and impactful narrative that leaves room for interpretation and imagination. The film does not provide easy answers or clichés for its protagonists or its audience. Instead, it invites us to reflect on the meaning of life and love in a strange way.

Strange Way of Life is a remarkable film that showcases Almodóvar's talent and versatility as a filmmaker. It is also a beautiful and poignant film that celebrates the power and diversity of love in all its forms. I highly recommend it to anyone who appreciates cinema as an art form and as an expression of human emotions.

Final Score – [7/10]
Reviewed by - Arpita Mondal
Follow @ArpitaMond33387 on Twitter
Publisher at Midgard Times