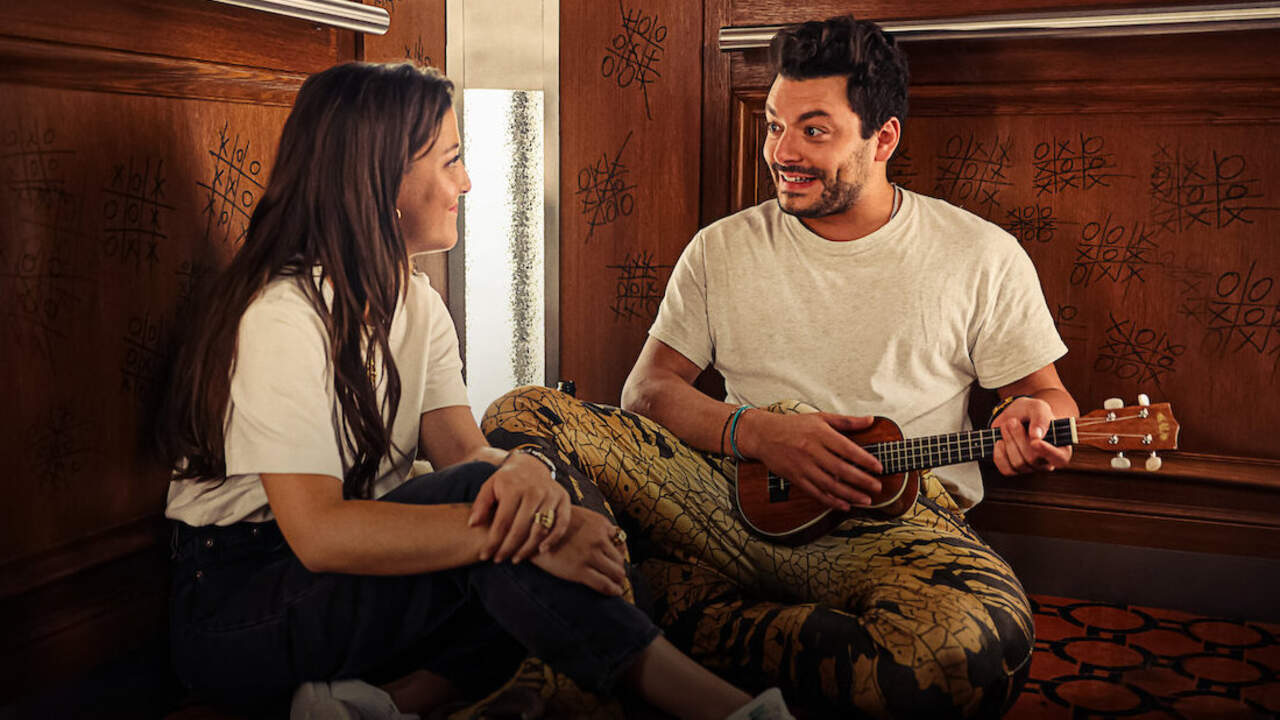 In Frank Bellocq's new film Stuck with You, two strangers, on their way to a party, get stuck in an elevator. Considering it's New Year's Eve and the strangers - Gael (Kev Adams) and Hannah (Camille Lellouche) - are fairly attractive, it's no surprise that these two will eventually fall in love with each other. But before reaching that point, the gap between them will be filled by sad and joyful reminiscences.

Whenever Gael or Hannah tell their story, the elevator door either opens or the walls around them break down and transport them inside the memory. In one of them, a young Gael is humiliated by his cousins. In another one, Hannah has sex with a co-worker in her office. Then there is a tragic recollection regarding an accident. The more intimate details are dispensed, the more the characters come close to one another. At first, they are joined physically and visually through the sight of both of them packed in the elevator. In the end, they are also emotionally connected.

Stuck with You is a "designed" film. Meaning: Each detail is deliberately manipulated to make Gael and Hannah a couple. For instance, Hannah is about to break up with her boyfriend, and later, Gael finds out that his girlfriend is cheating on him. That last information arrives just when he praises her for sticking with him. By removing their respective partners, the movie only clears the way for Gael and Hannah to associate romantically. Furthermore, the elevator operator informs them that a repairman cannot come before 8 am the following day (all of them are busy). It all proceeds as expected. That's why don't be shocked if I tell you that the elevator is fixed just when Gale and Hannah realize they want to be together.

The humans in Stuck with You prove to be useless in assisting Gale and Hannah. One of Gale's friends tumbles and passes out, while a kid cons them by making an empty promise. So the duty to save them falls on a cat. It's interesting how an animal, whose characteristics are distinct from humans, understands Gale and Hannah's trouble and rescues them. This quality of a stranger aiding another stranger can be found in the scenes between Gale and Hannah. These two help each other recognize their flaws and strengths and, in the process, become better and receive the motivation to come out of their inconveniences by making the right decisions (Gale sees his girlfriend is not suitable for him and so breaks up with her).

The real reason why Stuck with You works is that it has wonderful lead actors. Adams and Lellouche sell the cliché by infusing their characters with magnetism. You like watching them and their reactions as they respond to each other's story and their condition. Stuck with You runs for 59 minutes. It's sweet and short and doesn't overstay its welcome.

Final Score- [6.5/10]
Reviewed by - Vikas Yadav
Follow @vikasonorous on Twitter
Publisher at Midgard Times