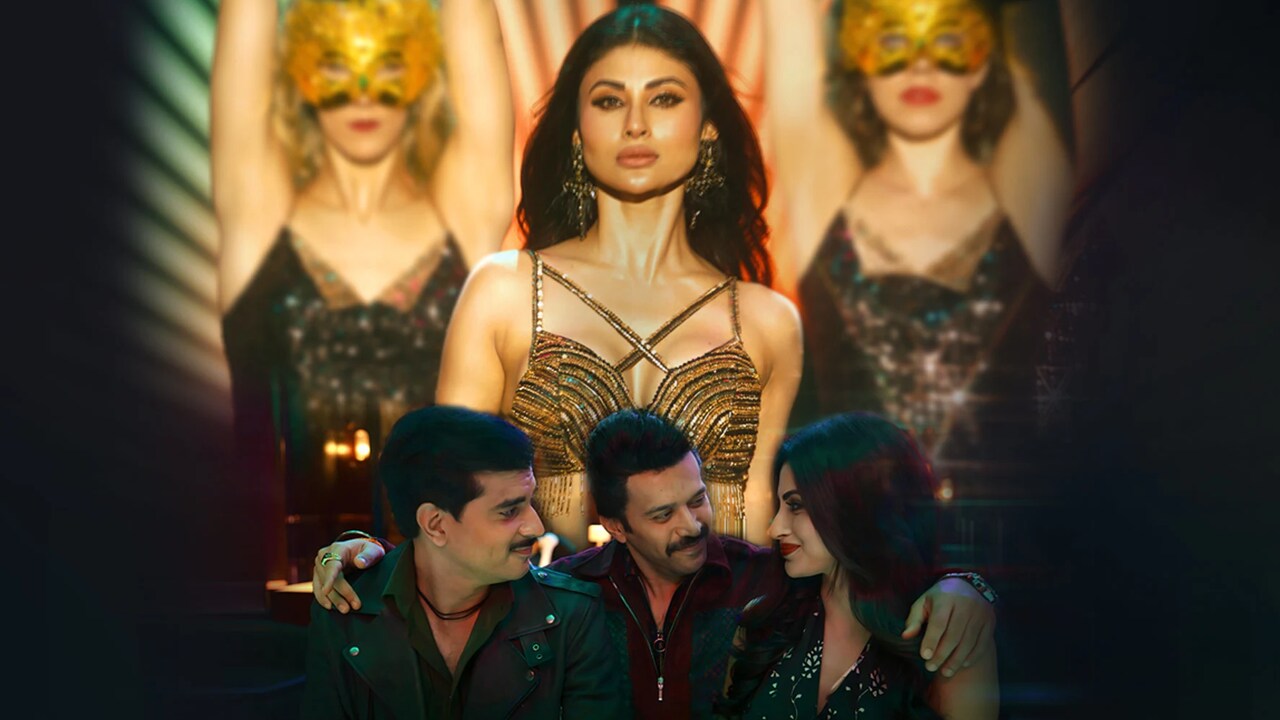 There is a scene in Sultan of Delhi, directed by Milan Luthria and Suparn Varma, where Arjun (Tahir Raj Bhasin) gets naked in front of Farooq (Anil George) and a woman. When the three of them stand close to each other, you wonder whether the scene will cut to their threesome. Mind you, this moment is not meant to be funny. Still, such amusing thoughts keep popping up in your head frequently while watching Sultan of Delhi. Luthria and Varma have inserted friendship, betrayal, romance, and loyalty into the crime thriller territory. There are guns and goons and ladies. The period setting combined with poetry allows characters to say lines, "Dil ke kitaab ke saare panne jhoote nikle." But such lines don't sound poetic. The actors speak with a lifeless inflection, and as soon as they open their mouths, we almost always feel like laughing. No wonder they all look like amateurs. When someone like Bhasin can look like a puppet desperately exerting himself to appear "authentic," how can other actors save this shoddy series? Everyone, in their expensive suits, behaves and poses like a mannequin and fires bullets at each other when not trying to look like eye candy.

You suspect Sultan of Delhi will turn out to be yet another low-grade offering from a streaming service as soon as Arjun delivers his line in the beginning. Bhasin tries to be respectable, but his efforts get wasted due to the inept filmmaking. Did the actors not properly rehearse their lines? Why does it seem as if they are uttering words learned by rote just minutes before the shooting? The dialogues are not made exciting. They are just plainly delivered to hand out information to the audience. Forget dialogue; why is there no spark in the images or the story? We chuckle when a man stabs someone to retrieve a key from inside him, and it's very awkward - no, make that painful - to watch that entire airplane sequence. The soul of Sultan of Delhi lies in the relationship between Arjun and Bangali (Anjum Sharma). They are not just friends but brothers who can die (or stir up trouble) to protect each other. Their eventual enmity, including that train scene, should have been heart-wrenching. Yet, nothing about their bond comes across as special, and you never care about their condition. When the "soul" itself is empty, how can other aspects shine brightly?

Arjun develops feelings for Sanjana (Mehreen Pirzada) and Nayantara (Mouni Roy). His heart breaks into a million pieces when he loses the former. He shows affection towards the latter. The romantic angle, however, is devoid of romance. Sanjana and Nayantara are nothing more than good-looking cardboard cutouts (everyone is a cardboard cutout here). Pirzada walks around with her vanilla prettiness; her part is lesser than Nayantara's clothes, which she wears during her club performance. The women in the Sultan of Delhi are only required to be attractive. Anupriya Goenka, as Shankari Devi, does the job of a femme fatale here, and apart from seducing Rajender (Nishant Dahiya), she wears an evil smile on her face. How bad is she? When she introduces herself to Sanjana, the soundscape is filled with the devilish cackle of a woman. Despite looking like an important player, she receives an underwhelming conclusion, making her as disposable as the rest of the female characters. This is why all the threads and the relationships connected to the women come across as ineffectual.

Sultan of Delhi is based on Arnab Ray's book Sultan of Delhi: Ascension, and it's difficult to comprehend why the directors were attracted to this novel, so much so that they created a series out of the pages. Was it the profession of the characters or the period setting, as Luthria has made movies like Baadshaho and Once Upon a Time in Mumbaai? Then again, the series is so bland and unoriginal that a material like this could easily be derived from the movies. Only Luthria and Varma know why they took the help of Ray's book for this series. As far as we can see, their adaptation is uninteresting and weak. The life of the criminals in Sultan of Delhi is neither alluring nor repulsive. Is the "neutral gaze" intentional or a result of anemic filmmaking? A diamond smuggling mission is so generic that you don't bite your nails in trepidation when the police search Arjun and Bangali. One can notice traces of creativity during a bank robbery disguised as film shooting, but the execution is soporific. What else can you expect from a series where characters discuss theft in front of a shopkeeper? It's impossible to take this show seriously.

Some characters, like Arjun's father (Bijay Anand) and Preeti (Harleen Sethi), disappear for long stretches of time, only to pop up again later, like a reminder that they still exist. We sense that Sultan of Delhi has no idea what to do with these characters. Arjun's father is shooed away like a bug, and Preeti simply smiles and looks thoughtfully at Arjun. They are almost nonexistent. Rajender is your usual easy-to-hate villain. Lazy filmmakers come up with such bad guys when they want the audience to regard someone with total contempt. In an imaginatively bankrupt show like this, the style, too, becomes a casualty, like those goons who wear police uniforms and stop Arjun and Bangali. The lighting is flat, and the background resembles an unused studio set. The world of Sultan of Delhi is as dry as dust. Hence, it makes sense that colorless characters live in this environment, and one of them wants to rule over this place, which looks fake.

Final Score- [3/10]
Reviewed by - Vikas Yadav
Follow @vikasonorous on Twitter
Publisher at Midgard Times