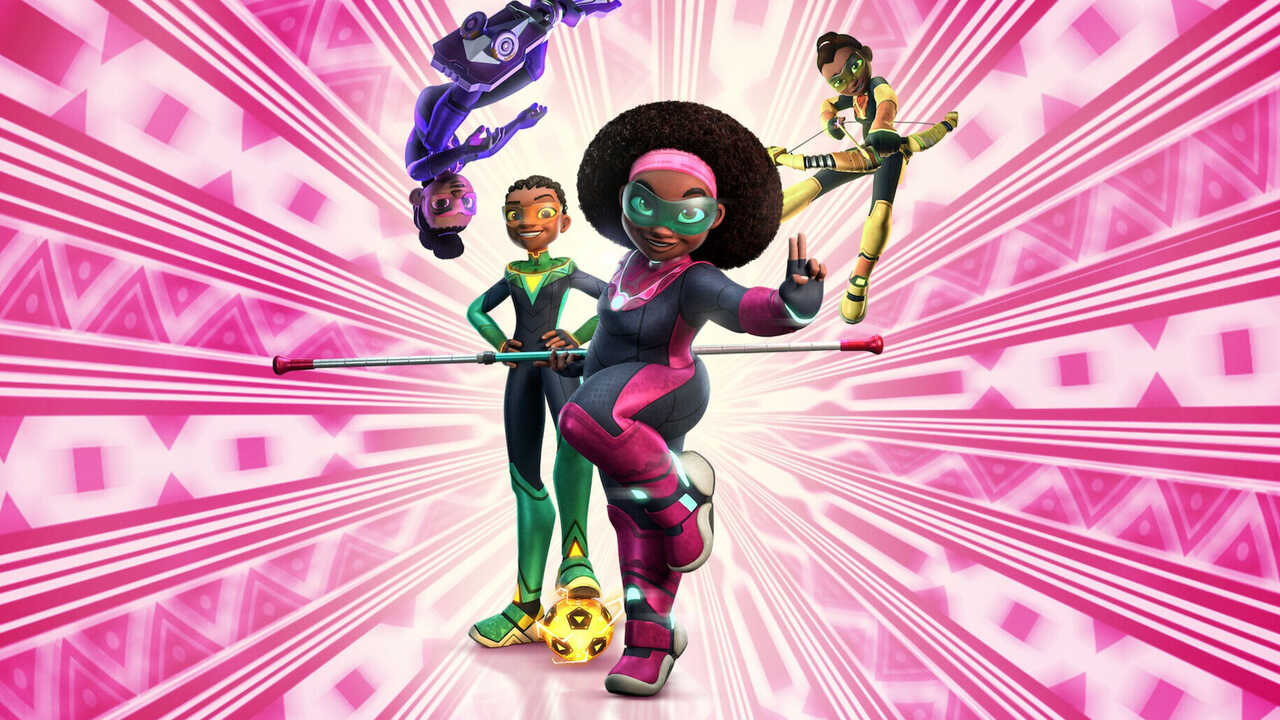 Supa Team 4 is a groundbreaking animated series from Netflix that showcases the diversity and richness of African culture. It follows the adventures of four teenage girls who use their superpowers to fight evil and have fun. The show features talented voice actors such as Zora Ngwaba, Namisa Mdlalos, Kimani Arthur, and Nancy Sekhokoan as the main characters, as well as Pamela Nomvete and John Macmillan in supporting roles. Supa Team 4 is a refreshing and empowering show that defies the stereotypes of Africa in mainstream media and appeals to audiences of all ages.

The show follows the adventures of four teenage girls who have superpowers and fight crime in Lusaka, Zambia. They are Zee, Monde, Temwe, and Komana, and they work for Mama K, a former spy who runs a salon as a cover. She gives them special suits that enhance their natural talents and help them fight the baddies. They also have to deal with their schoolwork, their personal problems, and their secret identities.

The show has eight episodes, each one with a different adventure and a different lesson for the girls. They have to learn how to work as a team, how to balance their personal lives and their superhero duties, and how to use their powers responsibly. They also have to face a mysterious masked villain who wants to destroy Lusaka with a powerful substance called Zambinite. He also seems to have a connection to Mama K's past. Who is he? What does he want? Will the girls stop him? The show ends with a cliffhanger that sets up a second season.

The show is not only fun and action-packed but also culturally rich and diverse. It showcases the beauty and diversity of Africa and challenges the stereotypes that often plague African representation in media. It also incorporates elements of African folklore and history, such as the legend of Nyami Nyami, the Zambezi river god.

I felt that the show is too formulaic and predictable. Each episode follows the same structure: the girls get a mission from Mama K, they face a villain who has a connection to Zambinite, they overcome their personal issues and work together to defeat the villain, they return to Mama K's salon and celebrate. There is not much variation or surprise in the plot. For example, in episode 2, the girls have to stop Alley-Gator from stealing Zambinite from a museum, but they end up causing more damage than him. In episode 4, they have to stop Storm Drain from creating a tornado with Zambinite, but they end up making it worse.

Though the show mainly targets teenage audiences, the show is too simplistic and childish. The villains are not very threatening or complex, and their motives are not well explained. The girls' powers are not very original or creative, and they seem to have no limitations or drawbacks. The humor is often corny and juvenile, and the dialogue is sometimes cheesy and clichéd. For example, in episode 3, the girls have to stop Locust Pocus from unleashing swarms of metal bugs with Zambinite, but they end up befriending them instead. In episode 6, they have to stop Professor Greenthumbs from turning everyone into trees with Zambinite, but they end up joining her cause instead.

The show seemed too rushed and underdeveloped. The episodes are too short to explore the characters' backgrounds, personalities, relationships, and motivations. The show does not give enough time to develop the main villain or his plan, and the finale feels anticlimactic and unresolved. For example, in episode 1, we barely get to know the girls before they get their suits and become superheroes. In episode 8, we finally meet the masked villain who reveals himself to be Lee Magedzee, owner of Magedzee Power Corporation, but we don't know why he wants Zambinite or what he plans to do with it, this really annoyed me.

If you're looking for a new show to binge on Netflix, you might want to check out Supa Team 4, the first African animated series on the platform. No matter the flaws, I have to admit It's a refreshing and enjoyable show that offers a new perspective on the superhero genre. It has a lot of potential to grow and improve in its future seasons.

Final Score – [6/10]
Reviewed by - Arpita Mondal
Follow @ArpitaMond33387 on Twitter
Publisher at Midgard Times