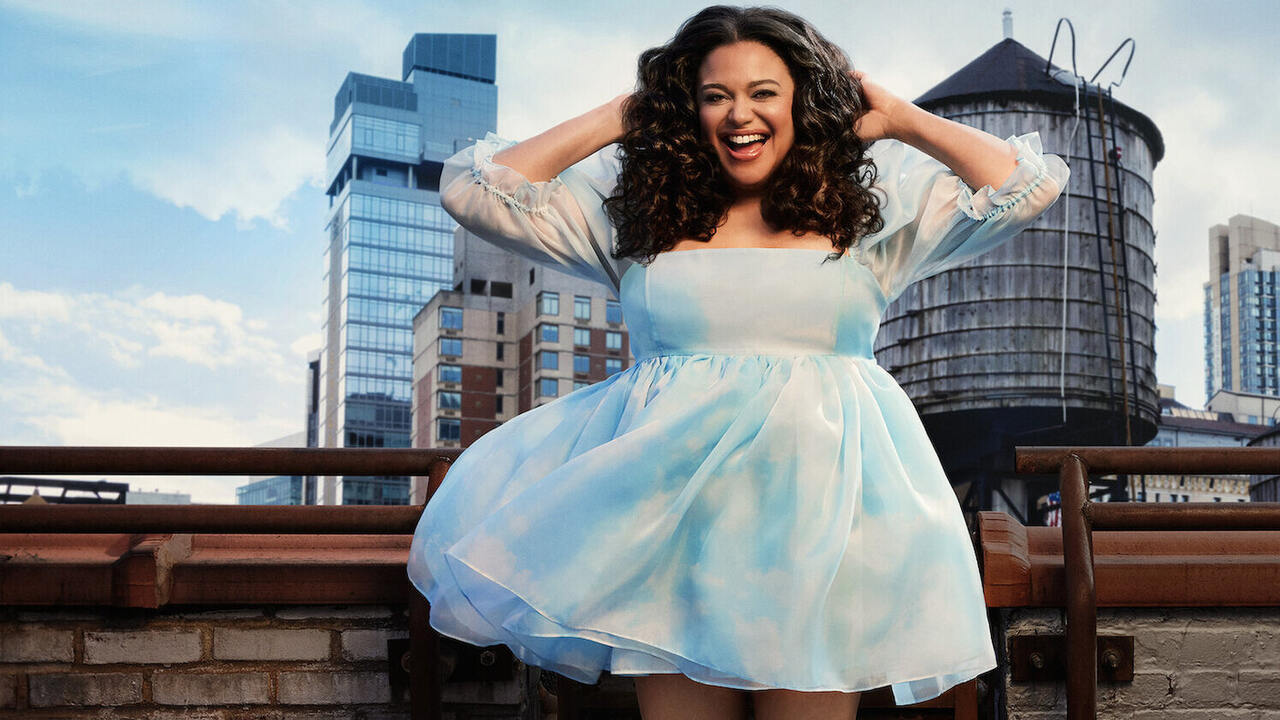 Survival of the Thickest is a Netflix series that showcases the talent and charisma of comedian Michelle Buteau. Inspired by her memoir of the same name, the show follows the life of Mavis Beaumont, a stylist who aims to empower thick girls and make them feel comfortable in their own skin. Buteau's performance as Mavis is radiant, and she effortlessly brings the character to life with her infectious smile and freckles.

The series dives into Mavis's journey as she navigates the fashion industry and tries to find her place in the world. Every time Mavis is on screen, she is at her best. As a thick Black woman working in the fashion industry, Mavis dreams of dressing and making thick girls feel comfortable in their skin. However, creating her own brand proves to be challenging. She finds herself following the traditional path to success, working as an assistant stylist and solving problems that arise. In fact, there are instances where Mavis demonstrates more talent than the lead stylist on the project. When the opportunity to become a lead stylist presents itself, Mavis believes her life is finally heading in the right direction.

Her career is flourishing, and her personal life is perfect. She is in a long-term relationship with Jacque and is deeply in love with him. They plan to get married and start a family, and Mavis is excited about their future together. But disaster strikes when Mavis returns home early from work one day and discovers Jacque in bed with the model from the shoot. In a matter of seconds, she realizes that the woman Jacque cheated on her with is just a skinnier version of herself. Fortunately, her best friend Khalil helps her pack her bags and move out of Jacque's apartment. While being cheated on is painful, Mavis realizes with Khalil's support that Jacque is unworthy of her affection.

Survival of the Thickest celebrates Mavis Beaumont's journey to self-love and acceptance. The series is not just about a thick woman learning to love herself; it is a celebration of marginalized bodies. By centering the story around a woman in her late 30s who is still figuring out her career and love life, the show defiantly flips a finger at societal expectations. While there is the classic trope of finding love, the best friend dynamic avoids falling into the cliché romantic subplot. It is refreshing to witness the supporting characters' growth throughout the eight episodes rather than relegating them to mere background roles.

Khalil, Mavis's best friend, goes through his own transformation, evolving from a commitment-phobic man to someone desperate to impress a woman. Marley, another significant character, provides unwavering support to Mavis during her lowest moments. Having experienced divorce herself, Marley emerges stronger and encourages Mavis to focus on her own aspirations. Whenever Mavis gets distracted by Jacque's social media posts, Marley intervenes to help her regain focus on her own life. By the end of Survival of the Thickest, Marley undergoes her own self-discovery journey, no longer ignoring her feelings and seeking guidance from her therapist.

Survival of the Thickest goes beyond individual struggles and addresses social issues that affect the characters on multiple levels. For instance, after Khalil faces harassment from a 'Karen' when seen with spray paint, it sparks a discussion about how many Black people face discrimination in school from their white classmates. Despite being a 38-year-old woman, Mavis grapples with how she should have reacted in that situation. While she desires more support from her parents, she understands that they were navigating a new country and trying to adjust their lives accordingly.

The series also sheds light on the pressure faced by celebrities to maintain a certain body size, often resorting to uncomfortable corsets or staying away from the public eye. Furthermore, the inherent connection between fashion and drag receives attention in Survival of the Thickest, with Peppermint shining in her role as Mavis's constant cheerleader and friend. The show successfully combines comedy and drama, realistically portraying the breakup and delving into the conflicts that arise post-separation, including the fear of becoming like our parents.

Michelle Buteau radiates as Mavis Beaumont, capturing the essence of the character flawlessly. Her freckles and infectious smile steal the show, and as the creator of the series, she keeps the authenticity and relatability of the story intact. While Survival of the Thickest is an enjoyable casual watch, the ending may leave some viewers longing for a more promising conclusion. The realization that comes from a broken phone feels slightly stretched. However, there is still hope for another season to further explore Mavis's journey and witness her character's growth.

The performances in Survival of the Thickest are commendable across the board. Tone Bell delivers a standout portrayal of Khalil, capturing the essence of the character perfectly. Tasha Smith exudes powerful "girl boss" energy in her role as Marley, providing unwavering support and guidance to Mavis. Taylor Sele convincingly portrays the disloyal ex-boyfriend Jacque, while Michelle Visage's cameo adds an iconic and funny touch to the show.

Visually, Survival of the Thickest is a treat for the eyes. The clever use of color palettes and cinematography effectively conveys the characters' emotions and enhances the overall viewing experience. Cinematographer Dagmar Weaver-Madsen deserves recognition for her outstanding work in making the show visually appealing and aesthetically pleasing.

Survival of the Thickest may not be a groundbreaking series, but it offers an enjoyable and refreshing watch. While it has its flaws, including uneven comedy writing and underdeveloped elements, it still manages to entertain with its funny moments and inspiring story. With its eight zippy thirty-minute episodes, it is a worthwhile and easy binge for those looking for a light-hearted comedy-drama on Netflix.

Final Score- [7/10]
Reviewed by – Neha Krishna
Follow @Neha25Krishna on Twitter
Publisher at Midgard Times