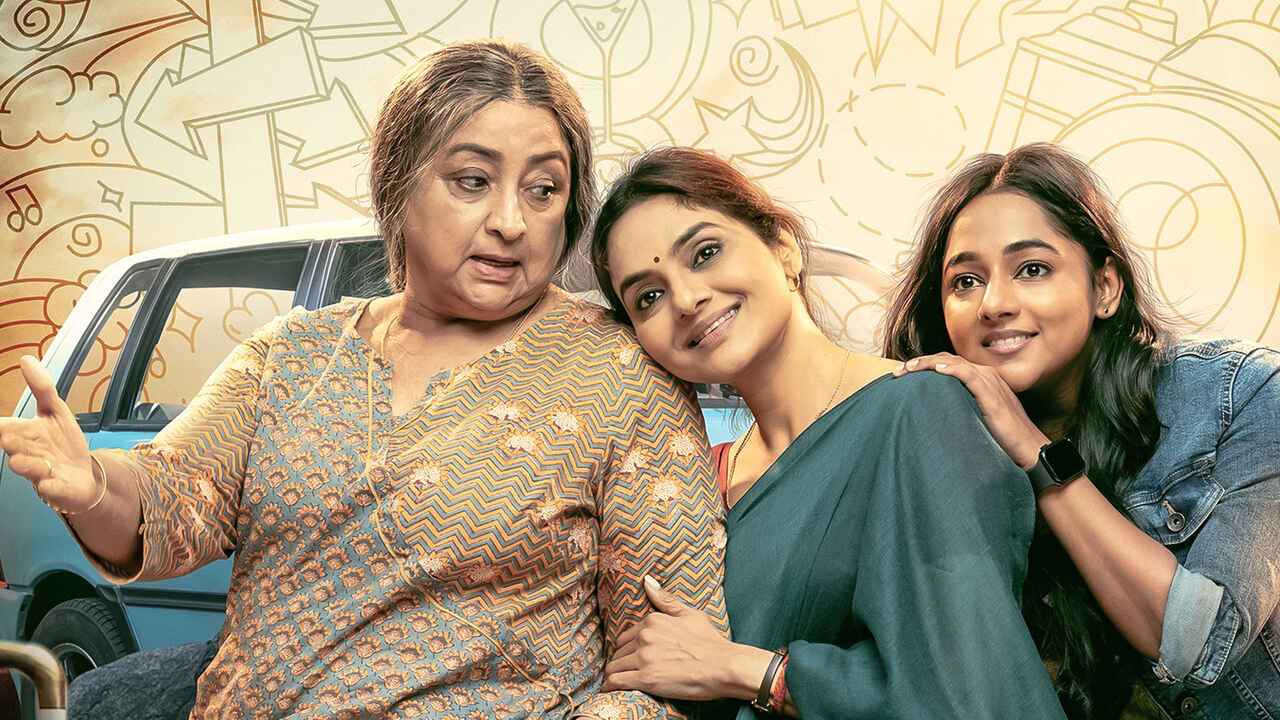 Sweet Kaaram Coffee starts with Sundari, an aged woman resting when her son comes and asks her to go to her room. The man is controlling and also doesn't respect his wife Kaveri. At some points, it also feels like he never wanted a wife but a maid who can dance as per his will. Nivi is Kaveri's daughter and a cricketer by profession. Her boyfriend takes her to meet his family but was ashamed of introducing her as a cricketer.

Tired of all these things, one day these three decide to go on a secret trip to Goa. Rules were laid down which included telling no one about the trip, not taking cell phones with them, not abandoning each other no matter what, and freeing Kaveri from her mother's duties. Sundari being Kaveri's mother-in-law is the coolest of them all.

Rajaratnam (Kaveri's husband) would have been a good actor and this can be said by the lies he weaves to get Kaveri back home. Sundari, Kaveri, and Nivi needed this trip to get a break from their daily lives and to think about things from a new perspective. Many funny scenes are there like them tripling on a scooter and chasing a car thinking it was theirs.

This series might feel too slow for some individuals, but the core of it is to discover oneself. There are just five episodes with a duration of 35 minutes each. The three women are on a journey to find their self and the result is beautiful. They break out from the rules set by their family and society. I have called it a refreshing watch because it is not often that you see three women going on a journey of self-discovery. Today's shoes are filled with glam, but this series takes on the subject with simplicity. There are no dramas or chaos which makes it a good watch for the weekend.

The audience can watch this with the women in their family. The plot of the series Sweet Kaaram Coffee is portrayed in a very sweet manner. It's raw, and every woman will relate to it. This is the best thing about it and I hope that more like these get made in the future. Those who are wondering if it is similar to Four More Shots Please then I'd like to tell you that they differ a lot and are opposite of each other. The three main characters belong to different age groups and faced the same set of problems which was being limited by their partners. It looked like they had no say in their lives.

The cast of Sweet Kaaram Coffee has done a fabulous job and kudos to the makers who were successful in depicting it with such clarity. With no high-end shooting locations, simpler frames, and good dialogues, this proves that you don't need too much to portray a good story. In a scene of the final episode, Dharamshala Cricket Stadium has been shown with snow-clad mountains in the background.

Final Score – [7.5/10]
Reviewed by - Riya Singh
Follow @_riyasinghhh_ on Twitter
Publisher at Midgard Times