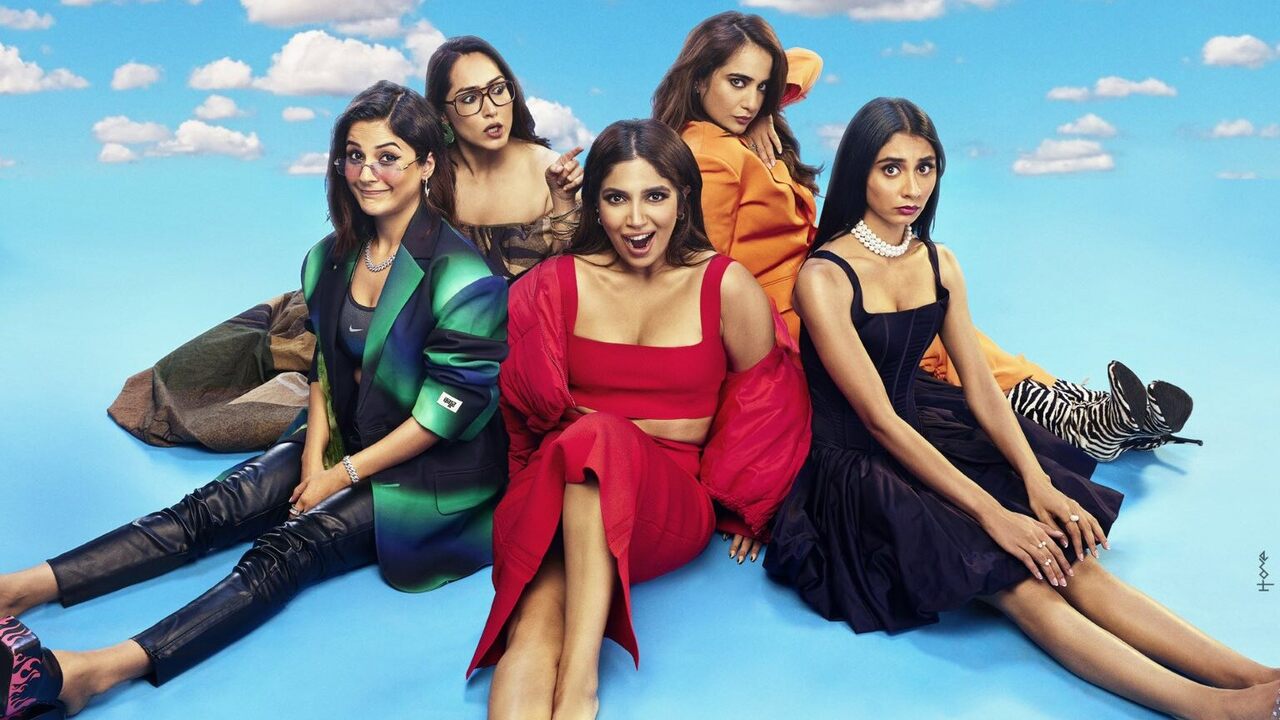 Go into a movie theater to watch a Hindi movie these days, and you might come out learning a lesson. Rocky Aur Rani Kii Prem Kahaani hammered woke thoughts into our brains. OMG 2 displayed the significance of sex education. Jawan had Shah Rukh Khan delivering public service announcements. Fukrey 3 touched on the importance of choosing the right politicians, while Sukhee screamed in our ears that mothers are more than just homemakers. Some of these movies weakened their strengths by adopting a preachy tone, while some were downright terrible. Not every filmmaker can successfully blend message with entertainment, which is why these mentioned titles failed to do justice to their intentions. Karan Boolani's Thank You For Coming, too, takes its place in this position. It wants to smash the patriarchy but ends up smashing its own chances of success.

Because everything before the interval is so light and fun and hilarious that you wonder if Bollywood has finally managed to give us a fabulous chick flick after boring us with the terrible Veere Di Wedding. Consider the opening scenes of the film. A little girl is asked to apologize in front of other students in an auditorium when - during a school play - she mentions babies come through sex. While delivering her apology, the children start teasing her, but none of them are scolded for their behavior. You see, a girl (innocently) tells the truth, and she is forced to feel sorry for her actions, while the kids who do the wrong thing by making fun of her are left untouched. These moments tell us about our situation more effectively than the entire 2 hours and 36 minutes of that shoddy OMG sequel.

It's so nice how Kanika's (Bhumi Pednekar) household reflects the condition of many young women. Her mother, Dr Bina (Natasha Rastogi), is single and has modern thoughts. She is unapologetic about having a boyfriend and pushes Kanika to be more free and open. On the other end of the spectrum lies Kanika's grandmother (Dolly Ahluwalia), who wants Kanika to have a husband. The house is a mixture of new and old ideas, but it's the latter that starts to have an effect on Kanika. Bina's notions are in the minority, as everybody around Kanika walks on the traditional path. As a result, she begins looking for the One. Women today passionately talk about feminism, yet many tend to surrender to the patriarchal environment. This also means that the grandmother and Bina are unconvincing characters. They merely represent an idea. Bina is a doctor; in one scene, she scribbles something on paper; in another, she takes care of minor cuts present on the head of her daughter. Through a character, we come to know that Kanika is a food vlogger, but we never actually see her shoot any video or even get to watch any of her videos. In movies like these, the profession is treated as a superficial decoration.

After succumbing to old-fashioned views, Kanika decides to marry Jeevan Anand (Pradhuman Singh), but she isn't actually attracted to him. Her doubts (re)surface during a celebration where she finds all her exes (including the one played by Anil Kapoor) irresistible. Kanika only wants a terrific orgasm, and when she finally gets it, she fails to remember who gave her this pleasure. Was it Jeevan or one of her exes? The possibilities are multiple, like Kanika's reflections just before the interval. And wait a minute, why do we have someone named Jeevan Anand? So that this character can be turned into a joke. He's also given spectacles, which automatically means he is shy and won't get the girl.

The characters in Thank You For Coming are not just stereotypical. They are also disposable (Shehnaaz Gill and Kusha Kapila are...present). Writers Radhika Anand and Prashasti Singh have more or less created mouthpieces. Everybody is simply present to convey an "important message." We overlook the flaws during the light-hearted moments. However, when the movie becomes dramatic and serious, it begins to crumble. Was that subplot regarding a leaked video really required? Yes, it's relevant, and all that, but Boolani does not know how to handle these heavy circumstances. Moreover, the comedy here punctures these serious situations, including that final speech at the auditorium, which is so clumsily executed that I couldn't blame that old man who left in the middle of Kanika's lecture.

The movie, though, is like that man who closes the door of the auditorium. It forces you to learn a lesson. A movie like this could work for someone who merely accepts what's shown to him/her. During the interval, suspicion is placed on many men, and the movie thinks we won't even consider another logical explanation: Masturbation. But since a couple behind my seat excitedly discussed which of the men could be the "culprit" without ever considering self-pleasure as an option, I think many people would turn off their brains and just watch the movie...with pleasure. One of the girls whispered, "Hmm, yes," when someone in the movie said that if orgasms were a problem for men, the world would have been turned upside down.

Still, it's impossible to deny that Thank You For Coming is made for dummies. Like Rocky Aur Rani Kii Prem Kahaani, it merely validates what we already know. It's one of those films where the memory loss trope is used to simply extend the runtime. The drama that is generated is shallow, and it also receives a shallow resolution. Like Veere Di Wedding, Thank You For Coming gets wet dreams by merely thinking about "presenting a female viewpoint," so much so that it forgets to concentrate on everything else (characters, story, etc.). From the beginning itself, you know the movie will end with Kanika alone and happy with herself, and the journey to this predictable destination stops being fun post-interval. (I liked that scene where the suspense regarding someone's identity is cartoonishly drawn out when Kapila's character informs Kanika about an incident. However, the giddiness is instantly deflated).

Pednekar overacts a lot here. She looks like Durgamati after a nightmare sequence involving a funeral. I constantly wondered how Dolly Singh or Kapila would have portrayed Kanika. Never mind. Thank You For Coming has arrived and fails to hit the sweet spot. What's worse is that it reminds you of other terrible pictures. A Zomato box brings the image of that Zomato delivery guy from Fukrey 3 to the mind, and when some students stand up and mention the topics they would like to freely discuss, you remember a somewhat similar moment from the OMG sequel. Thank You For Coming premiered at the 2023 Toronto International Film Festival, and this event merely gives an artificial sheen of prestige to this fair-to-middling material. At first, I thought, "Why is this film not titled Thank You For Cumming." Then, I saw that only ten people were present during my screening, and suddenly, the title seemed appropriate.

Final Score- [4.5/10]
Reviewed by - Vikas Yadav
Follow @vikasonorous on Twitter
Publisher at Midgard Times