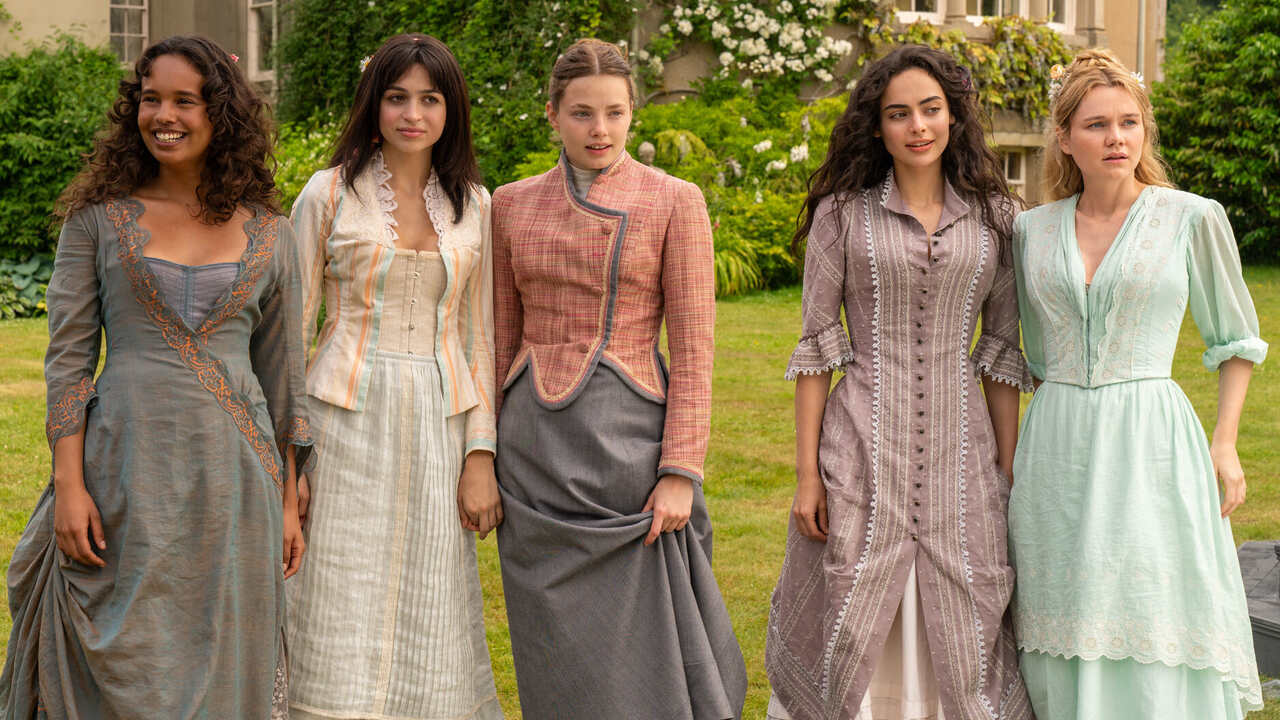 As the credits roll and the period drama unfolds, "The Buccaneers" immerses you in a bygone era of tightly corseted 1870s London, capturing the essence of a cultural clash with a modern twist. This Apple TV+ series, based on Edith Wharton's posthumously published novel, is an engaging spectacle, but it's not without its quirks.

The premise, quite unconventional for its time, revolves around five spirited American girls: Nan and Jinny St. George, along with Lizzy and Mabel Elmsworth, who make their grand entrance into English society. Their arrival is triggered by their friend Conchita's hasty marriage to an English lord, setting the stage for a whirlwind of audacious adventures and unexpected romances.

One cannot ignore the striking nature of this production, with an all-female creative team leading the charge. The story's narrative is a rollercoaster, courtesy of the creative genius of Katherine Jakeways, whose comedic background adds a unique flair to the series. However, like any captivating ride, there are moments of excitement and instances of slight turbulence.

On the brighter side, "The Buccaneers" is meticulously designed to cater to fans of the romantic period drama genre. The show is unapologetically bold, ensuring that it hits every anticipated note with precision. It revels in intimate letters finding the wrong eyes, whispers overheard and subsequently misconstrued, and, of course, well-muscled men in tight trousers emerging, almost heroically, from bodies of water. These elements are executed with finesse, adding an air of delight to the plot.

The show's historic backdrop is brought to life with lush cinematography and rich, period-appropriate costuming. The production team has spared no expense in recreating the elegance of 1870s London, from opulent ballrooms to intricately detailed gowns, and the result is a visual feast that transports you to another time.

The characters, particularly the American girls, are brought to life by a talented ensemble cast, each delivering performances that resonate with their individual quirks and aspirations. As viewers, we can't help but root for these characters as they navigate a world entirely unfamiliar to them.

However, there is a momentous deviation from the conventional period drama formula that might polarize audiences. "The Buccaneers" takes a somewhat exaggerated approach, veering into melodrama at times. The clash between American and English culture, while entertaining, can occasionally feel a tad overstated. This boldness in storytelling, while commendable, may not be to everyone's liking.

Nevertheless, the show's script is cleverly crafted, presenting us with a story that balances love, ambition, and societal expectations. The narrative keeps us guessing, often taking unexpected turns that keep us hooked. The themes of empowerment and independence in a time when they were scarce are particularly resonant.

The series is further elevated by the exceptional work of Susanna White, the BAFTA Award-winning director, who ensures that every scene is a visual treat. White masterfully captures the complexities of the characters and their surroundings, allowing the audience to become fully immersed in the world of "The Buccaneers."

In conclusion, "The Buccaneers" on Apple TV+ is a refreshing take on the period drama genre. It explores the clash of cultures and the pursuit of love and ambition with a modern sensibility, all within the enchanting setting of 1870s London. Its bold and unapologetic approach might not be everyone's cup of tea, but it undeniably adds a unique flavor to the genre. The all-female creative team behind the show has crafted a narrative that is equal parts captivating and audacious, making "The Buccaneers" an adventure well worth embarking upon. So, tighten your corsets and get ready for a rollercoaster ride through the opulent streets of London, where love and audacity know no bounds.

Final Score- [8/10]
Reviewed by - Anjali Sharma
Follow @AnjaliS54769166 on Twitter
Publisher at Midgard Times
Note: All 8 episodes are screened for this review.
Premiere Date: November 8, 2023, on Apple TV+ with its first three episodes, while the rest will be released weekly every Wednesday.