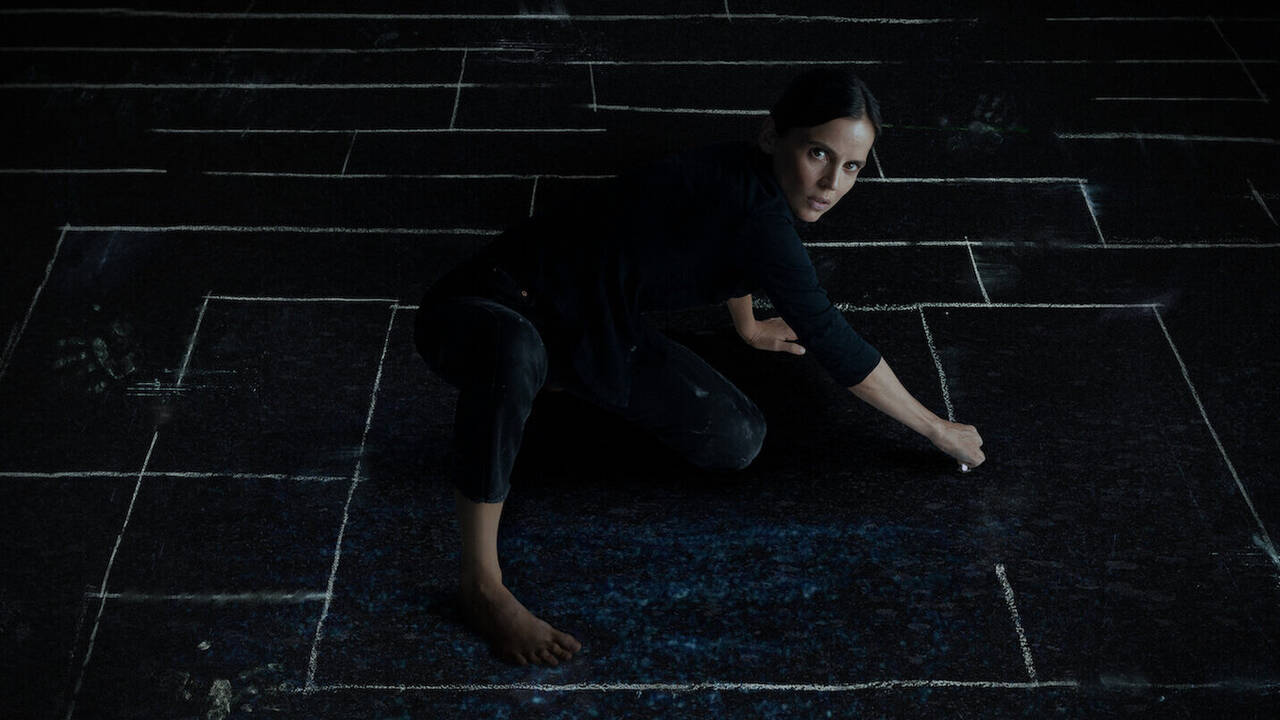 The Chalk Line is Netflix's new mystery thriller film with lots of horrors. This Spanish movie's original name is Jaula. The movie is inspired by similar real-life events and takes you by shock with the details of the characters

The film tells us the story of a couple called Paula and her husband who finds a young girl named Clara wandering alone on the road. Since no one claimed her, with the suggestion of the healthcare staff, the couple decides to foster her for the time being. Paula becomes close to Clara as she tries to learn about the reason behind her strange behaviors and her connection with chalk lines. While Paula, on one hand, starts developing motherly instincts toward Clara, her husband grows distant from Clara as he finds her actions scary and mysterious. This also leads to gaps between the couple. The entire movie tells us about Clara's truths and whether Paula and her husband will ever be able to fill the gaps between them.

The film surely has a captivating story that gives us chills with certain scenes. The first part of the movie can be categorized as a mystery since we don't get to know much about the characters. Therefore, the first half might seem a bit draggy, but it is worth the wait till the end. The second half, however, is filled with revelations and horror. Even though one of the subjects of the film is child abuse, it is safe to say that there aren't any disturbing scenes. Some scenes are horrific, but they cannot be classified as something which has graphic details as the scenes are mild.

This psychological thriller has been accompanied by some brilliant actors who have brought life to the characters. Especially the child actor, Eva Tennear, who played the role of Clara, deserves a special mention since she has immaculately delivered her role. The film has a dark setting therefore the audience will get an idea about what to expect from the start till the film concludes. This doesn't mean that film is predictable. The screenplay will keep us guessing the film's conclusion but will catch us off guard with its climax. The film will keep us on the edge of our seats with its twist and surprises until the very end therefore the film does not disappoint in any manner.

This movie is a perfect watch for viewers who love thrillers and mysteries. It has a good amount of suspense and an exciting storyline which will keep you glued to the screen for the next hour and forty-seven minutes. It also does not contain a heavy number of disturbing scenes, therefore it is a good choice for the audience who wants to watch genres like thriller or mystery.

Final Score – [8/10]
Reviewed by - Poornima Balsu
Follow @BalsuPoornima on Twitter
Publisher at Midgard Times