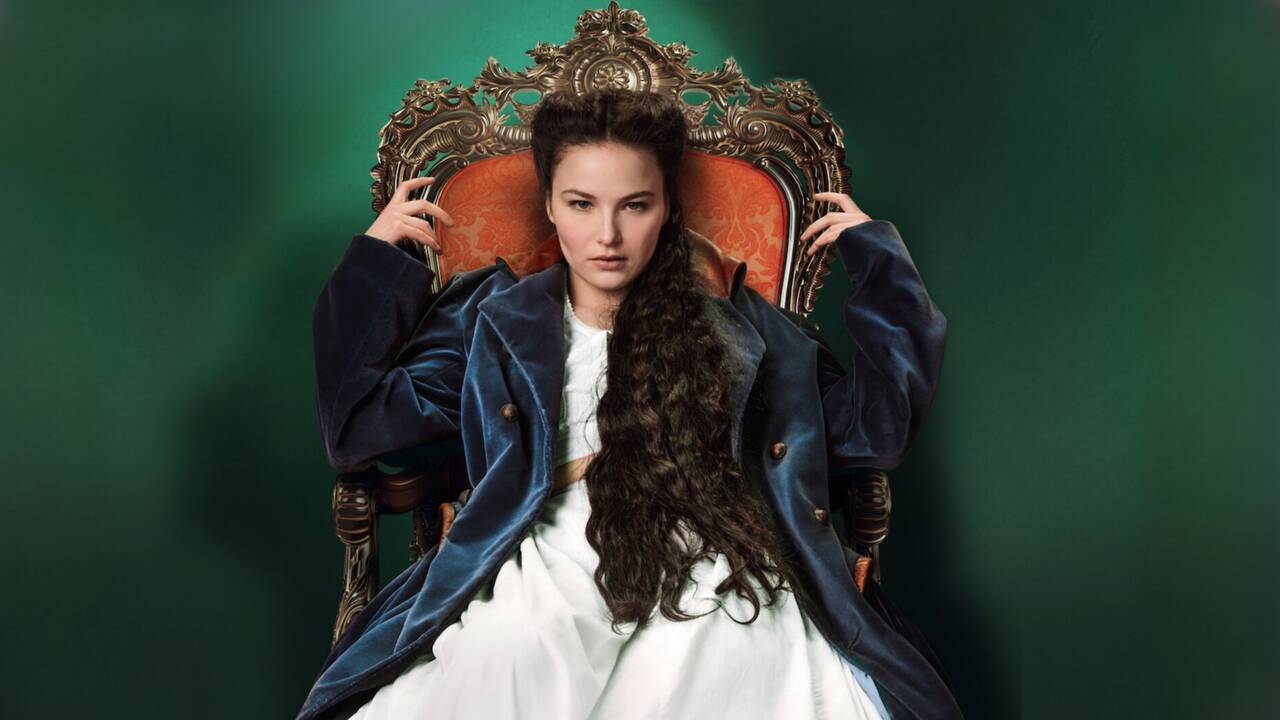 Sisi (Devrim Lingnau) is a free spirit. She wants to carve her own path instead of following someone else's like a sheep. Her mother (Jördis Triebel), of course, couldn't be more unhappy. She wants Sisi to marry a man of her choice. Sisi, on the other hand, thinks she should only marry her true soulmate. Fed up by her behavior, the mother gives up on Sisi and instead decides to marry off Helene (Elisa Schlott), the other daughter. Franz (Philip Froissant), the emperor of Austria, is locked as the potential husband. So off the party goes to see Franz and get him married to Helene. That's easier said than done. Franz, apparently, has no interest in the meek daughter. He finds Sisi's boldness alluring and ends up falling for her. Naturally, this breaks Helene's heart, but what can one do when two people are deeply in love? Franz weds Sisi, making the latter an empress. We do see her standing above the map of Vienna towards the end of the first episode. During the final moments of the last episode, her influence seems to reach an army of commoners. This is the leader the people had been waiting for, and she is finally here for them. Oh yes, Sisi would prefer you call her Elisabeth.

The Empress is filled with gorgeous costumes, grand sets, and eye-popping colors. You can practically notice the money and the effort that has gone into making this series possible. Sure, you can binge-watch The Empress by simply gazing at its beauty, though that doesn't mean it has nothing else to show as merit. For starters, the performances are on point. Everybody is perfectly cast, and I guess the highlight will be Franz's mother, Sophie (Melika Foroutan). She is someone who inspires both hate and awe. Her constantly scheming mind makes her dangerous, and the way she carries herself makes you regard her as a confident and powerful woman. Only Elisabeth proves to be an equal opponent to her, which is why their scenes together send an exciting electric charge. Something as small as Elisabeth preferring to walk with Maria, Alexander's wife, without the company of Sophie prompts you to give a mischievous smile.

We watch Elisabeth writing poems in the beginning, but that passion goes away as soon as she's married. She sketches in one or two scenes, one of which gives rise to lovemaking. Sex is present all right, and it's...sexy. There are moments when you feel The Empress would go into scandalous territories, like Elisabeth doing it with Franz's brother, Maximilian (Johannes Nussbaum). That might still occur in a potential second season, but here, there is no crossing of illicit boundaries (unless you count two instances of brief kissing to be shocking).

And some characters do try to seduce Elisabeth. Apart from Maximilian, there is Alexander, who tries his luck. However, all attempts yield no success. You get a hint that this marriage will be rocky from two scenes. In one of them, the crowd steps on the paper bearing the wedding announcement between Franz and Elisabeth. In the other one, a moment of joy is cut with moments of unhappiness. While Franz and Elisabeth dance, the latter's family moves out of the castle, and civilians are tortured and arrested. The dance itself is filmed with a camera that spins so energetically it might as well conjure a storm.

As if all the drama at home wasn't enough, some rebels are planning to launch a revolution, and there is a war going on outside. Franz, though, does not wish to participate in any war. He is merely interested in building a railway line. But ultimately, he just delays his involvement because he cannot really stop either personal conflicts or war. You look at the lavish interiors and its cunning and hurting residents, and you get the impression of watching a castle crumbling from within.

I am enjoying The Empress more now while writing about it than I did while watching it. When I look back at this first season, I see it as a set-up. Maybe that's why that thread involving a rebel disguised as a Countess comes across as anticlimactic and half-baked. Still, I think if this story moves forward, it could be more exciting and racier. Call me if there is a second season.

Final Score – [6.5/10]
Reviewed by - Vikas Yadav
Follow @vikasonorous on Twitter