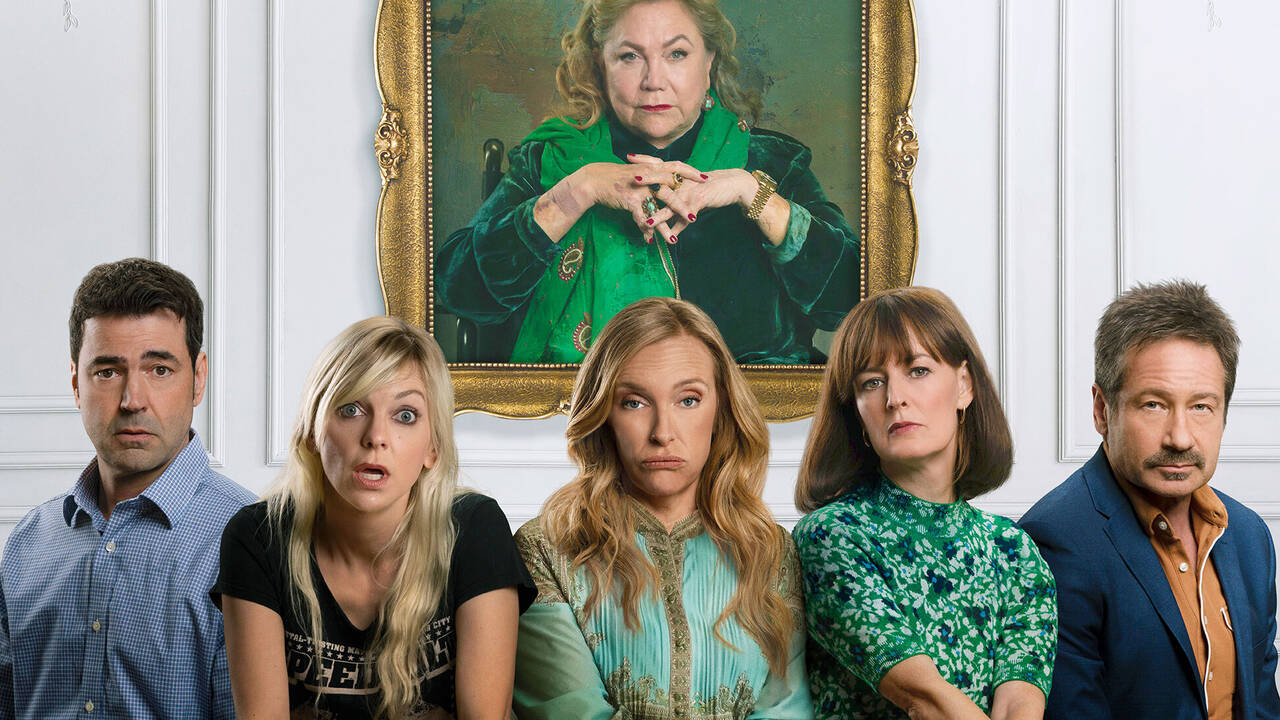 "They say money is the root of all evil. Well, I think I am just an evil guy." This is the line from a song you hear during the opening credits of Dean Craig's The Estate. The words allude to the characters of this film. They are Macey (Toni Collette), Savanna (Anna Faris), Richard (David Duchovny), and Beatrice (Rosemarie DeWitt). Macey and Savanna are sisters, while Richard and Beatrice are their cousins. They were once close to each other, but as adults, they don't wish to live in the same room together. Richard is somewhat of an exception. He flirts with Macey, not bothered by the fact that they are related.

The cousins may not like each other but are forced to live under one roof when they all come to their Aunt Hilda's (Kathleen Turner) house when she is diagnosed with cancer. They all want Hilda's wealthy estate and compete to please her so that she would write their name in her will. None of them are actually fond of the old woman. Can you blame them? Hilda is not a polite person. When Macey and Savanna arrive at her house, they notice a man crying and leaving the premises. He screams, "You can get yourself someone else to treat like shit." Diane (Patricia French), Macey and Savanna's mother, describes Hilda as "a cunt."

Yet, Hilda is fond of Beatrice and Richard. She also likes the food made by James (Ron Livingston), Beatrice's husband. Beatrice and Richard, though, simply use her for money. Who is more evil here? The aunt with a sharp tongue or the cousins who manipulate her? It's clear that there are no good people in The Estate. Just observe the lengths they all go to for the sake of securing their names on the property paper. Beatrice pimps her husband to have sex with Hilda. Richard thinks of increasing her morphine levels and suffocating her with a pillow. Macey and Savanna try to set her up on a date with a sex offender. They even use their younger sister, Ellen (Keyla Monterroso Mejia), as bait for this man later.

The characters in The Estate sacrifice their morality and cross every boundary for their greediness. Their actions are coated in humor, but the movie never sugar-coats their ugliness. The film finely tiptoes between jokes and repulsiveness and never leans too heavily on either of the sides. There is fun to be had here. I laughed during awkward dining table conversations and felt a bit uneasy during scenes like the one where Ellen is prepared to talk with a sex offender. The Estate is often hilarious and doesn't let us get too close to its characters. Everyone is horrible and selfish (Macey has a good conscience, but she also needs money to save her café), and we observe them with a mirthful detachment.

Collette, Faris, DeWitt, and Duchovny have strong and funny screen presence. They fully commit to the vile intentions of their characters and make no effort to come across as likable. That's why we love watching them. There is pleasure in seeing bad people rolling in the mud as we think, "Yes, they deserve what's coming to them." The movie gives a sort of happy ending to two of the characters. "Sort of" because we don't see if that painting is destroyed or saved in the nick of time. Craig opens the ending up for interpretation. He wants us to decide whether we want to punish or forgive the characters.

Final Score- [7/10]
Reviewed by - Vikas Yadav
Follow @vikasonorous on Twitter
Publisher at Midgard Times