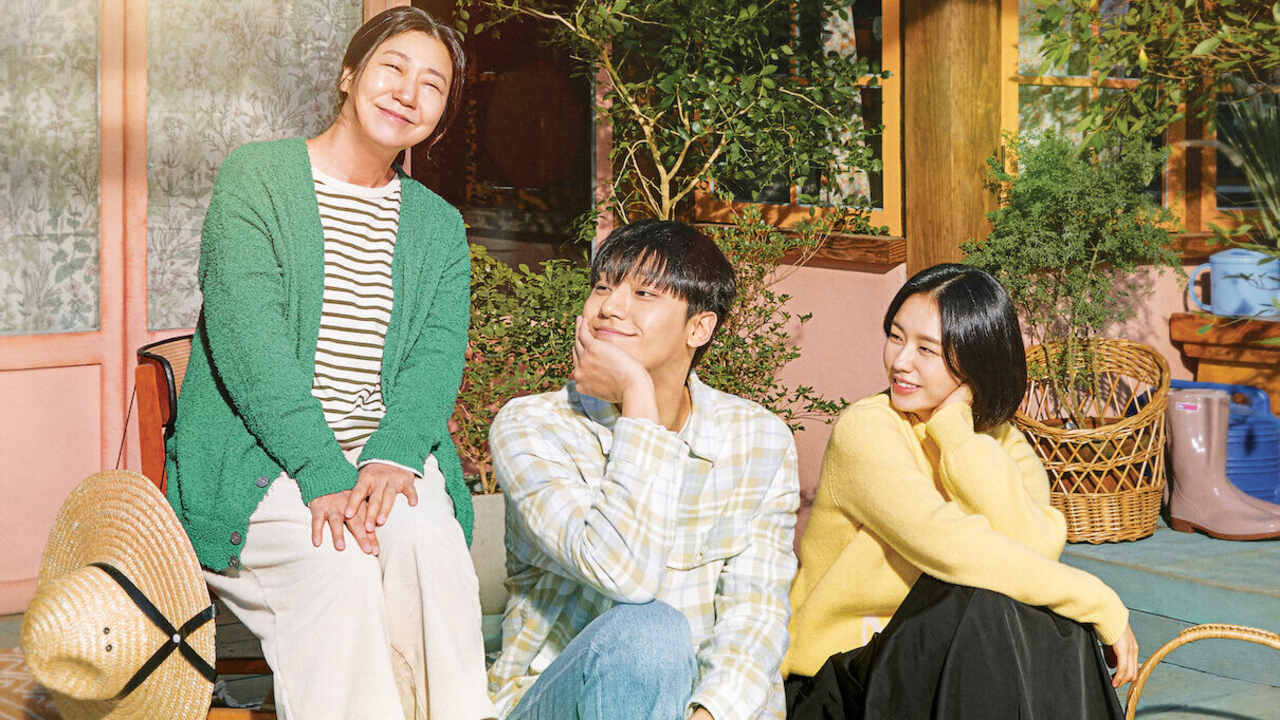 There are so many references to pigs in The Good Bad Mother. A man uses a pig to propose to a girl. A woman runs a pig farm. The series opens with some facts about this pink animal. Pigs, we are told, rub themselves in their own excrement because humans lock them in cages. Moreover, in order to see the sky, they have to first fall down. Let's take these two points and connect them to the characters. The thing about pigs rubbing their bodies in their feces can be seen as a comment on humans rubbing themselves in their own problems. They sometimes intentionally take a specific path despite knowing what troubles they will face in the future, and then unsurprisingly, they suffer the consequences later. Jin Young-soon (Ra Mi-ran) is one such character. She is a single mother who is very strict with her young son, Choi Kang-ho (Kim Kang-hoon). Her austerity arises from her wanting her son to be a successful and powerful prosecutor. She scolds and hits him in that single-minded pursuit, even stating he could leave her after becoming a prosecutor.

As far as Young-soon is concerned, she is appropriately treating her son. She deprives Young-soon of maternal love and suffers when her grown-up son (Lee Do-hyun) refuses to meet her. He also tells her he is getting adopted by someone else. If you put yourself in Young-soon's shoes, you will see that she did whatever she did to make her son professionally successful. On the other hand, if you see things from the perspective of Kang-ho, you will understand why he doesn't want to be near his mother. The Good Bad Mother provides a balanced perspective instead of residing in a simplistic black-and-white area. Oh yes, Kang-ho's prosperity can be viewed through that second point regarding the pigs. If they have to fall down to get a view of the sky, Kang-ho, too, had to bear so much harsh behavior to become influential.

What The Good Bad Mother has in common with, say, Crash Course in Romance is that it also knows how to expertly shift from one tone to another. A funny scene might be followed by a sad one or vice versa, and this shift never feels jarring to the senses. The show is adept at mining certain situations for maximum reward. Take that scene where some people come to protest against the pig farm. They first have a friendly chat with Young-soon, then start arguing with her, and then again, they all become friends and help in delivering the baby. Now take the scene where Kang-ho comes with the adoption paper. Everyone cooks many dishes, and a woman styles Young-soon's hair. A character suggests that Kang-ho could take her mother with him back to Seoul. The show inserts these details so that the moment when Kang-ho reveals his intentions to his mother could land with an emotional punch. The show goes all in, which is why it works so well.

After seeing him in The Glory, when you watch Do-hyun in The Good Bad Mother, you wonder if his character would again end up taking revenge. Kang-ho's father, after all, was killed by a criminal (Choi Moo-sung). And there are moments where you feel he's executing a plan to take vengeance. If not, then he is surely making complicated relations. He calls his father's murderer father and plans to marry the daughter of a prosecutor who was also responsible for the fatal crime committed against his real father. I am interested to see where this show is headed, and what will happen once Kang-ho starts acting like a child. The Good Bad Mother is yet another fascinating show that will leave you wanting more.

Final Score- [8/10]
Reviewed by - Vikas Yadav
Follow @vikasonorous on Twitter
Publisher at Midgard Times