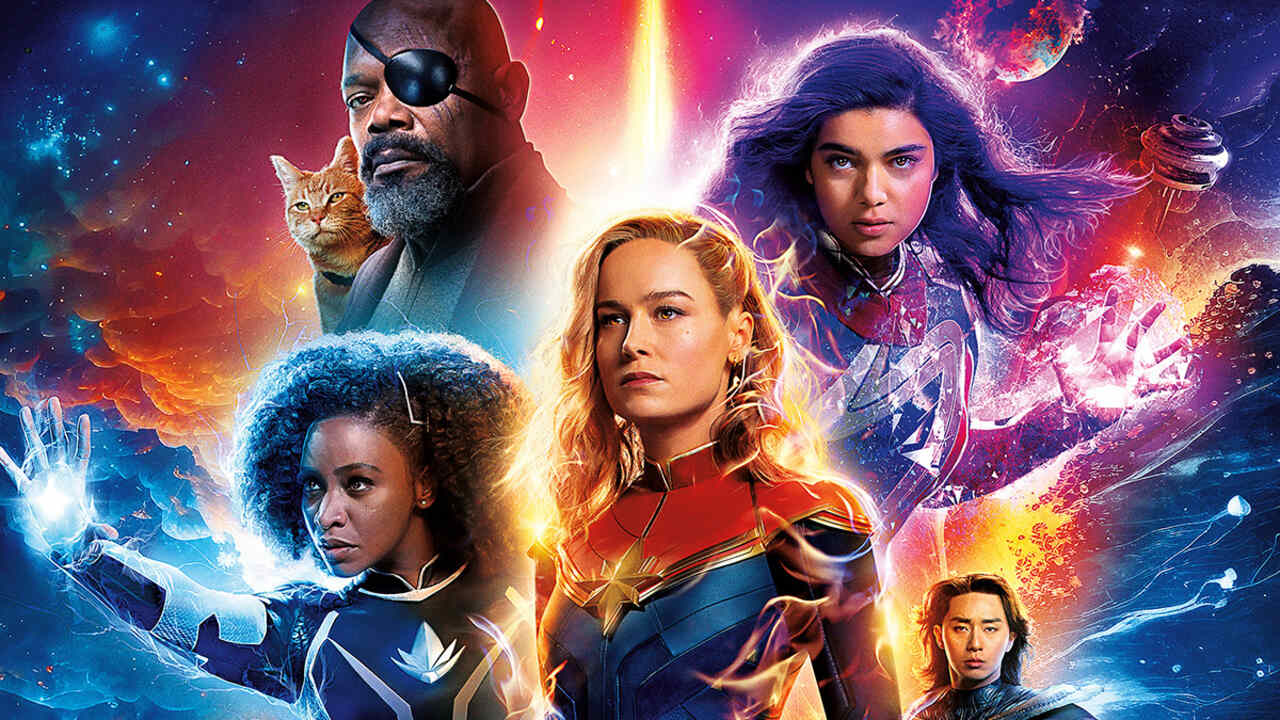 The Marvels is the 33rd film in the MCU. If, like me, you have been following this franchise for all these years, you might have gotten a bit tired of all the un-marvelous superhero shenanigans. Actors pose in front of ugly green screen images, and the CGI battles make your eyes glaze over with boredom. With the introduction of multiverses, any trace of emotional attachment is obliterated. Superheroes die only to get resurrected. The concept of death is merely reduced to a cheap emotional trigger. Sometimes, it's converted into a cliffhanger (take Loki Season 2, Episode 4, for instance). If you still want to visit these theme park rides, you just have to accept the fact that there is no place for real drama here.

Hence, when characters fondly remember a deceased someone in Nia DaCosta's The Marvels and that person appears during the post-credits, you don't feel cheated but lift your shoulders in a dismissive shrug. Nothing in the MCU surprises you anymore. The world is constantly expanding with every new film and show, but the writing is only getting diminished. There is little to no imagination in these projects. Every void is filled with a variant. The creative bankruptcy is covered up by cameos from your favorite superheroes. The formula has become so repetitive that many people are now actively, vehemently criticizing the Marvel products. All this leads to this question: Should you watch The Marvels in the theater?

Most of the pleasures in this movie come from the terrific performances of Brie Larson (as Carol Danvers/Captain Marvel), Iman Vellani (as Kamala Khan/Ms. Marvel), and Teyonah Parris (as Monica Rambeau). Together, this trio is called The Marvels (Kamala comes up with this name). While Larson and Parris provide drama through their presence and expressions, Vellani charges the film with her wild exhilaration. In fact, Vellani is the living embodiment of the words "a breath of fresh air." When the central trio arrives at Aladna, a planet whose inhabitants use songs to converse with each other, Kamala almost instantly starts dancing to the music while Carol and Monica take some time to adapt to the rhythms. Joy is the default mood of this little Ms. Marvel.

Another exciting thing in The Marvels is the new ability the three superheroes get that allows them to switch places through teleportation. This gives rise to some amusing confusion and action sequences. The hand-to-hand combats, along with a training montage, are intensely likable. On top of that, Larson, Vellani, and Parris have excellent chemistry with each other. Even the most banal scenes become tolerable because of them. Also, let's not forget Zawe Ashton as Supremor Dar-Benn. This villain could have been utterly generic, but Ashton provides unhinged shades to this character. As far as visual delights are concerned, a sufficient amount of humor is generated through the sight of cats swallowing people and floating in space.

Kamala worships Captain Marvel. She is too obsessed with her. A young Monica was similarly mesmerized by this figure with superhuman strength. Carol once promised Monica that she would soon return to her. But when she didn't come back, Monica became disappointed. Carol, obviously, doesn't want to upset Kamala in the same way. She wants to live up to her heroic image. But when she fails to save all the Skrulls as well as the inhabitants of planet Aladna, the mighty captain's limitations come to the surface. There is room for potent drama here, though it's discarded in favor of bland battles. Whatever strengths The Marvels has, they, in the end, heavily underline the movie's many weaknesses.

The song and dance sequence in Aladna is not properly utilized for humor. Moreover, the choreography is simply serviceable. Ashton tries to elevate her character, but her efforts get undermined due to the nature of the Marvel machine, which is merely interested in completing the generic superhero quest (look for a whatchamacallit device, destroy disposable creatures, and defeat the main villain). The Marvels could have been as fantastic as those colorful, cartoonish mid-credit images. However, it strictly adheres to a boring formula - one that submerges all the good aspects. The superb skills of the actors and the director are perfectly wasted.

Final Score- [4.5/10]
Reviewed by - Vikas Yadav
Follow @vikasonorous on Twitter
Publisher at Midgard Times