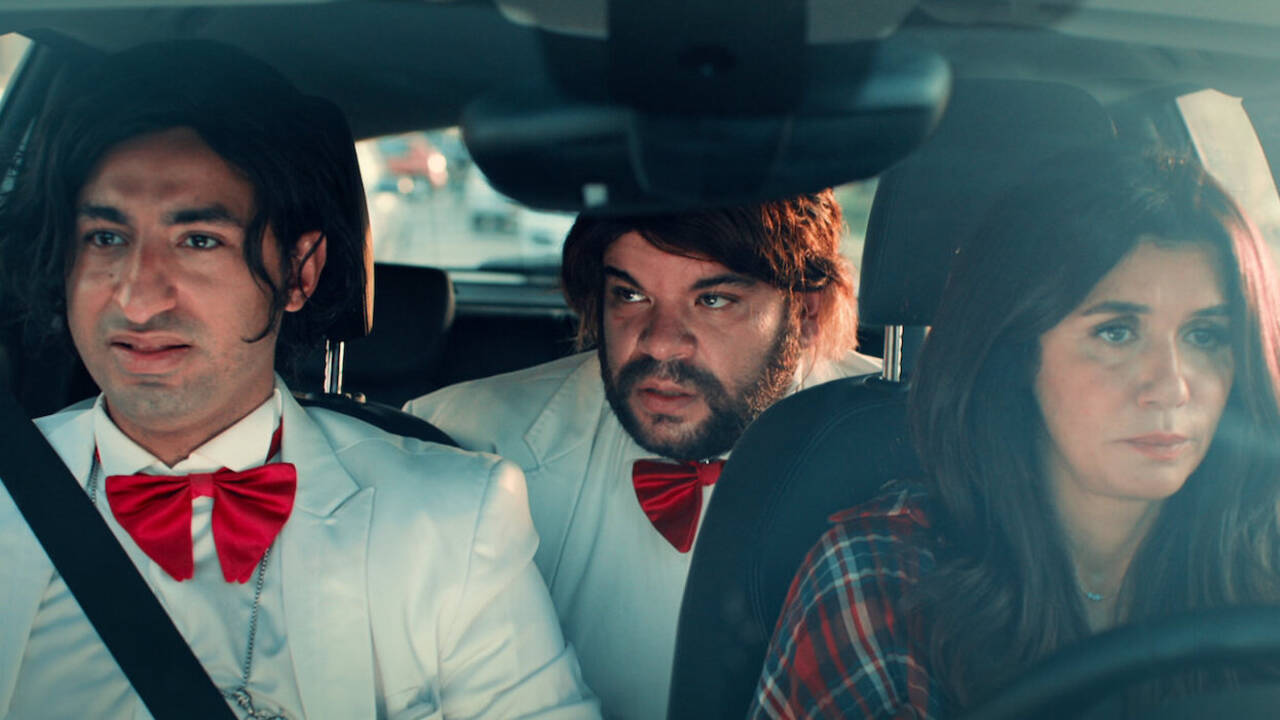 The Master Plan, an Egyptian movie directed by Moataz El Tony, reminds you of many dopey Bollywood comedies. The beats and the filmmaking style are very similar to the Hindi films. For instance, the characters take a break from the main objective and go to a bar for a dance routine. The Master Plan doesn't completely go into a song sequence, but you can see how a Bollywood film would have inserted a full-blown party song, preferably with Badshah's voice. The final scene, though, entirely belongs to the Hindi films as the actors come out of their characters and end the movie by singing and dancing.

I guess this connection to Bollywood is not accidental. The Master Plan is about a bank manager (Amr Abdel Gelil) who hires a woman named Yassmen (Ghada Adel) to train two blind people - Hamzoon (Ali Rabee) and Allalah (Mohamed Abdel Rahman) - to rob a bank. Anyone who has seen Vipul Amrutlal Shah's Aankhen will instantly connect this Egyptian film to the 2002 heist thriller. In Aankhen, Vijay (played by Amitabh Bachchan) employs three blind men for the heist, while the character of Sushmita Sen is hired to train the three men. Of course, she is blackmailed by Vijay, who kidnaps her brother and forces her to participate in the heist. In The Master Plan, Yassmen's son is taken hostage by the bank manager so that she would comply with his orders.

The difference between Aankhen and The Master Plan is that the latter is light-hearted and more interested in being a leave-your-brains-at-home comedy. Hence, the scene where a kid takes Hamzoon to a fight. And the one where chaos arises at a gas station. The Master Plan does not linger on a scene for too long to drain it out of energy. It jumps to the next series of events as soon as the current one fulfills its duties. As a result, you wonder how hilarious the movie would have been in the hands of someone who has a better eye for comedy. A more capable director would have mined the fight that ensues during a poker game and the situation at a men's washroom for juicy slapstick. El Tony simply hints at something funnier, then cuts away abruptly.

What we have here is a watchable film that occasionally releases humor. At 1 hour and 30 minutes, it doesn't overstay its welcome, and Rabee and Rahman work well together. The two of them have a mirthful presence, while Adel provides glamour. After the bank robbery, there comes an exciting twist, but it feels more forced than natural, more tacked on than cleverly integrated. The Master Plan could have hugely benefitted from a master moviemaker.

Final Score- [6/10]
Reviewed by - Vikas Yadav
Follow @vikasonorous on Twitter
Publisher at Midgard Times