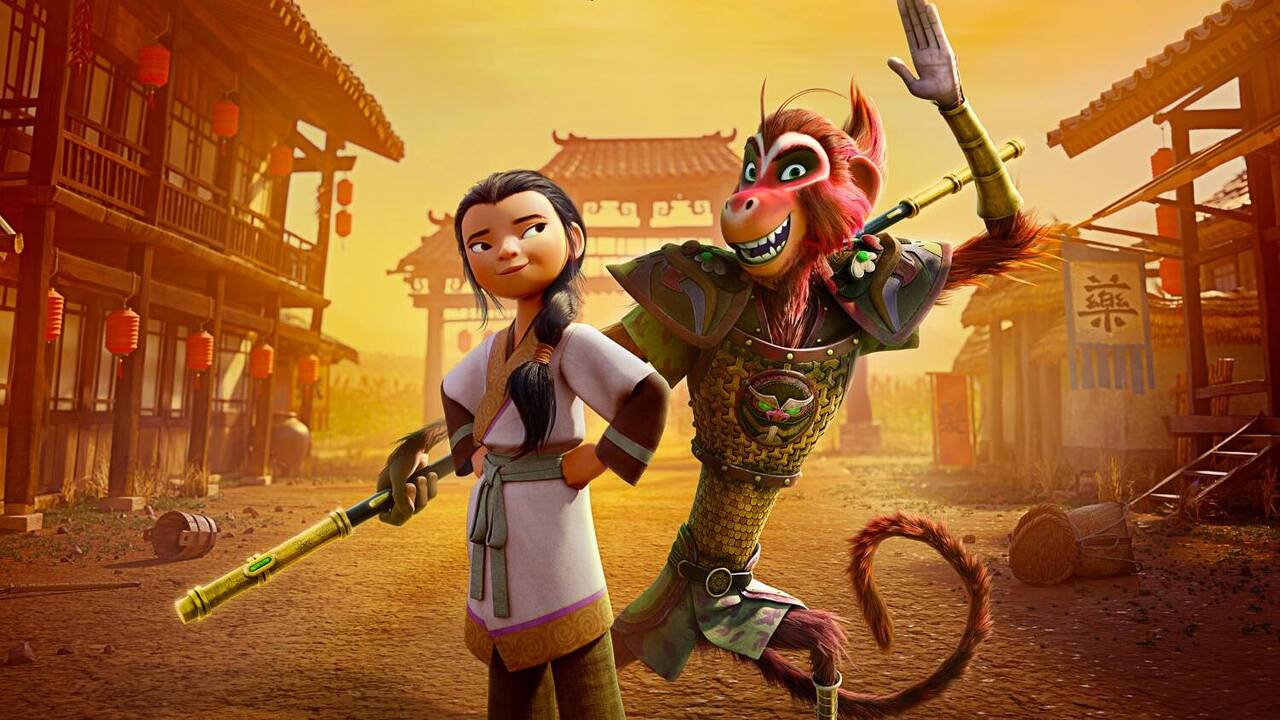 The Monkey King 2023 is a Netflix animated film based on the classic Chinese novel Journey to the West, which tells the story of a mischievous and powerful monkey who seeks to become immortal and join the ranks of the gods. Along the way, he meets a young girl named Lin, who becomes his reluctant companion and assistant. Together, they face various challenges and enemies, including the evil Dragon King, who wants to flood the world with his army of sea creatures.

The film begins with a narration by Lin, who explains the concept of balance in the world and how everything has its place and purpose. She then introduces the Monkey King, who was born alone in a cave and does not fit into any category. He is curious and adventurous, but also arrogant and selfish. He wants to be more than a monkey, and he believes he can achieve that by becoming immortal.

He sets out to find a way to join the Immortal Ones, a group of powerful beings who live in the Heavenly Realm. He learns that he has to defeat 100 demons with his magical staff Nan Li, which can change its size and shape according to his will. He also learns that he has to avoid eating any food or drink offered by anyone, as it might be poisoned or cursed.

He encounters various obstacles and enemies on his journey, such as a fire-breathing dragon. He also meets Lin, a peasant girl who idolizes him and wants to be his assistant. She follows him despite his protests and tries to help him in his quest. However, Lin has a secret motive for joining him.

The Monkey King eventually reaches the Heavenly Realm, where he meets the Immortal Ones and challenges them to a fight. He defeats them all with his skills and tricks, but he also angers them with his disrespect and arrogance.

The film ends with a climactic battle between the Monkey King and the Dragon King, who has launched an attack on the Heavenly Realm with his army of sea monsters. The Monkey King has to choose between his power and his friendship, between his ego and his heart. He also has to face the consequences of his actions and learn from his mistakes.

The Monkey King 2023 is a lively and colorful adventure that offers some fun and excitement for younger viewers. It has some impressive animation and visuals that create a vibrant and diverse world. It also has some humorous moments and references that add some charm and personality to the film.

The film also tries to explore some themes and messages that are relevant and meaningful for its target audience. It deals with topics such as identity, belonging, friendship, loyalty, courage, responsibility, humility, forgiveness, redemption, etc. It shows how one's actions have consequences and how one's choices affect others. It also shows how one can grow and change for the better with the help of others in a proper way, which is quite rare nowadays.

So let's start with the complaints, the film suffers from a lack of depth and complexity, as it simplifies or skips over some important aspects of the story and its characters. It does not develop or explore them enough to make them interesting or relatable. It also does not challenge or engage the enough to make them think or feel.

The film also suffers from a lack of quality and polish, as it has some technical and artistic issues that affect its presentation and performance. It is like a tasty chocolate cake but with terrible garnishing. It has some errors and glitches that make it look unprofessional and sloppy. The Monkey King 2023 is a decent and entertaining film that will surely appeal to children, who are looking for a fun and easy watch.

Final Score – [7/10]
Reviewed by - Arpita Mondal
Follow @ArpitaMond33387 on Twitter
Publisher at Midgard Times