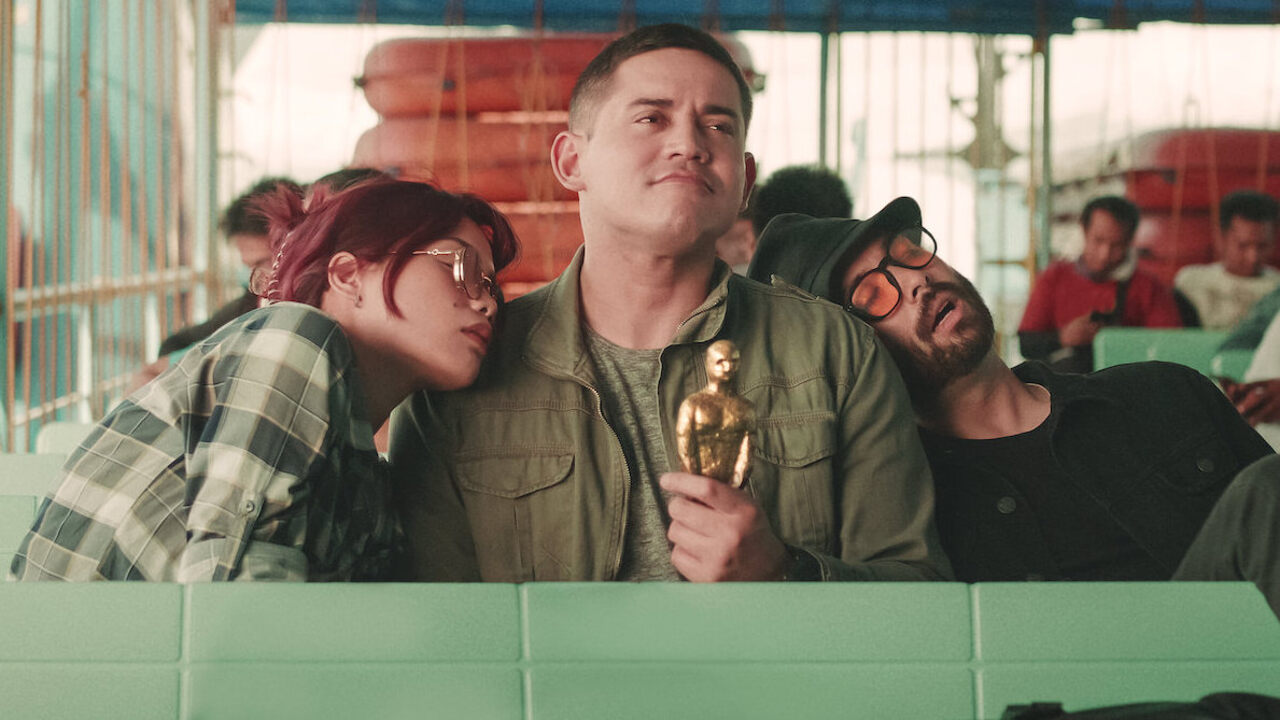 Jules Katanyag's The Oskars Fantasy (aka, Ang pangarap kong Oskars) has a fun, promising premise. A film producer, Bobby B (Paolo Contis), hires real ghosts to act in his found-footage fantasy film, written by his best friend DMZ (Joross Gamboa), who also wants to direct this project. The idea of employing actual spirits originates as a joke because there is no budget for this VFX-heavy film. But then, DMZ's granny tells Bobby B that phantoms exist and can be found in a forest. Before the producer goes to this forest to find Pedro (Long Mejia) and seek the spirits, he receives a blowjob from the granny. This is not the only absurd blowjob scene in the film. Bobby B bears the sexual act by telling himself it's all for the benefit of his movie. The things we do for cinema.

Apparently, if you want to meet the ghosts, you first have to smoke a pipe. A filmmaker could use this detail to create hallucinogenic effects, but Katanyag only goes as far as showing us a woman with a big head. He remains within the banal boundaries of B-movies because his characters lack imagination. They, however, have a lot of passion, so much so that the director continues to roll the camera amidst violence. He wants to make a masterpiece. But the joke here is that his so-called masterpiece is trite. The Oskars Fantasy, too, wears a cheap aesthetic, so you get two bad movies within a single film. The clumsiness becomes more evident when the characters bump into, say, a tree and fall on the ground. It all looks fake and slightly funny.

The Oskars Fantasy, however, doesn't want to be just "slightly funny." This mixture of horror-comedy intends to leave you laughing (the horror aspect is weak and not given much priority). There are indeed some good lowbrow jokes here, like the visual of Bobby B holding a fake Oscar while peeing. DMZ licks the ashes of his granny, and one of the ghosts mentions that she has strict parents. The movie works fairly well during the initial portions. But as soon as the cast and crew members enter the forest, the film becomes feeble and uninteresting. The energy dissipates from the screen, and nothing feels amusing. The characters shoot their movie while you wait for gags to crack you up or something. There is some pleasure in observing two best friends telling each other to sacrifice their lives for the other person, but this moment comes near the end, and it's too little too late.

The Oskars Fantasy, in a way, reminds you of movies like Sharknado, Snakes on a Plane, and Cocaine Bear. These productions merely think putting sharks in a tornado, snakes on an airplane, and filling a bear with cocaine is more than enough work to spice up the story. Similarly, Katanyag gives the characters real ghosts for their film, then sits back and does almost nothing. He, too, mainly relies on the concept to do the heavy lifting. But audience members who consider something like Jason Statham feeding a man to a shark and saying, "See you later chum," to be "cinema" could derive great pleasure from a (deliberately) trashy project like The Oskars Fantasy.

Since this is a movie about making a movie, you get that obligatory scene where everybody watches a film, and we are told that cinema is magic. In The Oskars Fantasy, movies have an emotional effect on both humans and monsters. Meaning: Cinema speaks in a universal language. It doesn't matter that Bobby B and DMZ make a bad film. Since they make it with dedication, the spirits cry while watching it. What's more, they also achieve their dream, though it only gets fulfilled through a wish. So what does it all mean? The monsters, like the filmmakers, have horrible taste in films, and the best friends wouldn't have gotten an Oscar if one of them had not made a wish. Maybe the most amusing way to look at The Oskars Fantasy is to see it as a joke on the Academy Awards and the movies they choose to honor during the ceremony. Katanyag might just be saying that the golden Oscar statue is as valuable as Bobby B's fake trophy.

Final Score- [5/10]
Reviewed by - Vikas Yadav
Follow @vikasonorous on Twitter
Publisher at Midgard Times