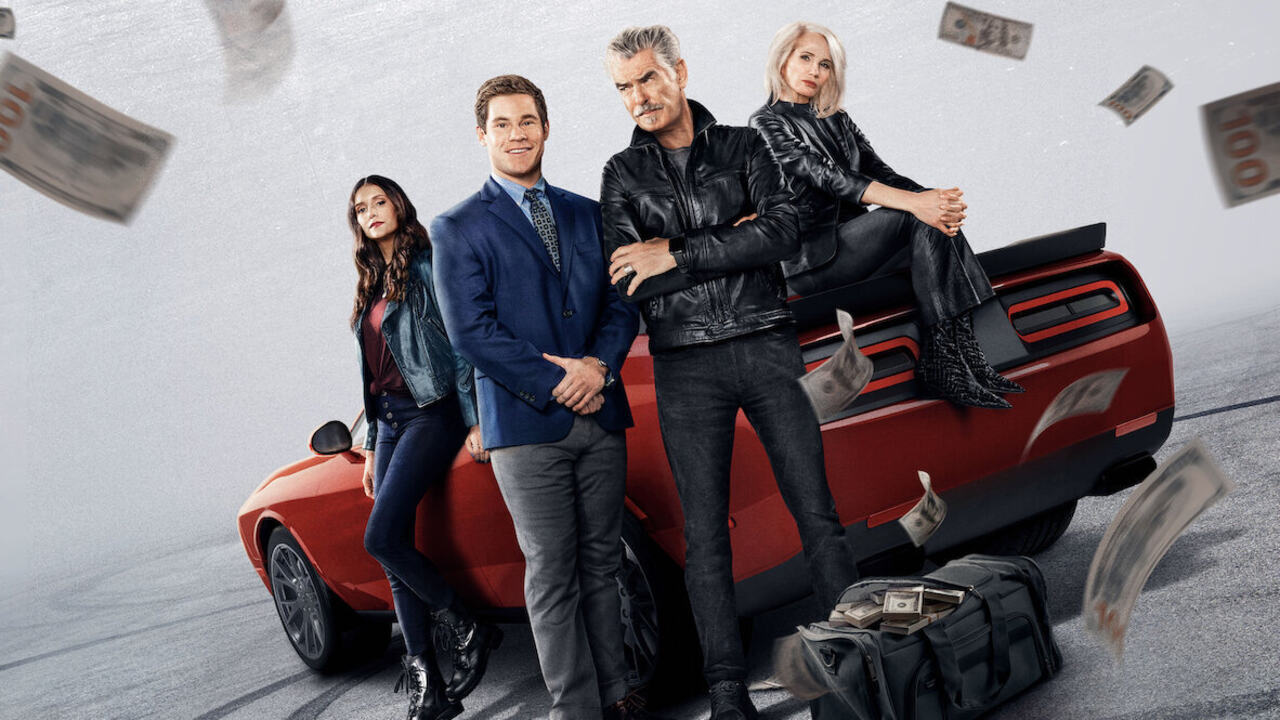 Today I got a chance to watch the film The Outlaws 2023, a Netflix original movie that attempts to mix action and comedy but fails miserably. The film stars Adam Devine as Owen, a bank manager who is about to marry his fiancée Parker, played by Nina Dobrev. However, his plans are ruined when he meets her parents, Billy and Lilly, played by Pierce Brosnan and Ellen Barkin. They are a mysterious and adventurous couple who have been traveling the world for years. Owen soon suspects that they might be the Ghost Bandits, a group of masked robbers who have been robbing banks across the country. He teams up with an FBI agent named Oldham, played by Michael Rooker, to catch them and save his wedding.

Directed by Tyler Spindel and written by Evan Turner and Ben Zazove, this film is a Happy Madison production by producers Adam Sandler, Adam Devine, and Allen Covert. The film also features supporting roles by Poorna Jagannathan, Julie Hagerty, Richard Kind, Lil Rel Howery, Blake Anderson, Lauren Lapkus, and Laci Mosley.

The Outlaws 2023 is a film that has a lot of potential but fails to deliver on its premise. The film is too chaotic and noisy, with too many action scenes that overshadow the comedy. The film lacks coherence and logic, with plot holes and inconsistencies that make it hard to follow. The film also wastes its talented cast, who are given little to work with in terms of character development and dialogue. The film relies on clichés and stereotypes, without offering any originality or wit.

The only saving grace of the film are Brosnan and Barkin, who seem to have fun playing the eccentric in-laws. They bring some charm and energy to the film and have some amusing moments with Devine and Dobrev. However, they are not enough to save the film from being a disappointment.

The characters of the film do not develop, they remain the same throughout the film. Owen is still a timid and insecure bank manager, Parker is still a beautiful and smart journalist, Billy and Lilly are still mysterious and adventurous outlaws, and Oldham is still a gruff and determined agent. They do not learn anything new, face any challenges, or overcome any flaws.

The film has no emotional impact because it does not make the viewers care about the characters or their relationships. The film does not explore the feelings of Owen and Parker, who are about to get married, or the feelings of Billy and Lilly, who have been lying to their daughter for years.

The film does not show any conflict or tension between the characters, or any resolution or reconciliation. It does not offer any surprises or twists, because it follows a formulaic and clichéd path. It also uses the same old tropes and jokes that have been seen in many other films. In a nutshell, the film does not have any originality or creativity, or any unexpected or shocking moments. The film is predictable and boring and does not keep me engaged or entertained.

The ending of the film is predictable and unsatisfying. It reveals that Billy and Lilly are not the Ghost Bandits, but undercover agents who have been infiltrating the real bandits for years. They have been working with Oldham to expose the bandits and recover the stolen money. They also reveal that they have been secretly watching over Parker and Owen and that they approve of their marriage. Owen and Parker are shocked and relieved, and they decide to forgive their parents and go ahead with their wedding. The ending does not make sense, because it does not explain how Billy and Lilly fooled everyone, or why they did not tell Parker and Owen the truth sooner.

It does not match the tone of the film, because it is too serious and sentimental for a comedy, too easy and peaceful for an action movie, too shallow and superficial for a romance, and too obvious and simple for a mystery. It is a weak and lazy way to end a film that could have been much better with more creativity and effort.

The Outlaws 2023 is a film that might appeal to some viewers who are looking for mindless entertainment, but it is not a film that will satisfy those who are looking for smart and funny comedy. The film is a missed opportunity that could have been much better with more focus and balance.

Final Score – [3/10]
Reviewed by - Arpita Mondal
Follow @ArpitaMond33387 on Twitter
Publisher at Midgard Times