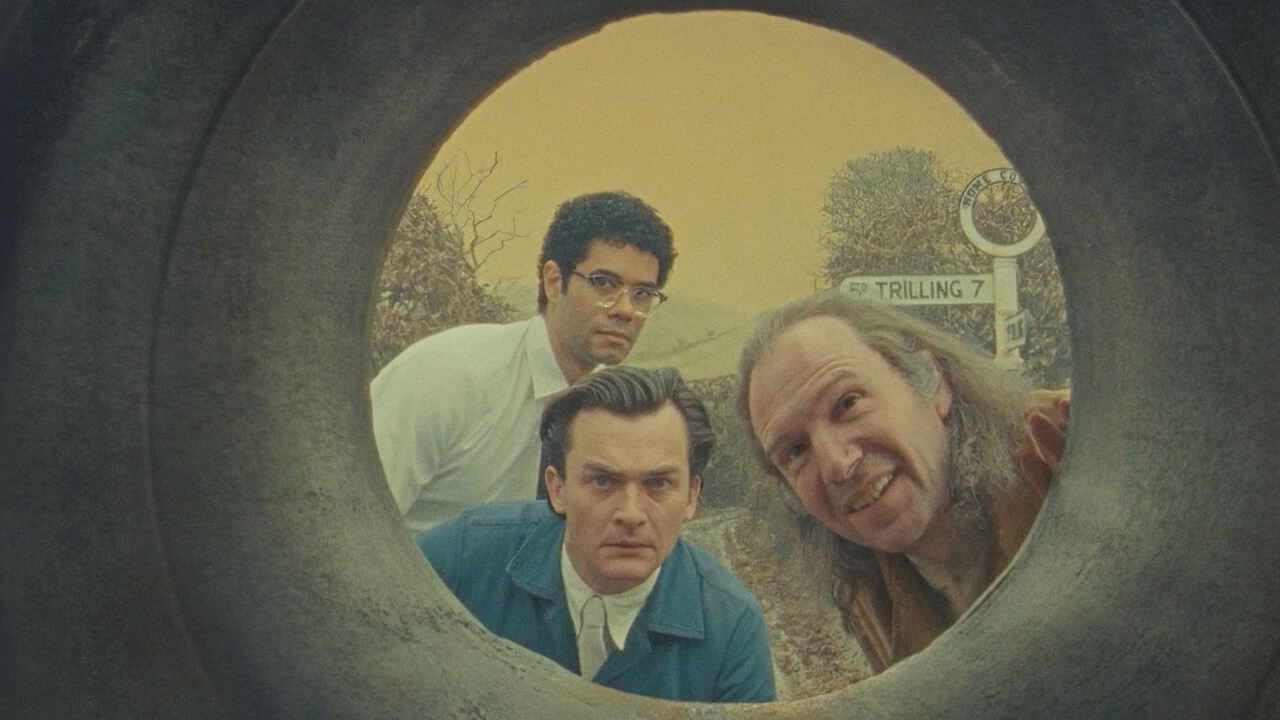 As someone who didn't like Wes Anderson's version of The Wonderful Story of Henry Sugar and The Swan, I was not really excited about The Ratcatcher. I still think reading Roald Dahl's text is the best way to enjoy both Henry Sugar and The Swan. Anderson's almost slavish word-to-word adaptation offers his trademark, colorful visuals, but the style overwhelms the substance, and the result feels like watching bland talking heads monotonously breaking the fourth wall. At least, this was true for both Henry Sugar and The Swan. The Ratcatcher, on the other hand, turns out to be a superb marriage between Dahl's text and Anderson's quirky visuals. The style finally goes hand in hand with the substance.

Anderson's The Ratcatcher is like a theatrical performance done by children. When the narrator (Richard Ayoade) tells us about Rat Man's (Ralph Fiennes) ears, the character points his hands toward his ear. In fact, all three actors - Ayoade, Fiennes, and Rupert Friend - exude a childlike quality from within them. Their eyes and expressions are clear. They seem incapable of hiding any malice from the audience. We are able to see their internal feelings through their external appearances. Fiennes is the best thing in these shorts. Even when the film fails, he manages to leave a memorable impression. As Dahl, Fiennes displays wisdom, and as a Rat Man, the actor gives us mischievous gestures. Look at his eyes when he asks the other two characters if they would like to see something incredible. Only Fiennes could have brought Rat Man alive so wonderfully on the screen for us.

Once again, Anderson's film shifts between different narrators. We first see Ayoade uttering the words from Dahl's text, and then the baton is passed on to a rat, and somewhere in the middle, Dahl himself appears for the narration (Fiennes plays the role of the author). This shift is pulled off confidently and looks more exciting here than in the two previous shorts. While reading the original story, I wondered what Anderson would do with the confrontation between a rat and Rat Man. Well, the director has shot the scene with a combination of simplicity and great imagination, and it's nothing short of a miracle. You see it and say to yourself, "Only Anderson could have come up with something like this."

The only scene where Dahl's words prove to be greater than Anderson's vision is the one where Rat Man stands calmly on the ground while a rat runs for his life inside his clothes. While reading the story, you are filled with horror and exhilaration while your mind visualizes this moment. The image on the screen, however, doesn't do anything for your pleasure. Still, there is one more short film left for us, and I hope it at least turns out to be as enjoyable as The Ratcatcher.

Final Score- [9/10]
Reviewed by - Vikas Yadav
Follow @vikasonorous on Twitter
Publisher at Midgard Times