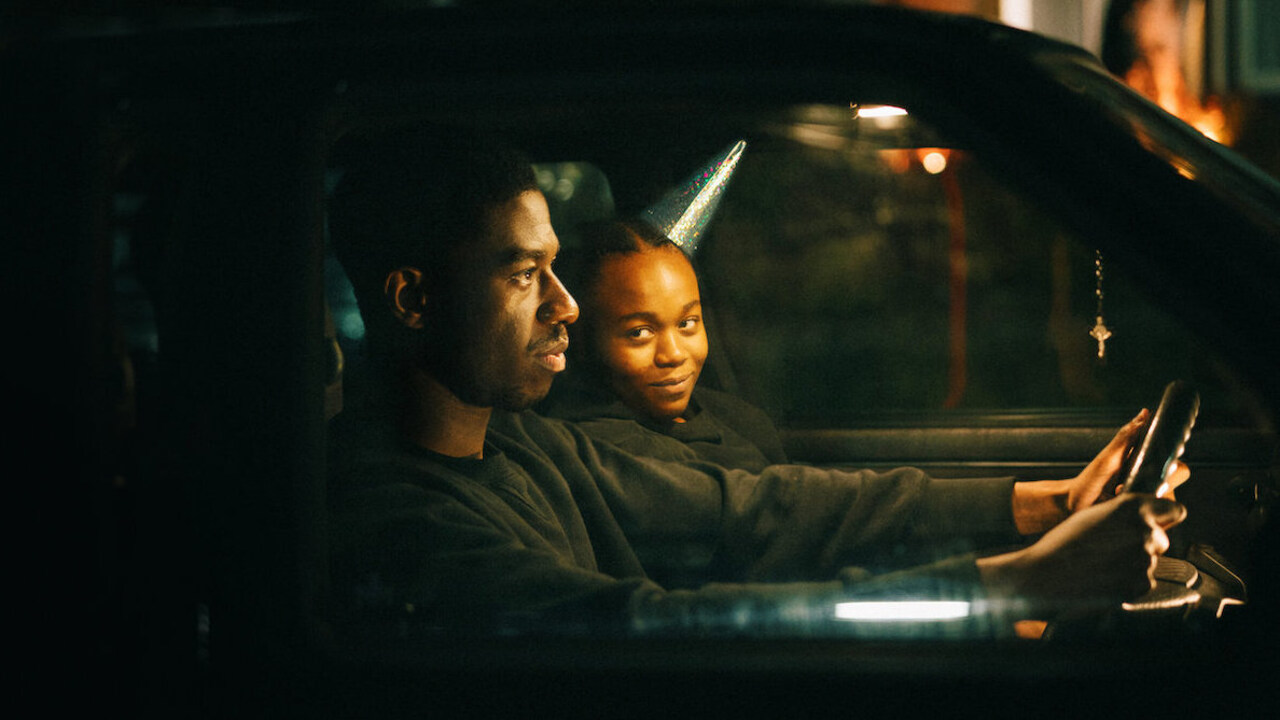 The Strays is a recent release on Netflix. A 1 hour 40 minutes film that somehow leaves you confused and in a funky mood at the same time. I had quite an absurd experience while watching this enthralling movie.

It follows the story of a light-skinned Black woman who seems to run in the face of danger, no matter the cost. The movie begins with an intense scene that leaves all your stimuli on high alert. Cheryl, the lead, is talking to her sister on call while trying to smoke away her worries. There is a newspaper on the table with the title surrounding a racist crime. Her sister is screaming at her for her massive credit card debt. Cheryl is unable to clear it and pay her rent due to her luxurious lifestyle.

Have you heard of the saying, 'Live below your pay grade'? She clearly hasn't. Well, the mysterious woman decides to up and leave the house with no traces. She packs a duffel bag and writes a note saying she is going to the hairdresser. Classic abandoning movie, to be honest. As she leaves the house, the phone rings for one last time and the voicemail is of a man sounding angry for not picking up the call.

The British horror-thriller has taken the world by its throat with people talking about it all over the world. The plot is quite twisted and bent. It alternates between the present and the past. Quite honestly, it had me confused there for a minute. Through the course of the film, we notice people calling Cheryl, Neve. She is married to a rich upper-class white male and waltzing through life. However, she hides her curls behind perfectly manicured wigs and blends into the crowd with her light-colored skin. Neve is embarrassed about her heritage and keeps her two children, Sebastian and Mary, away from their culture. Moreover, she has an irrational fear of Black people. She can't seem to stop being jumpy and extremely judgemental (cancel-worthy) when it came to dark-skinned people. As someone from the same community, you'd really think she would be more empathetic.

The Strays are, in fact, her two abandoned Black children which come into the movie soon enough. They seem to be trying to locate their mother who abandoned them years ago. One by one the story uncovers and the plot thickens at the same time. Neve, once known as Cheryl, had an abusive husband and two children. When she walked out of the house roughly 17 years ago, she abandoned Dione and Carl who are..well, salty, about it. Quite rightfully. She did up and leave for the hairdresser's place years ago. Carl and Dione seem to be disturbed and short-tempered, a product of their abusive dad. They seem to have been through hell and back and stuck together as one to get united with their mother. Slowly and gradually, they seep their way back to the terrified Neve's life.

The end of The Strays, though, is what got me clutching my seat. Carl and Dione lock Neve, her husband Ian, and their two children inside the house to 'celebrate' Dione's birthday. They order takeout food. Once the delivery man comes to give the order, Neve slips away and abandons them all. She seems like a woman with no conscience and no morals. The audacity of Neve to leave behind her four children and very loving husband who would go to all lengths for her is quite astonishing and quite a turn of events.

The themes the movie dealt with were not very clear, but the setting was spectacular and fit in really well with the entirety of the plot. In my opinion, the movie was quite fun to watch. If you have nothing lined up on your viewing list or need a refreshing dose of darkness, The Strays is your go-to. As a critic who is exhausted of serial killer thrillers but still somehow interested in them, The Strays is definitely a good movie to watch.

Final Score- [8/10]
Reviewed by - Jess Doshi
Follow @JessDoshi on Twitter
Publisher at Midgard Times