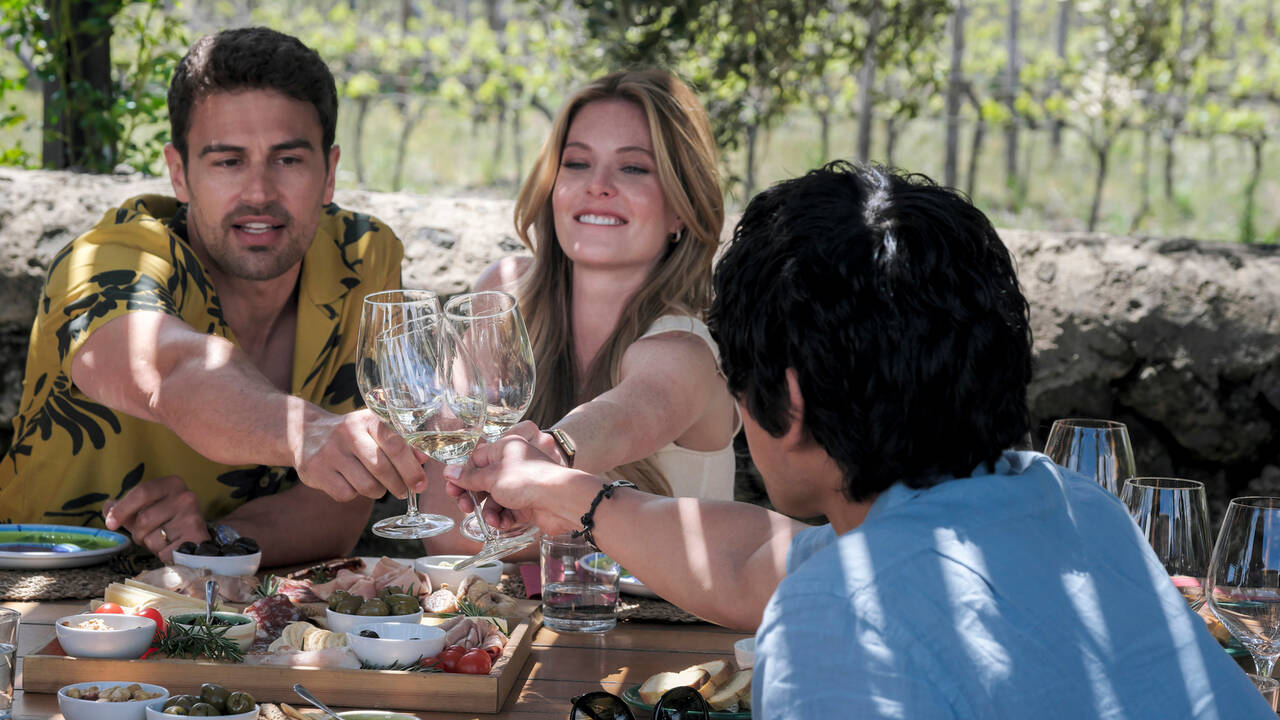 The first season of The White Lotus saw its characters as wild animals running amok. The resort doubled up as a zoo, and the background score, with its animal-like sound, only confirmed our notion. That score returns again for the second season, though it is slightly altered. The good news is that, unlike the previous installment, this background score is not overused here. I am also glad to report that after watching five out of seven episodes, I can say that The White Lotus Season 2 is absolutely enjoyable. I seriously hope the last two episodes don't mess up its reputation.

At first, the second season seems to be repeating the formula of the previous season. The guests arrive on a boat. The hotel manager, Valentina (Sabrina Impacciatore), like Armond, asks her staff to wave and give a broad welcome smile to the guests. You look at her costume and behavior and immediately mumble, "She's like Armond." Two local girls and best friends, Mia (Beatrice Grannò) and Lucia (Simona Tabasco) remind you of Olivia and Paula. One of them looks at the guests on the dock and passes judgment. Then there is Tanya (Jennifer Coolidge), the only character returning from the Hawaiian resort.

But all these are merely first impressions. The White Lotus Season 2 slowly and confidently tears them down and wears its own uniform. Yes, we again have rich people staying at a luxurious resort. Yes, someone dies again this time around (expect more than one corpse). If you zoom out and look at season 2 with a broad lens, you might find it somewhat similar to season 1. However, when you go into the specifics, you will find pleasant and exciting changes.

Harmony between characters gets disrupted, but what is the cause? Lack of intimacy, of course. Things are rough between Albie (Adam DiMarco) and his Hollywood producer father, Dominic (Michael Imperioli), who, in turn, has a rocky relationship with his father, Bert (F. Murray Abraham). The three of them have come to Sicily to explore their ancestral roots. Tanya and her husband, Greg (Jon Gries), often argue with each other. Even their romantic moments are interrupted by inconveniences. When they have sex, she pushes him away as she sees some images. When they ride on Vespa, he has trouble breathing, and a bug flies into her mouth. Ethan (Will Sharpe) and his wife, Harper (Aubrey Plaza), behave as if they are a perfect couple, but they, too, have some troubles. For instance, he likes to make out in the morning, but she is more of a night person.

Cameron (Theo James) and his wife, Daphne (Meghann Fahy), also have some issues. But perhaps, they might have found the best solution to stay happy despite problems. What do they do? They ignore each other's indecent behavior and happily live in a bubble. And when I say they live in a bubble, I also mean that this couple has no interest in the situation of the world (they don't read the news). So what does all this mean? When you live with someone long enough, you either start to bicker with them or use ignorance as a tool for cheerfulness. No wonder it's the strangers who really communicate and connect with one another. Tanya's assistant, Portia (Haley Lu Richardson), finds more intimacy (with two different men) than the rest of the characters.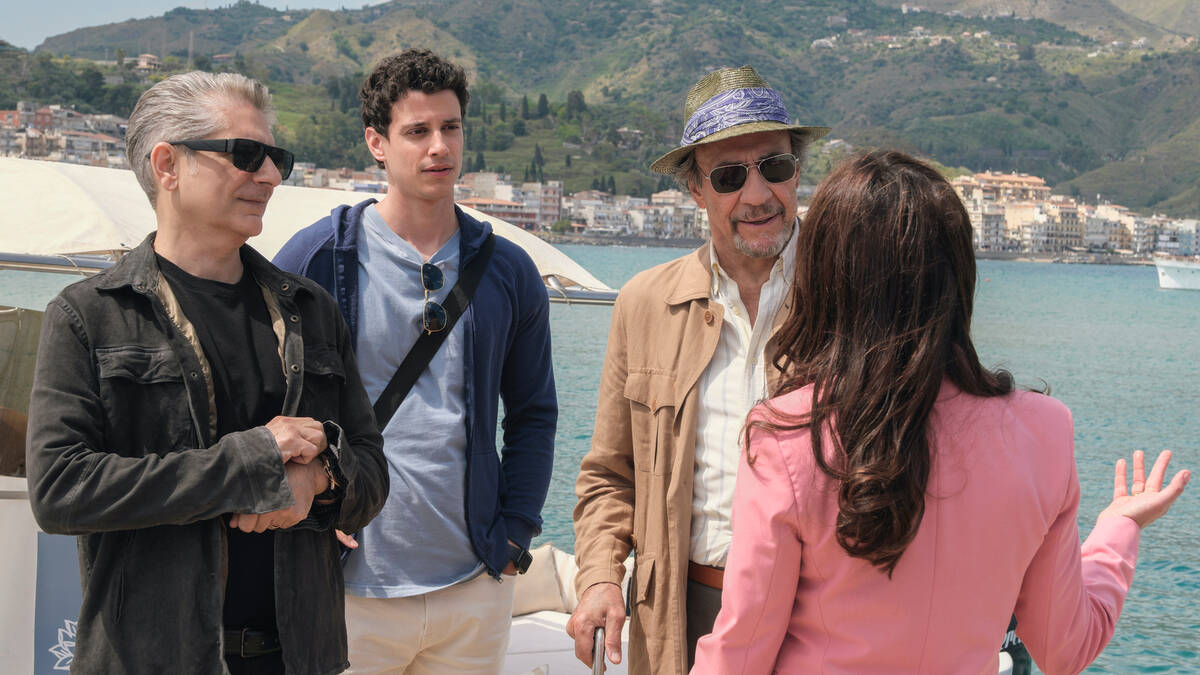 Cameron and Daphne are on a couple's trip with Harper and Ethan. One of the joys of watching The White Lotus lies in their conversations. Just look at them talking about Ted Lasso and binging content on streaming platforms. Most of the time, they desperately choose topics to have conversations about. Writer-director Mike White superbly films these moments. The uncomfortable pauses, and the sharp cuts from one face to another, all heighten the awkwardness. I just loved the way the characters talked in The White Lotus. Something as simple as Valentina's attempts at flirting with a woman looks and sounds sweet and vulnerable. Speaking of Valentina, there is a scene where she is seen sitting alone and feeding cats. She is someone who has no friends because she has dedicated herself to her work. Late into the show, when someone flirts with her, she beams and blushes awhile. It feels as if a hard shell has cracked a bit with warmth.

The White Lotus has its share of pleasant and spiky moments. It's like the two glances Portia receives while having dinner. Albie gives her a sweet look while Tanya upsets her. When the camera cuts to the latter's face, we hear a horror movie-type score. The two contrasting moods exist together and sometimes alternatingly pop up here and there. Have you ever seen those comedies where the man takes a walk and only sees couples when he thinks about his girlfriend? There is a scene like that here, though it's converted into a sad moment. This scene could have failed, but it works because of the actor. In fact, all the actors do a fantastic job. I absolutely loved each and every performance. Thanks to them, the characters come across as humans, not stick figures with quirks.

The show often inserts images of waves crashing on the rocks to signify the turbulent situation of the characters. These shots could have been used a little less. The same applies to the shots of a head, which has something to do with cheating husbands. However, I was struck by some scenes, and they overshadowed my quibbles. For example, a woman puts a condom packet in her bag like she is storing information in her memory bank to use later during an argument with her husband.

Someone says, "A world without beauty is not a world to live in." To which Tanya replies, "Nothing can be more beautiful than this." (See for yourself what "this" means). The same thought can be applied to the second season of The White Lotus. It's a beautiful show with beautiful people staying in a beautiful location. It's thoroughly entertaining and captivating and does not have a single dull moment.

Final Score- [9/10]
Reviewed by - Vikas Yadav
Follow @vikasonorous on Twitter
Publisher at Midgard Times
Note: The first five episodes of Season 2 are screened for this review.
Premiere Date: October 30, 2022, on HBO