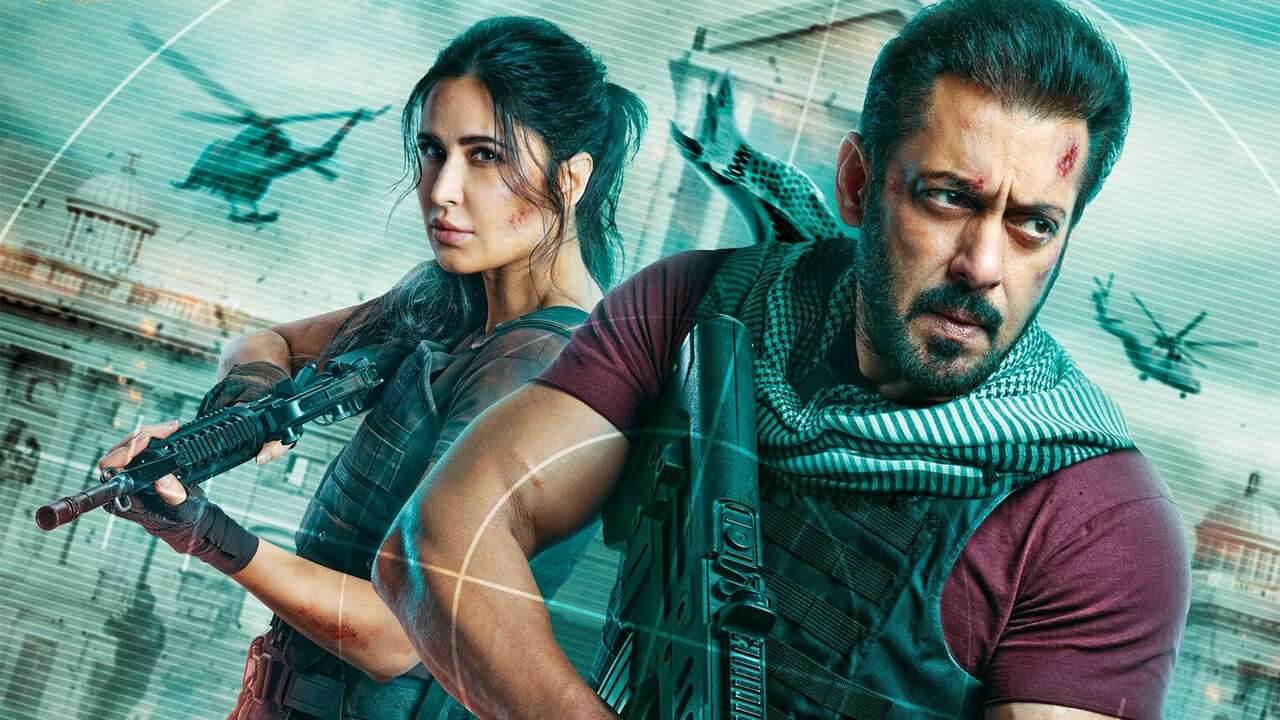 There is a plethora of bullets and bombs in this latest Tiger installment, and amidst all this chaos, Salman Khan seems mostly unperturbed. Is his acting locked within a limited range, or does that calm face indicate that Tiger (Khan) has seen all these explosions before, so much so that these sights don't shock him anymore? He rides a bike on a collapsing platform and impassively tells someone that they need to catch him or else he won't be able to return to India. His expressions only further assure the audience that this character will not so quickly meet his maker. Picture abhi baaki hai, you know. What all this means is that Khan is pretty much watchable during the "cool moments." His confident walk made the audience in my theater explode with joyous emotions. It's the emotional scenes where Khan misses the mark. His tears can be unintentionally hilarious, but this minor inconvenience is muted through the screams of the audience, which becomes indistinguishable from the ear-splitting score.

As a Scream Generator, Maneesh Sharma's Tiger 3 passes with flying colors. The swaggy attitude produces whistles, and the viewers levitate from their seats when a certain someone appears. The movie is definitely not lacking in style. Even the post-credit scene comes with pizzazz as "Hello There" becomes "Hell Here." The Tiger franchise has become a part of the YRF Spy Universe, which will follow the Marvel model (characters from one movie will appear in another production). Hence, this post-credit scene promises more thrills in the future. But is Tiger 3 actually good, or is it just a giant advertisement for future installments?

Look carefully, and you will notice that Tiger 3 is not only following the Marvel template but also replicating a few things from one of its own hits. I am, of course, referring to Pathaan. In Siddharth Anand's film, the antagonist (Jim) feels betrayed by his motherland. Here, the antagonist - a wicked Emraan Hashmi as Aatish - once again feels betrayed by his country. There, the Deepika Padukone character - the love interest - broke Pathaan's trust. Here, Tiger's wife, Zoya (Katrina Kaif), does something similar to her husband. In both movies, the main villain loses his pregnant wife and, by extension, his child. What's more, the surprise cameo in both films comes after the interval. I hope the upcoming YRF spy movies don't repeat the same formula.

The opening scenes of Tiger 3 are well-executed. Zoya's backstory is thrillingly shot. The whole Operation Time Pass sequence is rousingly timed and dispatched. But beneath all the noise, there is a lot of substance. Consider the scene where a young Zoya is trained by her father. He tells her to take an offensive approach only if she has a purpose (only terrorists attack without any reason). This purpose thing is also found in the script. Aatish gives India and Pakistan a reason (Tiger) to hate each other. A boy helps Tiger in his mission because he was saved by this character in an earlier installment (i.e., he has a reason). Even a man changes sides towards the end because he lost someone (he, too, has a...you get the point). Thanks to the strong writing (Shridhar Raghavan has written the screenplay), what otherwise could have been merely generic twists/developments are converted into logical events.

Tiger and Zoya's relationship is connected to the one between their respective countries. When he starts suspecting her, the movie asks us this question, "Can India and Pakistan ever live in peace, given their decades of enmity?" On one hand, Tiger 3 doesn't put the blame on the countries. It's just a few bad seeds that flame the fire of hostility (Ranvir Shorey's character represents the half-truth, the incomplete information that further increases the tension between the two nations). But on the other hand, these few bad seeds are only Pakistanis. No matter how progressive a Bollywood movie becomes, it cannot fully avoid certain patterns.

The action scenes in Tiger 3 are less spectacular and more competent. Kaif, however, shines in this department. She makes every kick, every punch look slick and elegant. Her physical confrontation with another deadly woman comes with a mixture of sensuality and strength. All in all, Tiger 3 is an enjoyable addition to the YRF spy universe, and Sharma shows the same directorial powers that Anand displayed in War (lost in Pathaan). The film is also wildly superior to other Tiger installments. The third time's the charm.

Final Score- [7/10]
Reviewed by - Vikas Yadav
Follow @vikasonorous on Twitter
Publisher at Midgard Times