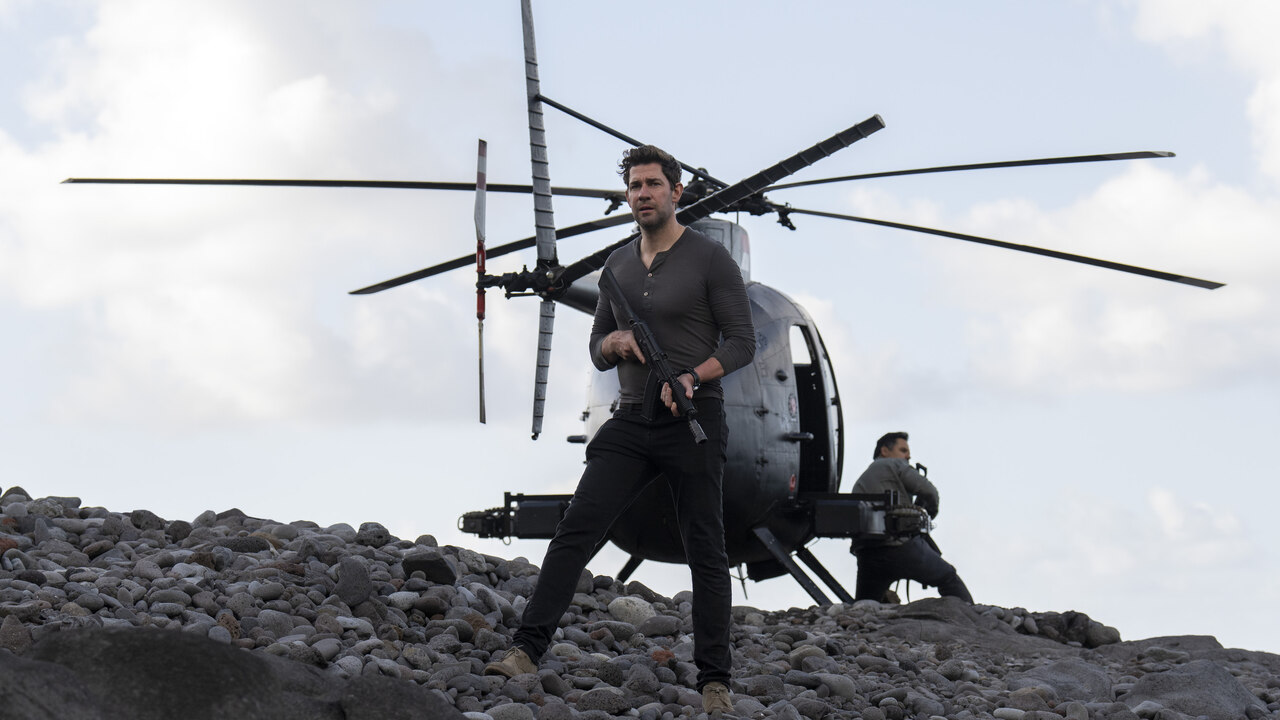 Not all actors can disappear behind their characters. Even some good ones struggle to sell themselves in a particular role. For instance, take Shefali Shah in Suresh Triveni's Jalsa. Shah's face looks so haughty and high-class that we fail to consider her as domestic help. She appears like a rich woman pretending to be a poor one for the sake of someone's entertainment. Because of her, the whole movie wobbles, and you wonder why the hell didn't anybody come up with a very simple, obvious solution: Swap the roles of Shah and Vidya Balan.

Anyway, I am talking about these things because the fourth and final season of Jack Ryan suffers from a similar problem. It makes Michael Peña give solemn expressions, and due to this, the actor looks weird. You always feel Peña is holding back a joke or stifling his laughter. This is why he seems in the zone while delivering one-liners, like when he uses a security card and says, "You really gotta get yourself one of these" to some guards. But if Peña's character (named Domingo Chavez) isn't continuously dispensing witty remarks, that's because a sense of finality lingers over the fourth season of Jack Ryan. The images, like a funeral portrait, have a black frame around them. Season 4 often gives the impression that any character could die at any moment, but it doesn't ever fully embrace this sentiment.

Consider that scene where enemy vehicles arrive at an airfield. Jack (John Krasinski) and his team notice the incoming cars, and their faces bear the expression of utter hopelessness. However, they quickly escape through a helicopter, and all that feeling of despair seems like a cheap trick employed to evoke an emotion from the audience. In another scene, a character saves himself by jumping into the water after getting stabbed. Jack Ryan Season 4 only teases that its characters are in danger. Since it's unable to conjure real, palpable dread, our hands don't shake in trepidation. We calmly watch the show with surety that the main characters will ultimately remain protected. The few people who do die here don't make much dent. What's more, their final moments come across as disposable.

Since this fourth season is also labeled the last season, it's sprinkled with traces of pathos, triumph, and a bittersweet taste. Some of it feels artificial, like Jack's relationship with Cathy (Abbie Cornish). The actors display zero chemistry; their kiss is as hot as a cold shower. It's tough to believe that these two are now a couple. What's worse is that Cathy is finally reduced to a damsel in distress. Here is someone who could have benefitted from better scenes and characterization because Cathy is incredibly bland. But it's not like Jack, Domingo, and James (Wendell Pierce) look finer (and they get so much screen time). Even these actors appear exhausted and seem to be going through the motions. Only Betty Gabriel, as Elizabeth Wright, sparkles here and there. She fills the atmosphere with exuberance when she walks into a restaurant with a smile on her face before revealing to someone that he has been arrested.

During a mission somewhere, Jack takes a picture of a scenic view and sends it to Cathy. They chat briefly, as the moment is interrupted by an important phone call. In Season 4, characters try to prioritize their personal life over their professional ones. James even tells Jack that his familial life has taken precedence over everything else. The series, however, is unable to imbue freshness into work life and/or private moments. It falls back on clichés like James leaving his son's game. There is a lack of bombastic action scenes, which is nice, given how ear-splitting and incoherent they tend to be. But whatever violence we are offered here is fleeting and inelegant. The one aspect that shines brightly is the dialogue delivery. The lines are dispensed with zest, keeping you occupied. The fourth season of Jack Ryan is a cut above the previous seasons, though that may not be a big compliment. I was never a fan, and I am happy the show has finally ended.

Final Score- [6/10]
Reviewed by - Vikas Yadav
Follow @vikasonorous on Twitter
Publisher at Midgard Times
Note: All six episodes of Season 4 are screened for this review.
Premiere Date: June 30, 2023, on Prime Video