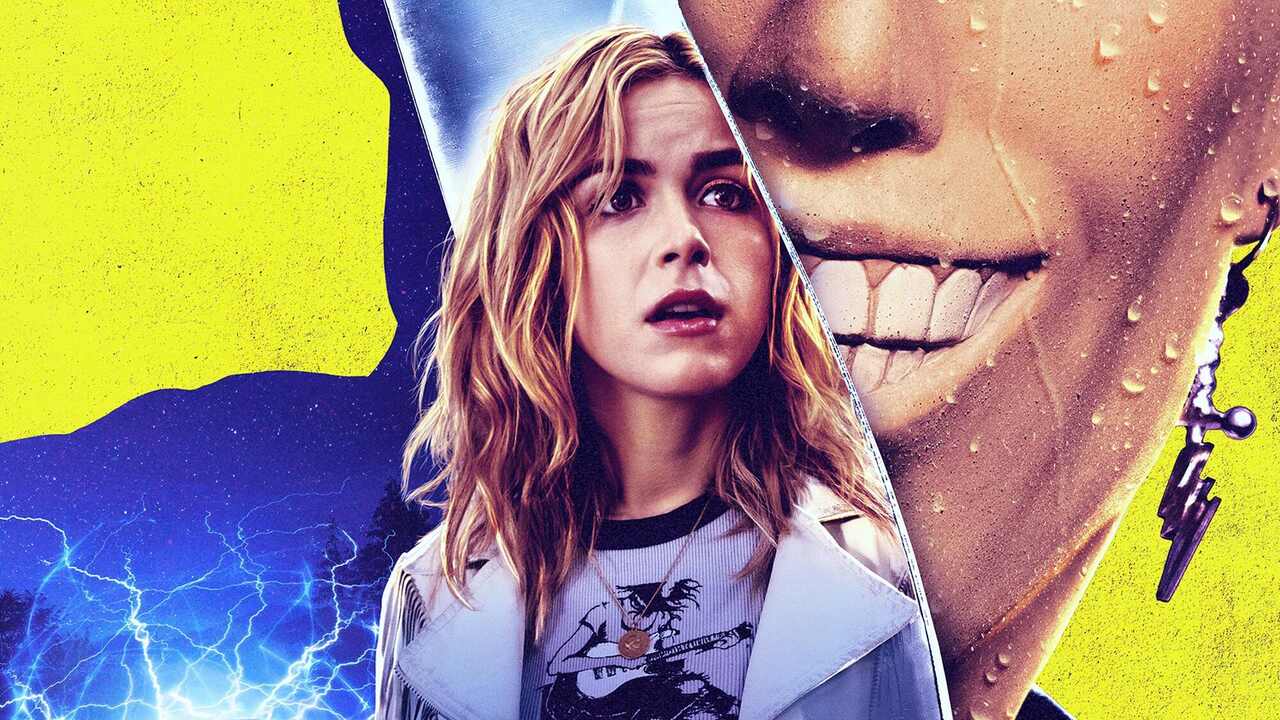 Totally Killer begins by taking the audience to the town of Vernon where three murderers happened 35 years ago on October 27, 1987. Tiffany, Marissa, and Heather were the victims, and all three young girls were stabbed sixteen times. This act of hate committed when they were just teenagers came as a hard blow to the town's community as they knew that they weren't safe anymore.

Currently, the town utilizes the places of these killings as tourist spots. Chris, the host of a podcast actively covers everything happening in the town and he is the definition of a douchebag.

Jamie, the lead character and our hero in Totally Killer lives with her mom, Pam, and Dad, Blake. The parents are worried about their daughter's safety as what happened 35 years ago could repeat itself. You never know when a serial killer will strike again.

While Jamie and Blake are away, Pam gets attacked by the Sweet 16 Killer (as he stabs his victim 16 times). The scene is horrifying as just when we think he's left, he comes back stronger. Pam gave a good fight nonetheless, she couldn't be saved.

Jamie is highly affected by it. One day, Chris (the podcast guy) reveals that his mom was left a note by the killer many years ago about her being the next. This raised questions in Jamie's mind and she started asking questions. We see in a scene that when Jamie was walking down a road, the killer was watching her from a distance. Why was this family being targeted?

One day while at the place where the fair was going to be organized, Jamie gets attacked by the killer. He followed her there and he intended to kill. Amelia (Jamie's best friend) was working on her mother's time machine and with its help, Jamie was able to go back 37 years.

This comes as an opportunity for her as she can save the killings of those three girls and her mom. However, nothing comes without its consequences. The things altered as Jamie started interfering with them. After she fails at saving Tiffany, it scares the audience about the survival of others and Jamie herself.

The last scenes of the film are intense and make us worry about the consequences it is going to have in the future. Everything that took place in 1987 will have consequences in 2023 so, the path had to be trodden carefully. Jamie initially couldn't handle things as it's difficult to convince the '80s version of her known people that she has come from the future. Amelia's mom proves to be of great help.

It was surprising watching Jamie's mom in her teens. While she was a calm and composed adult, she wasn't the same in her school days. The gang of 4, namely, Tiffany, Marissa, Heather, and Pam were like the mean girls of the school. They didn't treat their schoolmates nicely, hence the list of suspects was too long.

I wasn't able to guess who the killer might be initially still, in the last twenty or thirty minutes, it becomes clear who might be behind all these gruesome murders. That reveal was shocking and the motive raised a question about the morals of these mean girls.

Totally Killer is fabulous at maintaining the mystery till the end. I am amused by this Halloween release. It is a mix of sci-fi and a great crime thriller. Although, we all know how Totally Killer is going to end, the various elements added to it make the movie fun to watch. I'm impressed by the performance given by the cast and this one definitely should be on your Halloween watchlist. The suspect shifts from time to time and this keeps the audience hooked to their screens.

Final Score – [8/10]
Reviewed by - Riya Singh
Follow @_riyasinghhh_ on Twitter
Publisher at Midgard Times