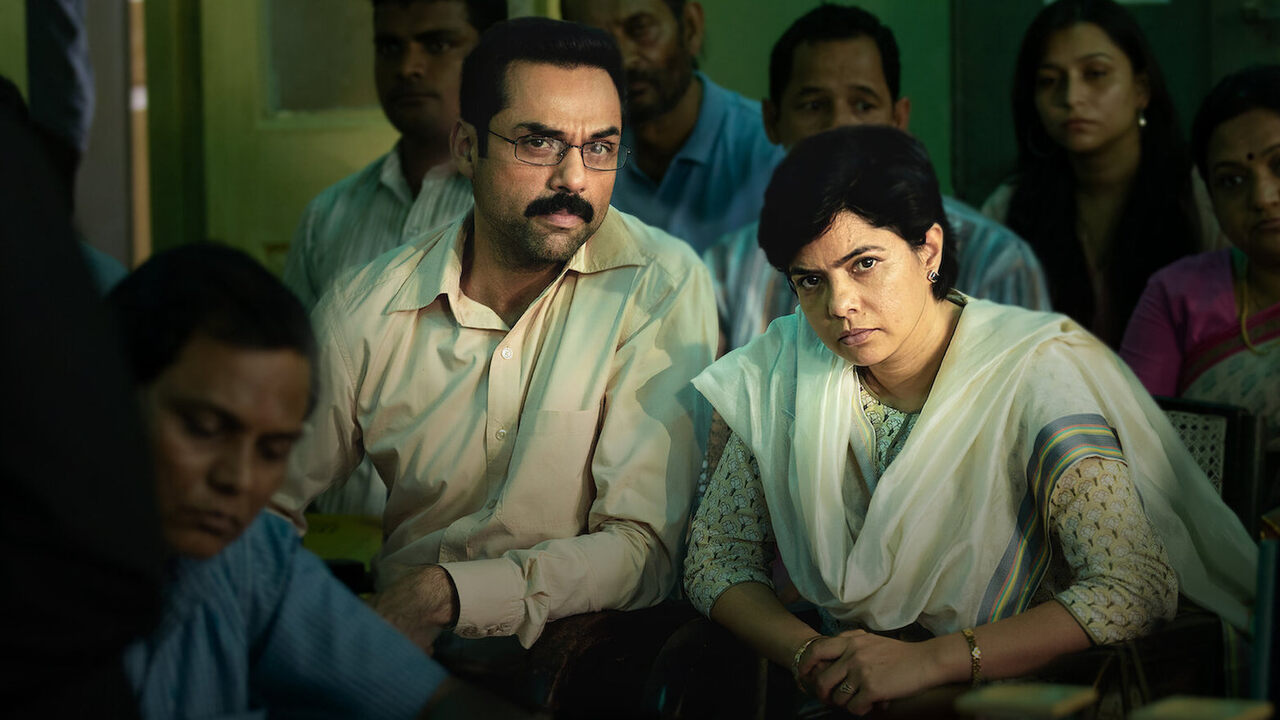 As soon as I watched Rajshri Deshpande and Abhay Deol playing the role of a married couple, I was reminded of Shefali Shah and Manav Kaul's performance in Ajeeb Daastaans. Like them, Deshpande and Deol find comfort in one another and absolutely look like a real-life couple. This is what I wrote in my review of Ajeeb Daastaans: In the opening scene itself, when you see Kaul and Shah together, you, without any doubt, accept them as a lifelong couple. You can replace "Kaul" and "Shah" with "Deol" and "Deshpande." But it's not just these two excellent actors. Trial by Fire has a lived-in quality to it, making things credible.

The series can be reviewed by splitting it into two parts, like a pros and cons table. The purpose behind using this approach is that Trial by Fire has dual intelligence. It's amateurish and also smart. One facet disappoints, while the other yields reward.

Look at the positives first. Deol (as Shekhar) and Deshpande (as Neelam) effectively and effortlessly bring the couple's grief to the surface and involve us in their troubles. Their sorrow, determination, and exhaustion become palpable as they fight not only one of the wealthiest men but also a limp judiciary system. You feel sorry for them and get frustrated with courts and lawyers when you observe how many months and years go by without any fair and firm decision. You want Shekhar and Neelam to win, which is why you are annoyed by that closing text at the end of the last episode.

The scene where Shekhar and Neelam hide a birthday cake reveals how much they care for each other. It's heartbreaking to watch, and the same sentiment applies to the scene where Niraj (Ashish Vidyarthi) asks for forgiveness from one of the family members of the victims of the Uphaar Fire Tragedy. Niraj works for the Ansals, the owners of the Uphaar cinema hall. His job is to threaten all the family members who have joined the Association of the Victims of Uphaar Tragedy. Niraj has a wife and a son, and remarks are often made about his looks. For instance, a lawyer forbids him from visiting his office as his presence makes his clients nervous. After coming out of someone's house, Niraj tells his wife that maybe the owner didn't like his face and so gave him a sharp look. Such moments add depth to the show as we receive various viewpoints and understand the life and motivations of the other characters apart from Neelam and Shekhar.

And so we get an episode mostly dedicated to a retired army soldier and learn more about the man, Veer (Rajesh Tailang), who "fixed" the generator. The latter's personal life is depicted like an unbroken shot as days, months, and years pass by within seconds. Through Veer, the series underlines the existence of privilege. Shekhar and Neelam can voice their issues in front of the media and court. But people like Veer don't have the resources or the platform to publicly express their opinion. All they can do is silently suffer and watch television.

But now we come to the problems. One of them is that some scenes in Trial by Fire come across as too designed. As soon as you lay your eyes on them, you accurately predict their purpose. You know Neelam will scream when she watches the news and two kids meddle with the video game console. Shekhar says, "Kuch hi saalon ki baat hai, then they will be gone," because the next scene is about the disaster. This line is a hokum and is written to hit us with an emotional charge. Some young kids are placed outside a squash court so that an old man can accuse today's youth of being insolent (it's all horribly executed, as the scene makes its points in bold). Anupam Kher plays that old man, and his presence, along with that of Ratna Pathak Shah, proves to be a blunder. Kher and Shah are unable to blend into the show. They call attention to themselves, and their performance is one decibel higher than the rest of the cast.

Other banal scenes include a journalist finding something "fancy" and "strong" in the tragedy footage, a businessman - the villain - receiving a grand welcome (people clap for him while he walks like a celebrity on the red carpet), and a character finding inspiration after one brief conversation. The last thing occurs between Neelam and a lawyer, after which the latter gives a rousing speech like a movie aficionado-cum-politician. When Shekhar meets an old friend, he (temporarily) forgets about the case and hangs out with his buddy, drinking alcohol in cabs and bars. You see a man who has become tired of running to the courts and wants to move on. But this friend ends up being used as a tool to put Shekhar back on the "right path."

Trial by Fire might be about all the people who were affected by the Uphaar Tragedy, but the series - intentionally or unintentionally - becomes only about the pain and struggles faced by Neelam and Shekhar. The other family members are pushed into the background and transformed into a blur. The other characters are treated more like a footnote and either fill the crowd or participate in the tragedy recreation. Speaking of the tragedy, Trial by Fire initially repeats the blurry footage as many times as possible to milk our sentiments. It does not think that the chaotic aftermath scene (it's superbly shot) in the first episode does its job of conveying horror, and so it feels the need to hit us with tragic visuals whenever possible. It's a cheap way of evoking pity from the audience. You are basically admitting that your story, your characters, and your actors are incompetent. When we watch the tragedy in the final episode, it does not reveal any new information to us. Trial by Fire merely uses the scene for lazy emotional manipulations. During moments like these, you wish to take the creators to court.

Final Score- [5/10]
Reviewed by - Vikas Yadav
Follow @vikasonorous on Twitter
Publisher at Midgard Times