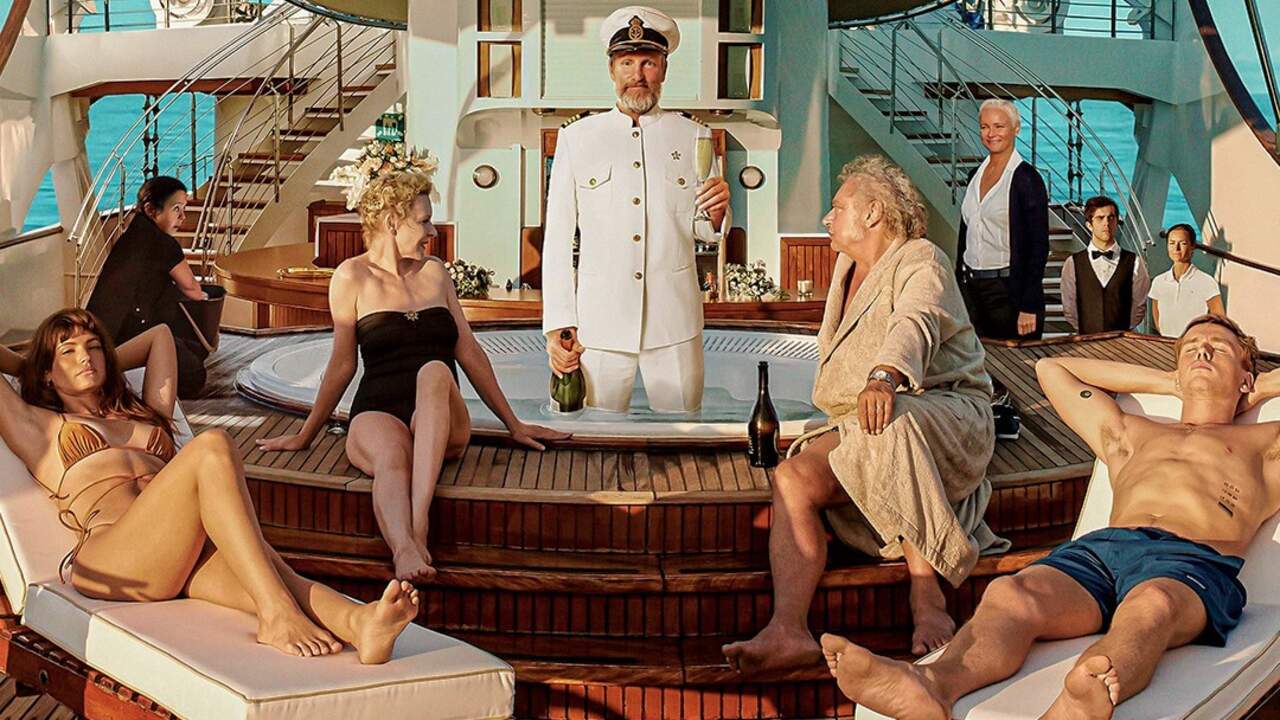 Triangle of Sadness is another Oscar-nominated film that's making the rounds at various awards. In this review, we will talk about the bizarre wonky adventure that is the Triangle of Sadness.

Triangle of Sadness, directed by Ruben Östlund is primarily about Yaya and Carl who are models/influencers. They get invited on a luxury yacht filled with a colorful cast of characters. What transpires as things go south with the yacht getting hit by a storm (among other things) is what the film is about. It is a drama/comedy and has a runtime of 2 hours and 38 minutes.

I feel Triangle of Sadness is by far my favorite on the list of Oscar Nominated films that I've seen (with the exception of Everything Everywhere All at once which is my personal favorite). I hadn't heard much about it all year, but now that I got a chance to watch it, I feel like it is one of the few films on the list that is able to deliver complex social commentary and subtext in a light manner that feels real and is actually enjoyable. This film doesn't have the subtlety or the slow drawn-out sequences that are popular with many Oscar-nominated films which makes me feel that it won't win. Instead, this film decides to be all bonkers with its execution. If I had to describe it in simple terms, it is a loud crazy ride.

To give you a little more information about the film (even though I'd suggest you go completely blind to it), it revolves around Yaya and Carl. As mentioned they're influencers who get an opportunity to be in a luxury yacht and travel with millionaires.

The film's opening features models talking about the disparity between how expensive and cheap brands tend to use models. The way expensive brands tend to have models work with their 'triangle of sadness' about their forehead is the initial point made by the film. They'd rather have models look mean with a sense of entitlement and arrogance when compared to cheaper brands who'd have them smiling. One such model featured in that scene is Carl. Carl and Yaya (another model) are dating, with Yaya making more than Carl. However, Yaya manipulates Carl into always paying for her meals until Carl finally confronts her. This leads to a discussion between them about money and power, these two symbols become the main themes of the film that permeates throughout its runtime.

Once the film shifts to the yacht, we get to meet some narcissistic, rich capitalists from all around the world. It doesn't sound like much but the characters are all different shades of the same green dollar sign. Some of the most interesting people on the yacht include a capitalist Russian, a drunk Woody Harrelson as the socialist American Captain Thomas, and a pixie-haired Paula trying her best to keep everyone in check. They're all wild and downright hysterical to watch even when things are supposedly normal. So you can imagine how funny it gets when things go south of normal. There are a lot of scenes that will make you genuinely wow with astonishment, make you laugh and even gross you out.

One of my favorite scenes of the film is when a woman complains about the fact that she feels that the sails are a bit dirty. It is an insane nitpick to have about a motorized boat but she somehow has it. This and the other ways that the rich people treat everyone on the boat reminded me of the embellished and excess-filled sequences from Martin Scorsese's Wolf Of Wall Street. The way they act like there is no consequence to their actions because of their money is downright revolting and hysterical in funny ways.

The film has all kinds of humor. Towards half time the setting of the film changes. I don't want to spoil it but essentially it leads to a role reversal which brings about some very fascinating and interesting scenes. The film is most memorable during that time and is able to really juxtapose the characters' plight compared to how it was during the beginning of the film. It goes on to have a very unnerving but a little predictable plot twist ending which I feel could've been resolved better. Though it is still decent. The film keeps it paced super fast barely giving you too much time to breathe once the crazy sets in. I feel they could've done more with the film but for what it sets out to accomplish.

It is technically sound but where it shines is in its story, script, and characters. It is an easy watch that makes it super difficult to put it down. It has good humor and interesting social commentary with entertaining situations. I'd definitely recommend this film even though I'm pretty sure that it is too blunt of a film to win Best Picture or Best Screenplay.

Final Score – [9/10]
Reviewed by - Aayush Chaurasia
Follow @AayushC44 on Twitter
Publisher at Midgard Times