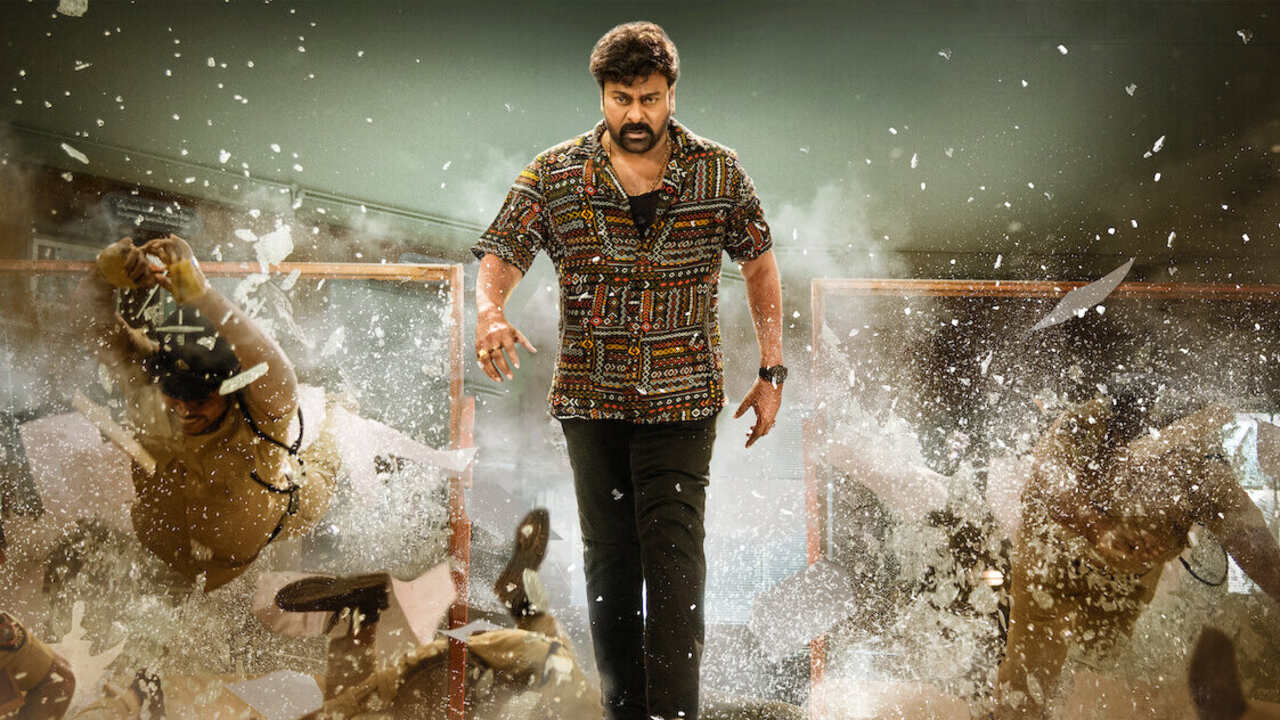 Director Bobby Kolli's Waltair Veerayya opens with a plane crash. That plane can be thought of as the screenplay, which keeps tumbling down till the finale. Let's consider the so-called screenplay of Waltair Veerayya for a second. While watching the movie, you wonder if the pages are simply filled with the words "aww" and "insert hero entry shot here." Waltair Veerayya is embarrassingly sentimental. The emotional scenes are accompanied by mushy music and characters displaying teary eyes with puppy faces. The movie practically begs you to cry, but this sea of schmaltz has the opposite effect. It makes you cackle.

Waltair Veerayya is a mass film, and a mass film is packed with cool entry shots. This is why Chiranjeevi continues to "enter" the movie till the final set piece. He arrives sailing on stormy waters and, at one point, appears by cutting through a thick cloud of white smoke. In Waltair Veeraya, Chiranjeevi plays the titular character. But let's be honest, in a mass film, there is no place for a "character." What we see is a star/superstar/megastar posing for his fans. All he does is wink at the camera and the audience. In one of the scenes in the film, Waltair breaks the fourth wall after delivering a social message-like dialogue. He looks at the camera and folds his hand as if sure of the fact that the crowd is appreciating his imbecilic goodwill speech. It's meant to be funny, but who's laughing? However, if you did end up clapping at the lecture, chances are you might have enjoyed Waltair Veeraya.

The movie simultaneously looks programmed as well as something that is being invented with progression (the twists serve as the best example of this, as they look shocking yet mindless but, at the same time, reveal that everything is happening with a purpose). A police officer - after looking at the dead bodies of his colleagues - kneels down, spreads his hands, and cries. It's the kind of theatricality that originates from the hands of a non-specialist, and Kolli's ineptness comes from a childish space. The way he briefly inserts slow-motion shots during action sequences gives you the impression of watching something made by an enthusiastic neophyte. Kolli's "cool shots" are similar to the ones kids (who have only watched Waltair Veerayya-type of films) dream of when they are told to imagine a kick-ass scenario. When bodies fly and things blow up, it feels like you are watching a child throw his toys here and there.

Kolli's childishness also comes through Chiranjeevi. The actor's exaggerated gestures during both lighthearted and heavy scenes come across as jejune. He basically looks like a teenager trying to entertain a crowd through over-the-top attempts at humor. We hear Waltair's voice before seeing his physical image, which leads us to expect an intimidating figure with lashings of style. But when we see Waltair, we are not overawed by his presence. As a result, the words of the naval officers praising Waltair ring false. The problem is exacerbated whenever Waltair fights with his foes, as we are able to notice the fakeness behind the punches. The movie oversells Chiranjeevi and his charm, but we don't buy even a second of it. Ravi Teja, in comparison, fares better. He is relaxed and devoid of the weight to impress the audience, probably because his role is an extended cameo and doesn't ask him to carry the whole film on his shoulders. Teja makes us feel sympathetic towards his character, Vikram, when he dies in a car.

Kolli is so in awe of his superstar(s) that he transforms into a fanboy. He doesn't seem to be doing his directorial duties. Rather, he gapes at the stars like an admirer, letting them do whatever they like. His obsessive vision is visible for anyone to see. Look how Kolli sets certain characters up with a lot of swag and then discards them like junk as if fearing they might steal the spotlight from the main attraction (Chiranjeevi). Athidhi (Shruti Haasan) is a RAW agent with a flexible body and deadly combat skills, but the movie doesn't give her much to do and reduces her to a mere eye candy (she is unable to overpower a drunk Waltair). Solomon (Bobby Simha) is introduced as a villain who can kill you while being cuffed and blindfolded. But after his introduction scene, he looks feeble and forgettable.

A character says, "I don't want to hear routine dialogues." One wishes that the movie, too, hadn't been so routine and generic. The stakes are always low because Waltair Veerayya never stops reminding us how powerful the eponymous hero of this story is. Don't expect anything exciting and suspenseful from a film that inserts a romantic song in the middle of serious planning. The movie is as disposable as its CGI.

Final Score- [4.5/10]
Reviewed by - Vikas Yadav
Follow @vikasonorous on Twitter
Publisher at Midgard Times