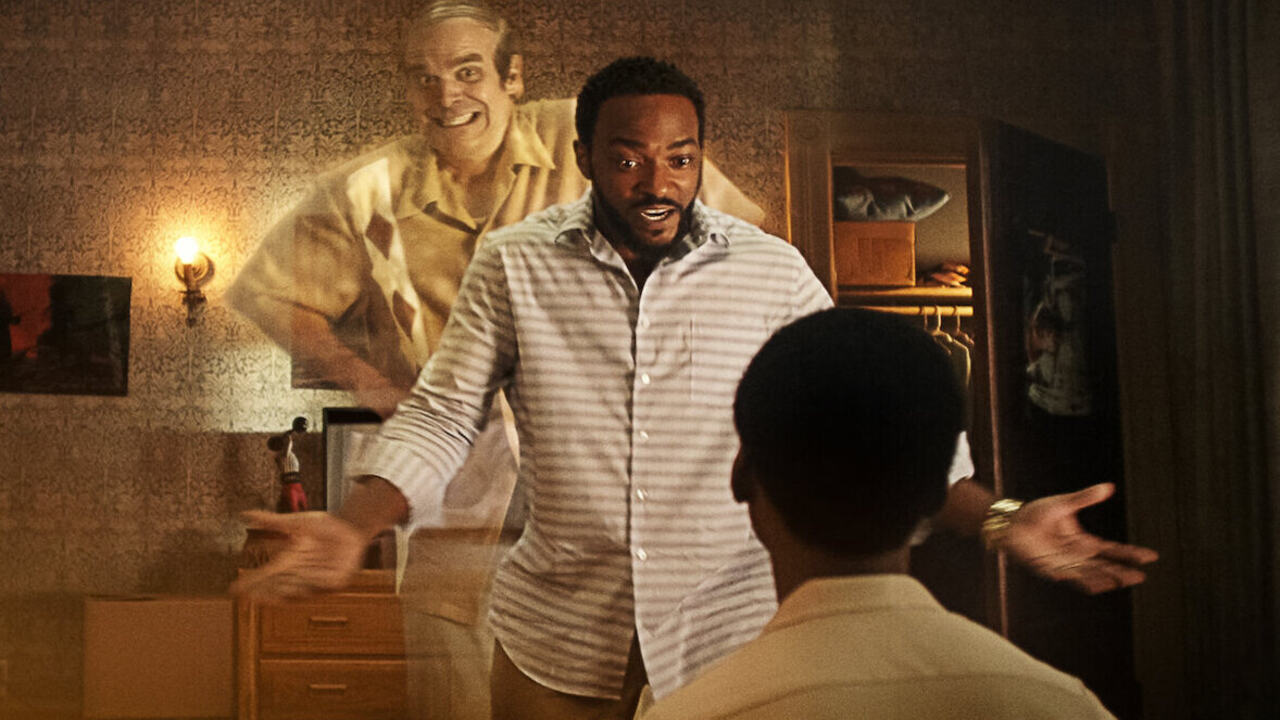 "We Have A Ghost" is a new Netflix film directed by Christopher Landon and features Anthony Mackie, David Harbour, and Jahi Di'Allo Winston, among other A-listers. It has a runtime of 2 hours and 7 minutes and is a family comedy film.

Christopher Landon, who directed this film, has previously worked on film franchises like Happy Death Day and the Paranormal Activity series. Both of which, while entertaining film franchises aren't film watersheds."We Have a Ghost" is no different. It is a perfectly entertaining film that will keep you occupied for two hours but won't leave you deeply affected. It pays homage to previous films in the genre and definitely does, to some extent, feel nostalgic with its humor while having a heart.

The film begins with a fixed shot of a massive (at least for a suburb) house, a family rushes out of it after being haunted, and the Presleys return a year later to look at the same house. The Presleys' youngest son, Kevin, is representative of the average Gen Z kid. Stuck on his phone with a passion for music and sarcastic banter with his father, Frank,
Once the family moves in, Kevin discovers that they have a ghost (see what I did there) in the attic. The ghost named Ernest (played by David Harbour of "Stranger Things" fame) initially tries to scare Kevin. Kevin isn't phased at all and records the ghost on his phone.

When Kevin's brother shows the video to his father (Anthony Mackie), instead of freaking out, he decides to post it online. As a result, they become a social phenomenon. The film is about what happens next as they discover what happened to Ernest and why the CIA wants to get involved, among other things. The premise itself makes the film quite entertaining. I mean, a family discovers they have a ghost in their house and decides to monetize it through social media. It seems like the perfect premise for a casual comedy.

As mentioned earlier, the film is definitely a fun time, with a lot of self-aware humor poking fun at internet culture and social media sensations. There is a specific montage where they show the internet reacting to videos of Ernest. Some Tiktoks even fetishize the poor ghost, with Tiktoks ranging from illogical rants about "Why ghost lives matter" to stupid running-into-the-wall challenges. It's all a tad bit ridiculous, but it's also extremely accurate as to how the internet would react in real life. There are side characters like Joy, Presley's neighbor, who befriends Kevin and helps him find more information about Ernest. There is a very annoying parapsychologist from the CIA who wants to apprehend Ernest. It is ridiculous, but I suppose they needed some kind of conflict in the film.

The film is at its strongest when it isn't taking itself too seriously and is poking fun at itself, as well as when there are scenes highlighting the friendship that develops between Ernest and Kevin. The actor who plays Kevin especially does a great job. There are good emotional beats to the film, and it generally keeps you interested. It makes me feel a little nostalgic because it reminds me of a lot of Bhoot films. Amitabh Bachchan's Bhoothnath or Jackie Shroff's Bhoot and Friends. The story and premise will certainly remind you of those films. That is one of the reasons why the film feels so easy to digest.

The second half of the film dives more deeply into emotional conflict and begins to take itself a lot more seriously. I won't spoil it, but essentially, it becomes more about Kevin and Frank's relationship as well as uncovering more about Ernest's past. The finale is pretty satisfactory nonetheless. The film pretty much achieves everything it sets out to do. Therefore, if you want a fun afternoon drama that you can watch with your family. This film is for you.

Final Score – [7.5/10]
Reviewed by - Aayush Chaurasia
Follow @AayushChaur44 on Twitter
Publisher at Midgard Times