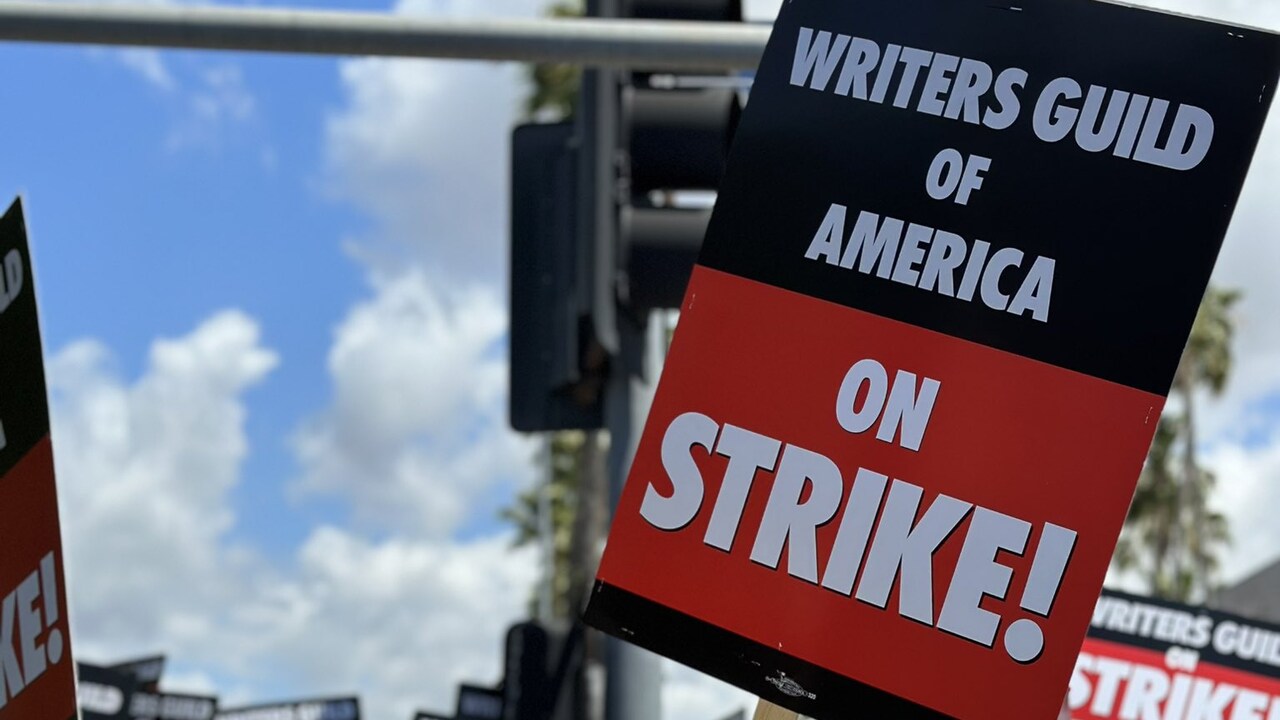 I came across an image on Twitter where the words, "Pay your writers, or we'll spoil Succession," and "The CEOs have yachts. Writers have mortgages" were written on the banners carried by people who were supporting the Writers Guild strike. If you were living inside a cave and writing fairy tales on the walls, come out and see how others, who share with you the passion of writing stories (albeit on paper or computer), are protesting against production companies over salaries and other issues. If you are not that person who was writing fairy tales on the walls (i.e., not a writer), you might be a consumer of those tales (i.e., audience). That's why you should be paying attention to the ongoing strike.
Here's what happened: On Tuesday (May 2, 2023), the WGA (Writers Guild of America) voted unanimously to go on strike after they failed to reach a deal with the AMPTP (Alliance of Motion Picture and Television Producers) before the deadline. The writers mainly want more money for their work. There has been a negative impact on their compensation due to the emergence of streaming services. According to a report released by WGA titled Writers Are Not Keeping Up, "On TV staffs, more writers are working at a minimum regardless of experience, often for fewer weeks, or in mini-rooms, while showrunners are left without a writing staff to complete the season. And while series budgets have soared over the past decade, median writer-producer pay has fallen." Moreover, the report states that "screen pay has declined 14% in the last five years." The WGA demands increased minimum compensation and increased contributions to pension and health plans.

Basically, writers are still not being treated with respect. It's not enough that most parents look down on their kids when they reveal their dream is to become a scribe. Once those kids become professionals and get hired by big companies, they face exploitation and have to live on scanty wages. Writers are essential because they create the cinematic holy text: Screenplays. And without a screenplay, a director cannot direct, and an actor won't have quips to crack.

So now that a strike is going on, what effect will it have on your favorite shows?

Say goodbye to late-night shows like Jimmy Kimmel Live and Saturday Night Live, as they are written on tight schedules to remain topical. Abbott Elementary writer Brittani Nichols has said that if the strike continues, their show will not come out on time, and there could be changes in the number of episodes. Cobra Kai co-creator Jon Hurwitz tweeted, "We hate to strike, but if we must, we strike hard. Pencils down in the Cobra Kai writers' room. No writers on set." Ashley Lyle, co-creator of Yellowjackets, confirmed on Twitter that writing for the third season of this Showtime drama has been halted. Moreover, Midgard Times has tweeted that work on shows like Stranger Things 5, Ginny and Georgia, and Shadow & Bone has been affected by the ongoing strike.

What about streaming shows? Streamers like Netflix, Prime Video, and HBO Max tend to bank a lot of content, so they will not immediately face any problems. In an interview with The Hollywood Reporter, Netflix CEO Ted Sarandos said, "We have a large base of upcoming shows and films from around the world. We could probably serve our members better than most. Last month, David Zaslav, chief executive of Warner Bros. Discovery, stated, "We're assuming the worst from a business perspective. We've got ourselves ready. We've had a lot of content that's been produced."

The streaming services will have to deliver their content more strategically, or their reserves will soon run dry. This means that some shows could follow a weekly release pattern. Netflix could also start focusing more on international projects, as many of them have proved to be a success. What does the future hold? Now, that's a cliffhanger.