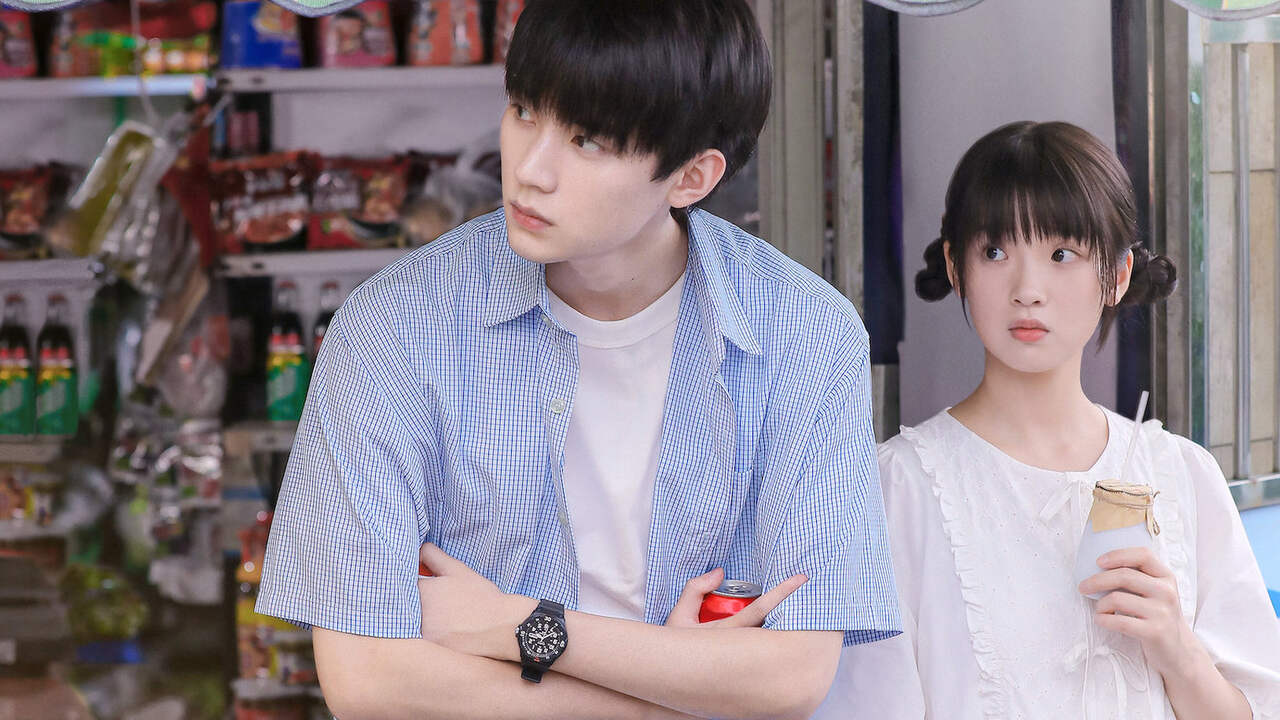 WHEN I FLY TOWARDS YOU is a Chinese youth drama that aired in 2023. It is based on the novel "She's a Little Crazy" by Zhu Yi, who also wrote the popular drama Hidden Love. It stars Zhou Yi Ran and Zhang Miao Yi as the main couple, and Wang Zi Wei, Liu Ze Yu, and Liu Yu Han as the supporting cast. It is a story about a group of high school students who experience love, friendship, and growth in their most precious years.

The drama follows the lives of Su Zai Zai (Zhou Yi Ran) and Zhang Lu Rang (Zhang Miao Yi), who meet by chance on a rainy day and fall in love at first sight. Su Zai Zai is a cheerful, optimistic, and bubbly girl who loves to draw comics and dreams of becoming a famous artist. Zhang Lu Rang is a cold, aloof, and handsome boy who lives with his uncle and suffers from low self-esteem due to his family's neglect and pressure. They are opposites in personality, but they complement each other perfectly. They support, trust, and respect each other through thick and thin.

The drama also explores the friendship between Su Zai Zai, Zhang Lu Rang, Jiang Jia (Wang Zi Wei), Gu Ran (Liu Ze Yu), and Guan Fang (Liu Yu Han). Jiang Jia is Su Zai Zai's best friend and roommate, who is smart, loyal, and confident. She has a crush on Gu Ran, a popular basketball player who is kind, gentle, and caring. Guan Fang is Zhang Lu Rang's childhood friend and classmate, who is witty, sarcastic, and rebellious. He has a secret crush on Jiang Jia, but he hides it behind his jokes and teasing.

The drama does not have any major conflicts or villains. It focuses on the daily lives of the characters and their growth as individuals and as a group which is a deviation from typical dramas which I really liked. The drama portrays the challenges and opportunities that the youth face in their academic, personal, and professional lives. It also shows the importance of family, friendship, love, and self-love.

The chemistry between the main couple was so great that we can wish for something like that only in our dreams. For instance, in episode 12, when Su Zai Zai and Zhang Lu Rang are trapped in a haunted house, they hug each other and confess their feelings. This scene shows how much they care for and trust each other, and how they overcome their fears together, and this really made me feel jealous!

Well, I am not a huge fan of romance dramas but this series with its is a well-written script and witty story, humorous and meaningful dialogues, touching and inspiring. Monologues have made me question my regret for the decision of not watching this before. The plot is simple but beautiful.

Though I will have a hard time remembering the names of the characters, the cinematography which is simple but beautiful will stay in my heart for a long time. The colors are bright and warm, creating a cozy and comfortable atmosphere. The music is fitting and catchy, especially the opening song "Fly Towards You" by Zhou Yi Ran and Zhang Miao Yi.

I don't have many complaints about the series except 'The story is too much unrealistic', it is nothing but whining from myself. You can easily guess the reason. The only issue I have is with the pacing of the series, it has 24 episodes each having a runtime of around 30 minutes. The showrunners could easily have reduced the number of episodes by half, only if they were a little bit more efficient with the progression of the plot.

Well, you should not expect aliens, superheroes, or multi-layered complex plot and plot twists like Game of Thrones or any Nolan movie from a drama like this. The drama perfectly did what it tried to do, so I loved it!

WHEN I FLY TOWARDS YOU is a drama that will make you feel warm, happy, and nostalgic. It is a drama that will remind you of your own youth and make you appreciate the present. It is a drama that will inspire you to fly toward your dreams and your loved ones.

Final Score – [8/10]
Reviewed by - Arpita Mondal
Follow @ArpitaMond33387 on Twitter
Publisher at Midgard Times