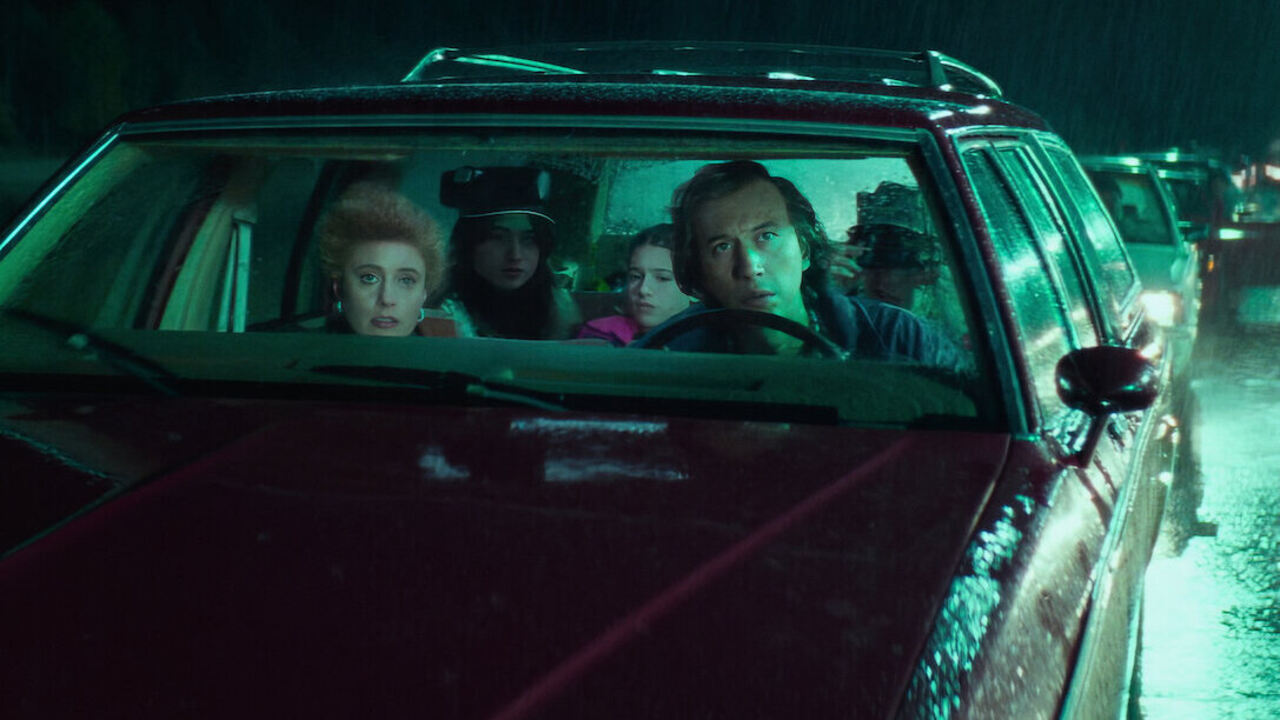 Noah Baumbach's White Noise opens with a Black man (Don Cheadle) giving a lecture on the optimism that can be found in car crashes. He specifically talks about the car accidents in American movies - how they tend to blow up the vehicle in a gorgeous ball of fire. This trait of finding amusement in the macabre can be seen in the entirety of White Noise. It's common knowledge that everyone is destined to die in the end. Yet, sometimes we tend to get so afraid of that notion that we stop living in the moment (at least temporarily).

Jack (Adam Driver) is obsessed with the idea of death. He teaches Advanced Nazism at the College-on-the-Hill. Since White Noise is an offbeat comedy, this professor doesn't speak German. Eccentricity can be found in every hole of this film. Multiple characters talk simultaneously and create chaos. The dialogues are wacky as they are repetitive and simple. Baumbach knows how to play with the lines, but he fails to milk humor from the mannerisms of the characters. When Jack interrupts an Elvis lecture with his Hitler talk, he speaks with such theatrical gestures that we can't help but laugh. But the people around him are enchanted. And Baumbach, instead of mocking this behavior, treats the characters (and the scene) with the same seriousness. As a result, you feel a disconnection between the moment and your reaction. If Baumbach wanted us to laugh at this scene, then he became successful by accident.

Jack is established as someone who ignores problems. When his daughter, Denise (Raffey Cassidy), informs him that Babette (Greta Gerwig) might be taking a harmful pill called Dylar, he tries to brush the fact aside by saying, "Everyone is allowed to have secrets." When a toxic cloud of black gas forms in the distance, he tells his kids that they won't be affected by danger because the wind won't flow in their direction. This quality of turning a blind eye to immediate troubles can also be found in the scene where the children observe footage of a plane crash, and Jack asks them to watch a sitcom. His negligent behavior forms a subtext that humans avoid dealing with death by ignoring its existence.

Coming to the toxic cloud that places death front and center, it's formed in the lamest way possible. Baumbach goes for that groan-inducing scene where the driver does not pay attention to the path ahead, leading to an accident. But this accident scene is stitched with the scene where everyone claps for Jack after he delivers his lecture on Hitler. Is Baumbach suggesting that we embrace badness? Are people so twisted that they will clap for someone who speaks passionately about Hitler and find pleasure in watching a disastrous accident (like that Black man who found optimism in car accidents)?

It's not easy to put your finger on Baumbach's intentions, as he has made a muddle. Through the scenes concerning quarantine, he might be saying something about the recent pandemic (the movie is adapted from a 1985 novel by Don DeLillo), but what? Given that absurdity leaks through every frame, the director might be implying that deathly concerns, too, are absurd. In the face of hazards, why rush for your life like a maniac when everyone will undoubtedly, one day, expire? That thought is more ridiculous and funny than anything shown in White Noise.

Baumbach, in the end, wants us to stop fretting over the afterlife and instead urges us to be kind to other people. He lays down this point through a nurse who doesn't believe in heaven. As soon as Jack and Babette hold hands and smile at each other, a heavenly light makes an appearance. This entire sequence at the hospital will prompt you to roll your eyes and leave you begging for the end credits to come. Speaking of end credits, the film's most weird yet hypnotic scene arrives during the dance at the end. Baumbach remarkably pulls off this sequence, which grabs our complete attention as if performing a magical spell on us.

White Noise can be described using the scene where Jack sits in the middle, surrounded by trash. The movie is similarly arranged with skill, but it's also an unfocused mess. Baumbach has made a tasteful hogwash.

Final Score- [6/10]
Reviewed by - Vikas Yadav
Follow @vikasonorous on Twitter
Publisher at Midgard Times