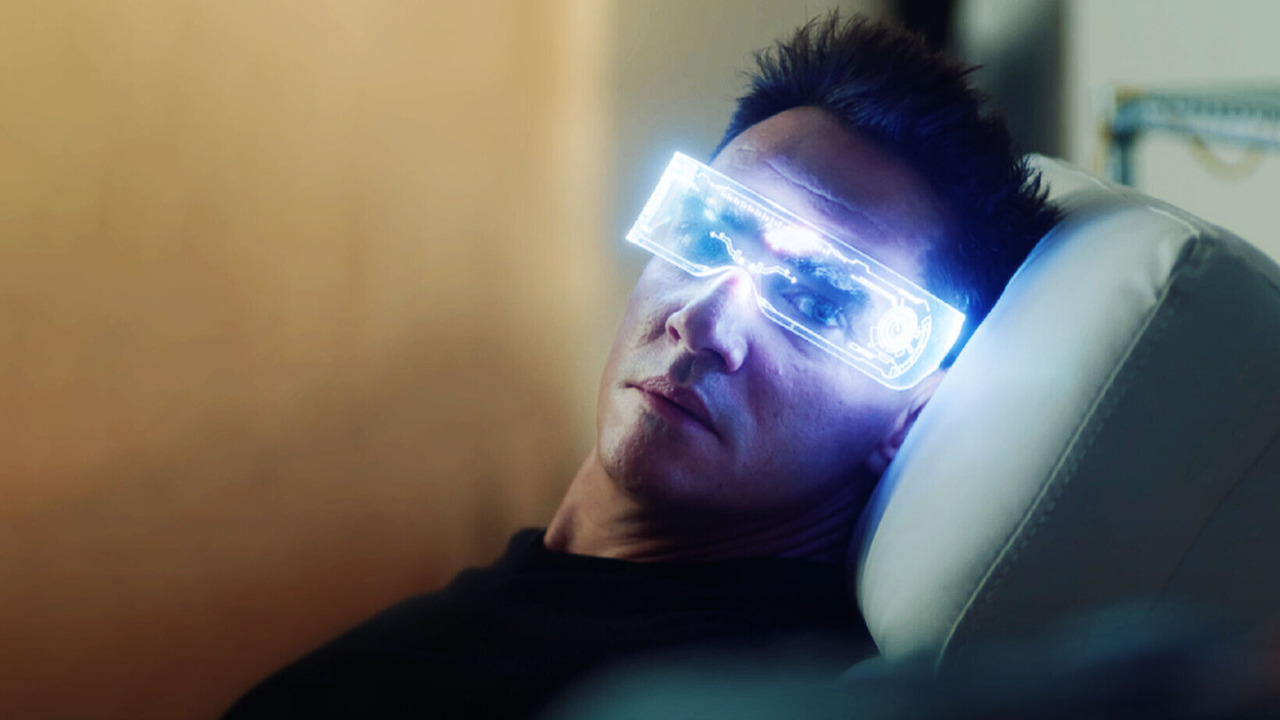 James Bird's Wifelike is an unstable film. Sometimes, it looks like soft-core porn, sometimes like a drama, and sometimes like a parody. Look at its poster, for instance. Five women and a man with a gun are placed against a tacky green-colored background, exuding B-movie vibes. There is also a dissonance between the movie's poster title (Wife Like) and the real one (Wifelike).

Wifelike begins with hilariously bad lines like, "True love isn't found. It's ordered," and "Update your wife. Upgrade your life." This is the kind of flair trashy movies need to have to be enjoyable. And that's precisely what Wifelike is: A very watchable trash. If Bird had wanted to make a "deep" film, he would not have reduced the protests regarding AI wives to snippets. The film's world is superficial. We have brightly lit skyscrapers that act as an establishing shot for the Wifelike company, though it should be noted that the organization doesn't appear to be a part of the setting established through these high-rise buildings. The same can be said about William's (Jonathan Rhys Meyers) house, which, with its green grasses, feels detached from the other locations in the film.

For Bird, locations are nothing but simply a background erected to shoot the action of the film. His camera isn't curious about the world and its streets. We merely move from one structure to another. Hence, there is a disconnect between, say, William's house and the one where three Companions are kept hostage. These two places don't seem to exist in the same universe. You don't believe you can drive from William's house and reach Wifelike company. These two places don't appear to be connected by roads or bridges. This shallowness extends to politics, as there is no mention of any government or the interference of the police in things like the protest against the AI wives.

Wifelike, as a result, is nothing more than a functional film. It does its job and goes away quietly. Some moments, though, get imprinted on your mind, like the one where Meredith (Elena Kampouris) opens a makeup tutorial after failing to apply lipstick. When she recharges her battery (i.e., sleep), she meets an assistant, Ido (Sean Yves Lessard), who asks her which dreamworld she would like to enter. This impressive detail is slightly weakened by a vanilla execution. As far as the performances are concerned, only Kampouris shows some promise. Her robotic gestures are a delight.

At one point in the film, a character explains that driverless cars and Companion Soldiers failed because men love to drive, fight, and shout "victory" at the top of their voices. The reason why Companion Wives became a success is that "men will fuck anything that moves." Sex sells. Wifelike, too, initially seems to be selling sex. The scene where William sets Meredith's intimacy levels and sex drive looks like something straight out of an erotic video. After sex, Meredith refuses William's offer of sleeping beside him as she has to recharge her battery. At least these Companions don't have to come up with an excuse if they don't want to spend the night with someone after having coitus.

Final Score- [5.5/10]
Reviewed by - Vikas Yadav
Follow @vikasonorous on Twitter
Publisher at Midgard Times