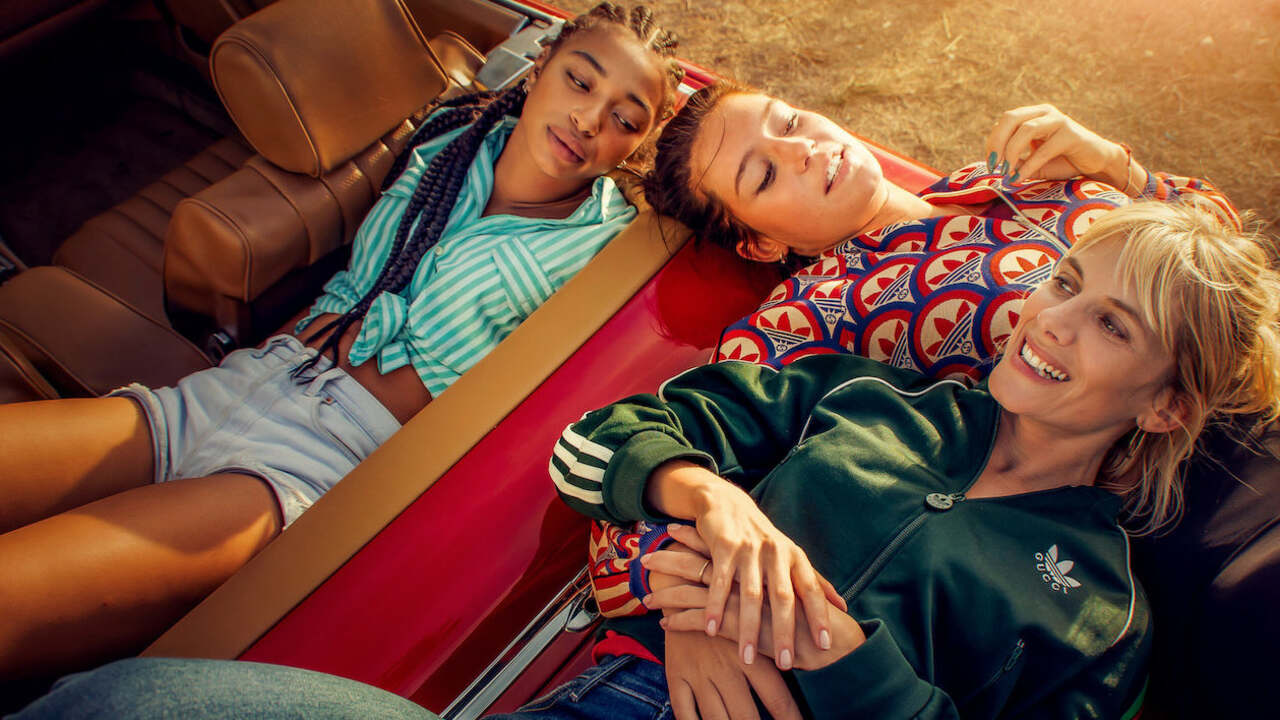 If you observe two best friends closely, you will find that their behavior resembles that of a married couple. They easily get in and out of each other's private space and talk as if no one is watching them. When they look at one another, the world around them evaporates into thin air. A third person can indeed feel left out in their company. He/she becomes a third wheel that only acts like a witness to the actions and conversations of the other two best friends. It's difficult to have such a relationship with someone, and it's equally difficult to display such a bond in a film or a TV show.

But this is precisely what Mélanie Laurent and Adèle Exarchopoulos achieve in Wingwomen (aka, Voleuses). Their chemistry is so genuine and infectious that you instantly believe their characters - Carole and Alex - have been friends for a long, long time. Forget friends; they look like something else altogether. Alex, while sleeping on the bed, cuddles Carole and also sucks on her thumb. She is a kid who complains about being dumped by her boyfriend in the middle of a mission, and Carole is the parent/guardian who constantly has to remind her partner to focus on the ongoing task. Carole also wants Alex to love herself more than those boys who always come with red flags, but the latter is just too busy being horny like a teenager.

Does it matter if Alex or Carole are a bit distracted during their missions? No, because they are excellent at their jobs, which is evident in the way they effortlessly end up completing them. No sweat is discharged. Laurent, who is also the director here, does something exciting with the material. She takes all the formulas from the heist/crime/thriller genres and eliminates a sense of urgency from them. Of course, there have been movies where characters perform their duties with guns as well as jokes. But what makes Wingwomen different is that it removes tension to concentrate on its characters. Their relationship is more important than a million-dollar painting or whatever.

Consider the opening scenes itself. Alex and Carole glide in the air while calm music plays in the background. It's a lovely moment that tells us we will be hanging out with these two friends. You don't watch Wingwomen with shaky fingers. Rather, you sit back and relax with a smile on your face, thanks to the wonderful performances. We are familiar with tropes like the killing of a pet or characters wanting to retire. The heist-related stuff, too, is pretty much done to death. This is why Laurent isn't interested in spicing up such mundane routines. This gives her the freedom to play with scenes as amusingly as possible.

So we get a threesome that turns into a brutal hand-to-hand combat. There is a brief flashback involving a car accident, and it's executed like an eye-roll. What's so fascinating about Wingwomen is the way certain scenes end. Sam (Manon Bresch) asks Alex to arm wrestle with her to make a decision regarding the occupation of a room, and as soon as she accepts the challenge, we cut to a shot of her sitting in another room (she loses). During that mentioned threesome-turned-fight scene, Alex throws pieces of glass toward her opponent, and we cut to the shot where she tosses the man's body in the water. Laurent just quickly moves to the outcome of a situation, filling the movie with fresh air in the process.

Laurent and Exarchopoulos are so terrific that you might forget all about Bresch. Her Sam shines in that scene where she shakes Alex to the core with her insane driving skills. It's a chase sequence, except there is no one chasing the characters. Think of it as Sam's (unintentional) revenge, as Alex made fun of her earlier. There is also Isabelle Adjani as Godmother, Félix Moati as Clarence, and Philippe Katerine as Abner - all perfect in their parts. But Wingwomen truly belongs to Laurent and Exarchopoulos. Alex and Carole remain in your head even after the movie ends. You are attuned to them on an emotional level, which is why the final weepy portions don't feel jarring at all.

The moment where I completely fell in love with these characters arrived when Alex assured a tearful Carole that the food she had cooked was delicious. Of course, I will be more than happy if Laurent decides to give us a sequel. I don't mind spending more time with Alex and Carole. But I won't be sad if there isn't a second part in the future. However, what's really depressing is the thought that Wingwomen might get buried under a plethora of mediocre Netflix stuff. Don't ignore this film. It deserves your time and attention.

Final Score- [8.5/10]
Reviewed by - Vikas Yadav
Follow @vikasonorous on Twitter
Publisher at Midgard Times