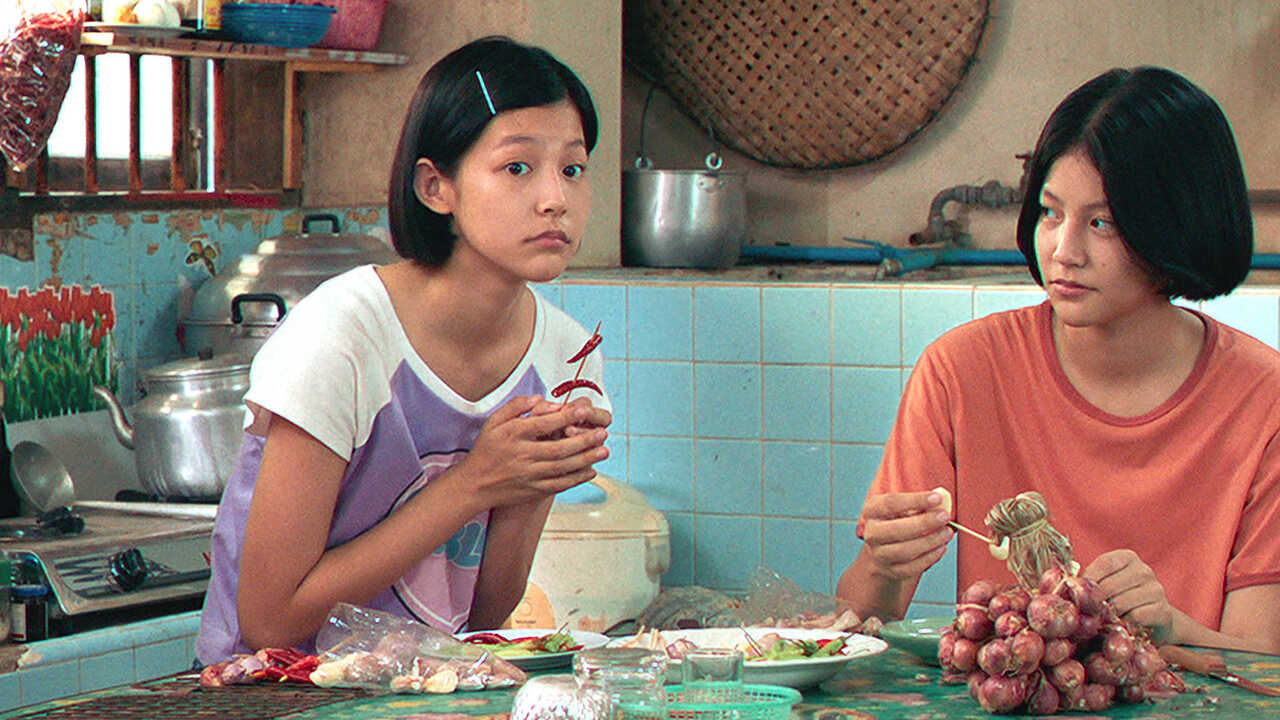 After watching You & Me & Me, I went through Wanweaw and Weawwan Hongvivatana's interview on the Asian Movie Pulse website and received a tremendous shock after coming across a line. I read the words twice or thrice to ensure I was not imagining things. What happened is that I discovered Thitiya Jirapornsilp doesn't have a twin. In the movie, this young actor, who was 17 years old during the shooting, plays the role of identical twin sisters named You and Me. Like me, even the audiences in Thailand were surprised by this information. You & Me & Me is Jirapornsilp's debut film, and it's astonishing how good she is here. At such a young age, Jirapornsilp has already delivered a great performance. She deserves every bit of your attention.

You & Me & Me is packed with excellent performances. Directors Wanweaw and Weawwan certainly know how to use their actors. Their filmmaking style seems so simple, but it's loaded with complexity and imagination. A carnival sequence so smoothly moves between past and present and from one perspective to another that it leaves you dumbfounded. It's a breathtaking scene filled with joy and invention. You & Me & Me is extremely involving and emotionally rewarding. It hits all the right notes. Some of the moments are well observed. A character kisses her hand to understand how it feels to be kissed by someone, and the blanket is pulled when You and Me quarrel with each other.

How to distinguish between You and Me? Me has a mole on her cheek. When the twins swap places, they change their hairstyle and put/hide the mole. Me pretends to be You during one such event and meets Mark (Anthony Buisseret) during the Math exam. Now Mark has a crush on You, but the person he interacts with is Me. This complication becomes the source of great drama. While talking to the twins on the phone, Mark asks You to turn off the speaker and, on the occasion of their two-month anniversary, points out that he met You during the Math exam. The movie explodes with dramatic intensity whenever Mark and/or the twins realize how complex the circumstances are.

But it's not just the children who are in a pickle. Even the adults are romantically incompatible. Mark's parents get divorced, and You and Me's parents, too, might soon separate from each other. There are heated arguments and mournful discussions about which child would stay with which family member. Home becomes a place that harbors both hate and warmth. A cheerful guessing game between father and daughters is interrupted due to the arrival of a debt collector, who imbues the friendly atmosphere with bitterness. The cordial bond between the twins gets disrupted because of Mark. The third entities (Mark and the debt collector) are not villains. They just puncture the fantasy of a blissful life by bringing in reality (and real-world problems) with them. They help in making the twins more mature.

You & Me & Me unfolds in the year 1999. The news channels constantly talk about the Y2K problem and predict that the world is going to end. You and Me believe in this theory, and you remember how, like them, you too were naive when you were a kid. This "world-ending threat" can be linked to that horrific news that upsets the characters. But it all turns out to be a false alarm. Nothing disastrous happens (to the sisters), but there are personal changes. The twins' parents get a divorce, and You and Me grow up. They embrace the fact that they can't always live together and think about others' happiness. The final shot is just perfect, as the movie ends at just the right moment. You & Me & Me is emotionally rich and marvelously constructed. Wanweaw and Weawwan have created a stunning film, and it's available on Netflix. Let's see how many people end up watching it.

Final Score- [10/10]
Reviewed by - Vikas Yadav
Follow @vikasonorous on Twitter
Publisher at Midgard Times