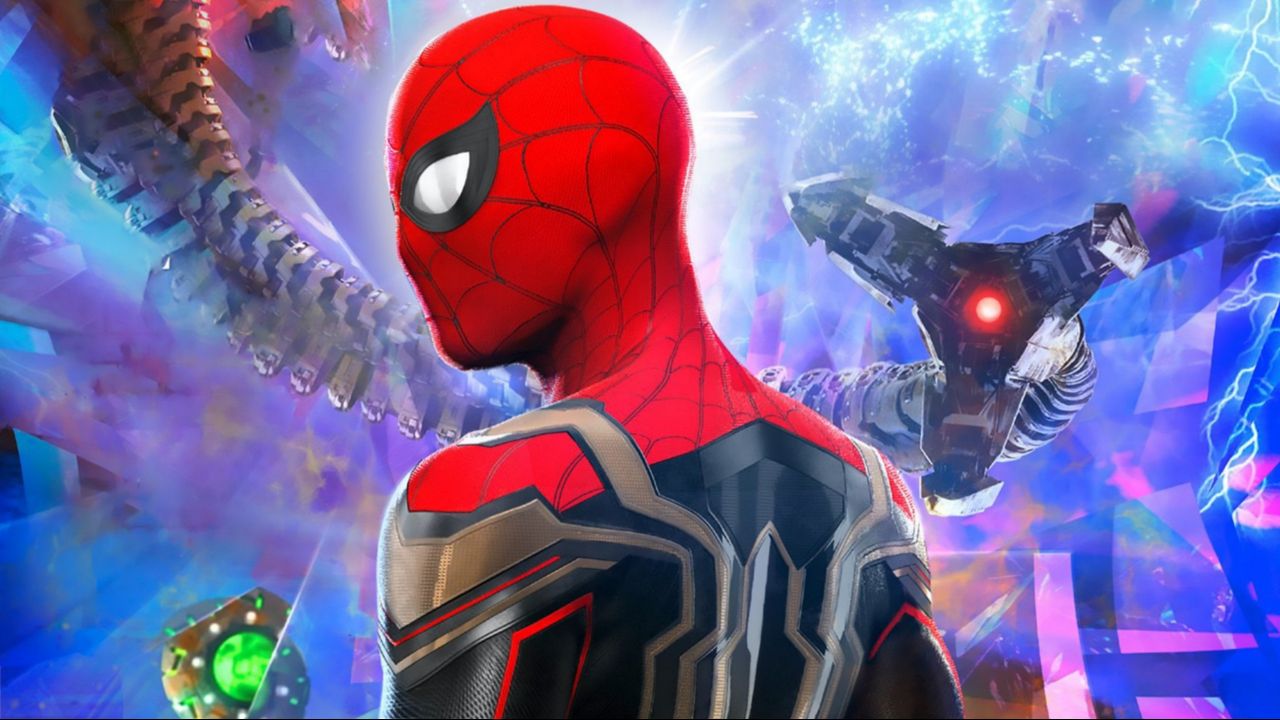 A cover image recently released for Spider-Man: No Way Home suggests and almost confirms the presence of Sandman, Mysterio, Electro, and Venom in the film. The image also teases the presence of multiple Spider-Mans in the movie.

Empire Magazine published the cover images for their Spider-Man: No Way Home issue along with first-look stills and interviews with director Jon Watts and Tom Holland. "We're definitely trying to be ambitious, It's 'Spider-Man: Endgame'," director Jon Watts tells Empire in the upcoming new issue.

"When I was first pitched the idea, I was like, 'Wow, that would be awesome if we could pull it off'," says Tom Holland. "'But there's just no way it's going to work. You're just not going to be able to get everyone to do what they need to do. It's just not going to happen.' But it did happen. And it's crazy." You can find the first-look stills below.

As soon as these cover images were out, the speculation began on who's going to be in the movie with all the clues found on it. Below, we have also tried to analyze all the clues that one of the cover images has.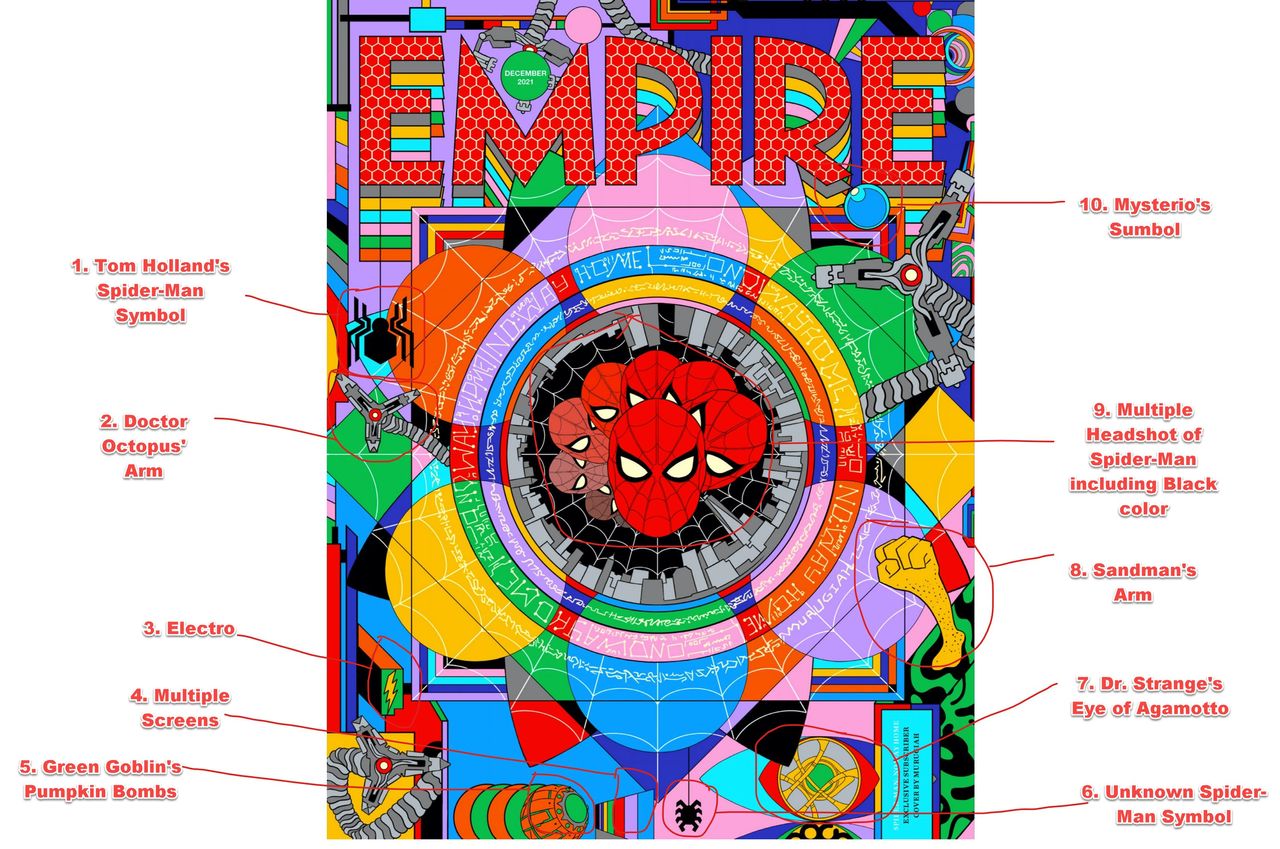 The Empire Magazine cover artwork analyzed by Midgard Times
1. Tom Holland's Spider-Man Symbol- We all know Tom Holland is going to be in the film, so, this is obvious.

2. Doctor Octopus' Arm - The teaser trailer has already confirmed Alfred Molina will return as Doctor Octopus in the movie.

3. Electro - Jamie Foxx has confirmed that he will be in this film, and the teaser trailer has given us a hint of what we may expect. The symbol on the cover image is another hint that he has a significant role in this film.

4. Multiple Screens - It confirms Multiverse, which is the main theme of this movie.

5. Green Goblin's Pumpkins Bomb - We have seen these bombs in the teaser trailer revealed in August along with the evil laugh of Green Goblin. Willem Dafoe is rumored to reprise his role as Green Goblin, but we are yet to see him in a teaser or poster.

6. Unknown Spider-Man Symbol - I tried comparing this Spider-Man symbol to all of the Spider-Man variants we've seen so far (including Mile Morales), but I couldn't find it anywhere. Update 10/24 - It was brought to our notice that this symbol was present on the back of Spider-Man suit in "Spider-Man: Homecoming."

7. Dr. Strange's Eye of Agamotto - Dr. Strange is one of the main characters of this movie, but this symbol also indicates an evil Dr. Strange, who could play his part as Villain.

8. Sandman's Arm - Though the teaser trailer gives us a hint regarding Sandman's appearance as part of Sinister six, it doesn't fully confirm it. But this fresh clue on the cover image confirms the rumor that Sandman is part of the movie. However, it will be interesting to see if it is the same Sandman from Sam Raimi's Spider-Man 3.

9. Multiple Headshot of Spider-Man - This is the most significant clue revealing that there will be multiple Spider-Mans in the film, including one in a black suit, as confirmed by the teaser trailer. The black color could also indicate the appearance of Venom/Eddie Brock in the movie, as it was revealed in the Venom 2 post-credit scene that Venom is aware of Tom Holland's Spider-Man. The image is not confirming whether multiple Spider-Man in the film will be Tobey Maguire and Andrew Garfield, but it teases enough to be excited about it.

10. Mysterio's Symbol - This is the first and most significant indication that Jake Gyllenhaal would reprise his role as Mysterio from Far from Home. Mysterio was the one who exposed Spider-Man's identity through J. Jonah Jameson in Spider-Man: Far from Home.

But, this is not the only thing we got yesterday. While replying to the Empire Magazine's cover image post on Twitter, the official Sony Pictures UK account tweeted three spiders emojis, which now fans are taking as confirmation of the three Spider in the movie. You can take a look at the tweet below:

The official trailer for "Spider-Man: No Way" Home will likely be released next week, either on Monday or Thursday. According to reports, the trailer will also show off all the Spider-Man present in the movie.