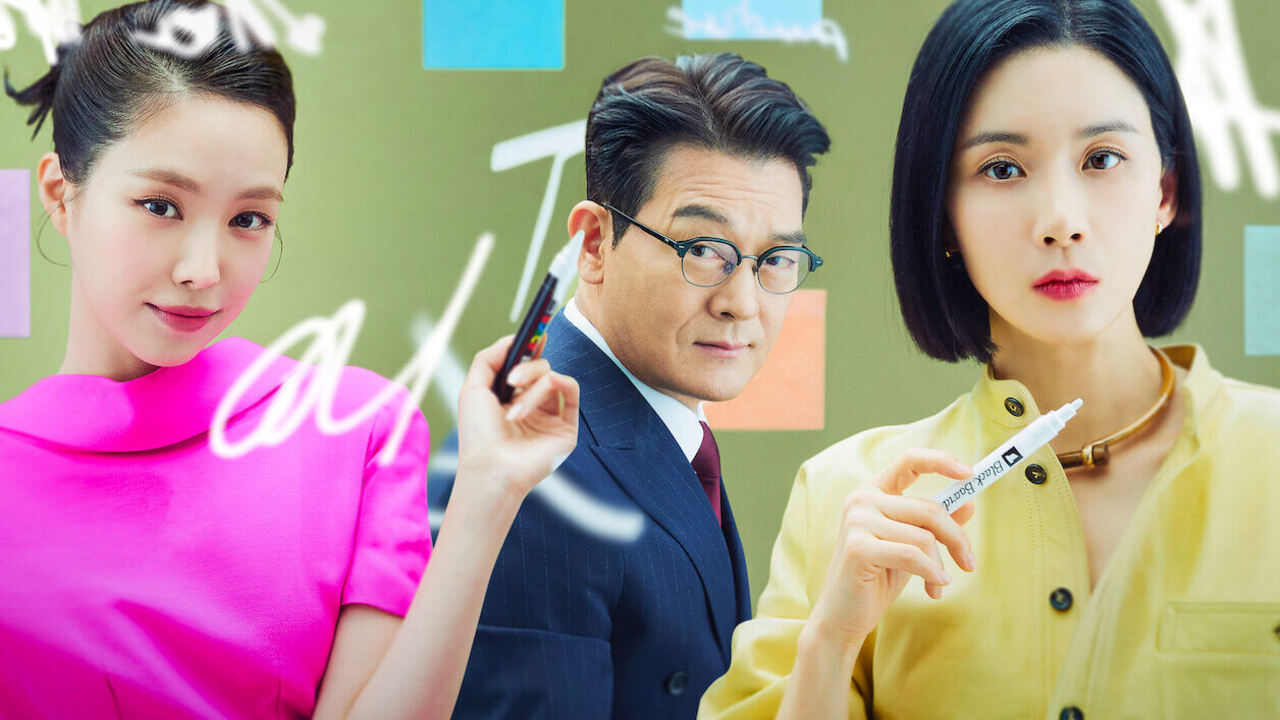 The series takes us to the mountains in the first scene of the first episode. We see a woman in black hood plucking berries when a man on horseback stops near her. She takes out her blade and kills the horse thus scaring away the man. This story was a part of Director Go's presentation, an employee in VC Communications. She is inspirational and has a habit of winning. Apart from being extremely professional, Ms. Go is confident about her skills and is never seen as becoming happy with her achievements. As the introductory scene plays, we are bombarded with several motivational quotes which I didn't bother paying heed to thus fulfilling my role of a lazy audience.

Fellow Directors at VC Communications hate her. As there are going to be promotions soon to the post of Chief Creative Officer, the four foxes come back into action and start plotting against Go A-In. Ms. Hong, a former copywriter working under Ms. Go resigns, leaving a vacancy for a new employee, Eu-Jeong, who was a better copywriter than the former one.

I liked the spirit and the pace with which Agency moves. Showing characters like Ms. Go on screen inspire the audience to perform much better in their own life. There's a particular scene in the series in which Ms. Go says that she'll take pills because she can and everyone has been telling her whole life what she has to do. As a sign of protest, she ingested those new and heavy sleeping pills just after drinking alcohol. This was one of those scenes which didn't make any sense and was included just for the sake of increasing the duration of the episode. Just because one can ingest poison doesn't mean that one will. Whatever, a new fight has started at VC Communications and Ms. Go has to do everything to keep her job or will she escape the rat race?

In my opinion, Agency will prove to be a good addition to the fans of Korean drama. The series has all the right elements like that wittiness and boss vibes which makes the show interesting. Unlike some series/films, Agency knows how to maintain its rhythm and speed so that the audience doesn't get bored. You get to see many motivational quotes on the screen or being said by the various characters which was weird to watch in the beginning as one after another so many things were said by different characters.

The agency has a powerful first scene which develops intrigue in the audience. Also, the first episode left with many questions in the minds of the viewers like why doesn't Go A-In not consume anything other than alcohol and pills as only these two things are seen being ingested by her. Even her house fridge has nothing. Also, not knowing the concept of keeping a balance between personal and professional life, Go A-In has been sacrificing a lot of things thus she also has attracted many illnesses like insomnia, depression, anxiety, and others.

Sometimes it feels like the world is especially cruel towards women. They need to be smart enough to figure out their opponent's every trick to save themselves. The same trait is possessed by Go A-In. With a mind and mindset like hers, success is yours. I didn't understand why the foxes at her office were trying desperately to pull her down. It was absurd to think how these four men were constantly after the job of one woman. These things do happen in reality too because nobody is happy seeing another climb the ladder before they do. Finally, with a total of ten episodes and a duration of an hour each, Agency is a decent series.

Final Score – [7.5/10]
Reviewed by - Riya Singh
Follow @_riyasinghhh_ on Twitter
Publisher at Midgard Times