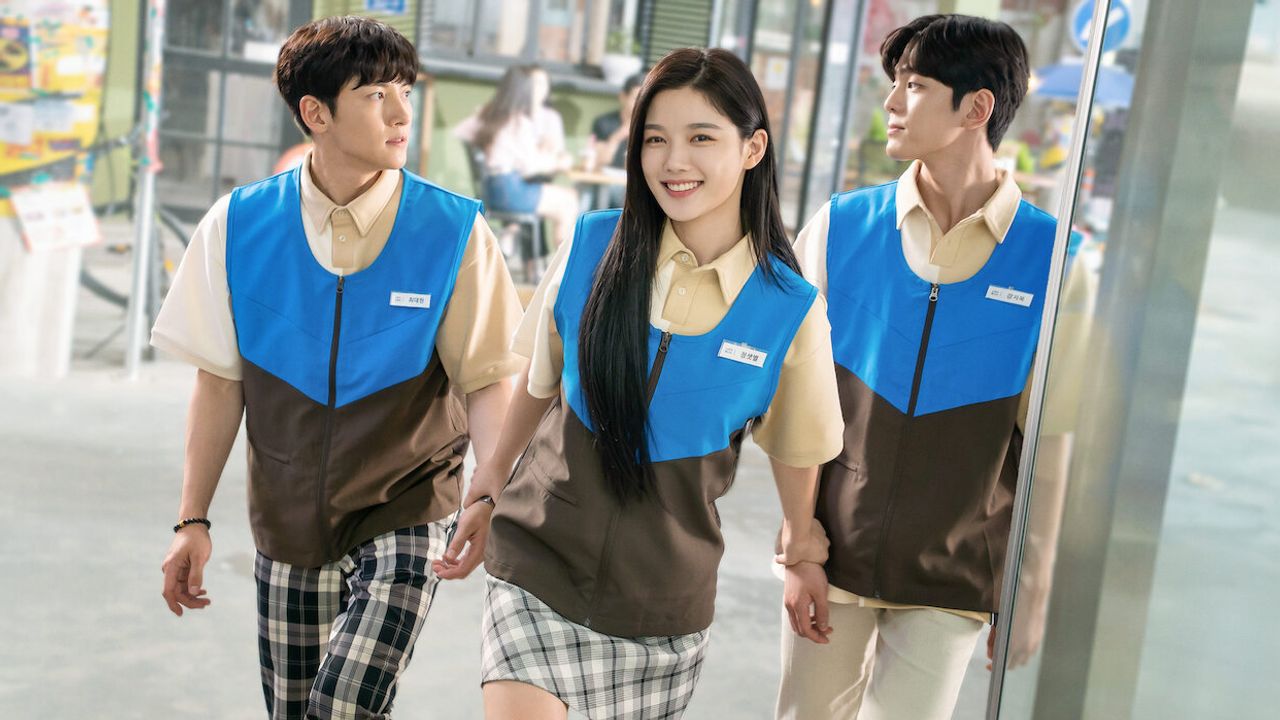 Choi Dae Hun works at a convenience store and was looking for a part-time worker as he was really exhausted doing the night shifts. The store is owned by his parents and they recommend finding a part-timer. Choi Dae Hun can be often spotted doing 32 or 40 hours shifts at once. So, he put up a notice outside the store. What follows next is that Jung Saet Byul (the female lead) comes and applies for the job. She is an efficient worker and increased the sales of the store.

They both first met three years ago, and it appears as if she doesn't remember him at all. Choi Dae Hun spotted her smoking with her friends and hence was vary of her. She even surprised him by kissing him and exchanging numbers in the first meeting itself. Keeping in mind what all happened in the past, he was reluctant to hire her. I like Jung Saet Byul's confidence when she asks Choi Dae Hun to apologize to his girlfriend in advance as he is soon going to fall in love with her. Well, she wasn't wrong about that fact.

Choi Dae Hun suspects her of stealing things (mainly money and cigarettes) from their store and decides to look into the matter. What follows is a series of funny events that ultimately almost lands her being arrested by the police. In reality, Jung Saet Byul was innocent, and she just took the money because his mother wanted the cash for his father's hospital bill. It was all a misunderstanding, and after knowing the facts, Choi Dae Hun felt guilty about his behavior and suspicions.

Various life lessons were also included in the story. This K-drama is different from the rest in which we usually find a rich businessman getting in love with an employee. Rather than the male lead, the female plays alpha, and it is a refreshing take on Korean romantic comedies.

Initially, the series started as fun and got emotional in the middle. In the last episode, the webtoon adaptation of the series was also shown with great special effects. This is something unique that I don't see being done in many Korean dramas.

Ji Chang-Wook deserves a special mention as his acting was excellent. The female lead Kim Yoo Jung always had a smile, and her hair swaying in the air in all the important scenes is lovely to watch. She can brighten your day by just smiling, that much charm she has. She is lovely, beautiful, and does everything with such ease. Right from the first episode, you will feel engaged in the plot, and the series is very entertaining. Apart from romance, you will also find great action in the series with Kim Yoo Jung displaying her fighting skills with such sass. The supporting cast also did their roles very well and complimented the lead characters. They didn't get overshadowed by Ji Chang Wook and Kim Yoo Jung and shined in their subplots. There could have been better chemistry between the lead roles, which would have helped in creating an even better version of the rom-com.

The K-drama is enjoyable to watch, and you won't feel bored at any moment. It is funny, unique, and interesting with a beautiful couple at its center. The ending of the series was great. So, in my opinion, you can go for the series as it is a light watch and doesn't involve many serious elements.

Final Score – [7/10]
Reviewed by - Riya Singh
Follow @_riyasinghhh_ on Twitter