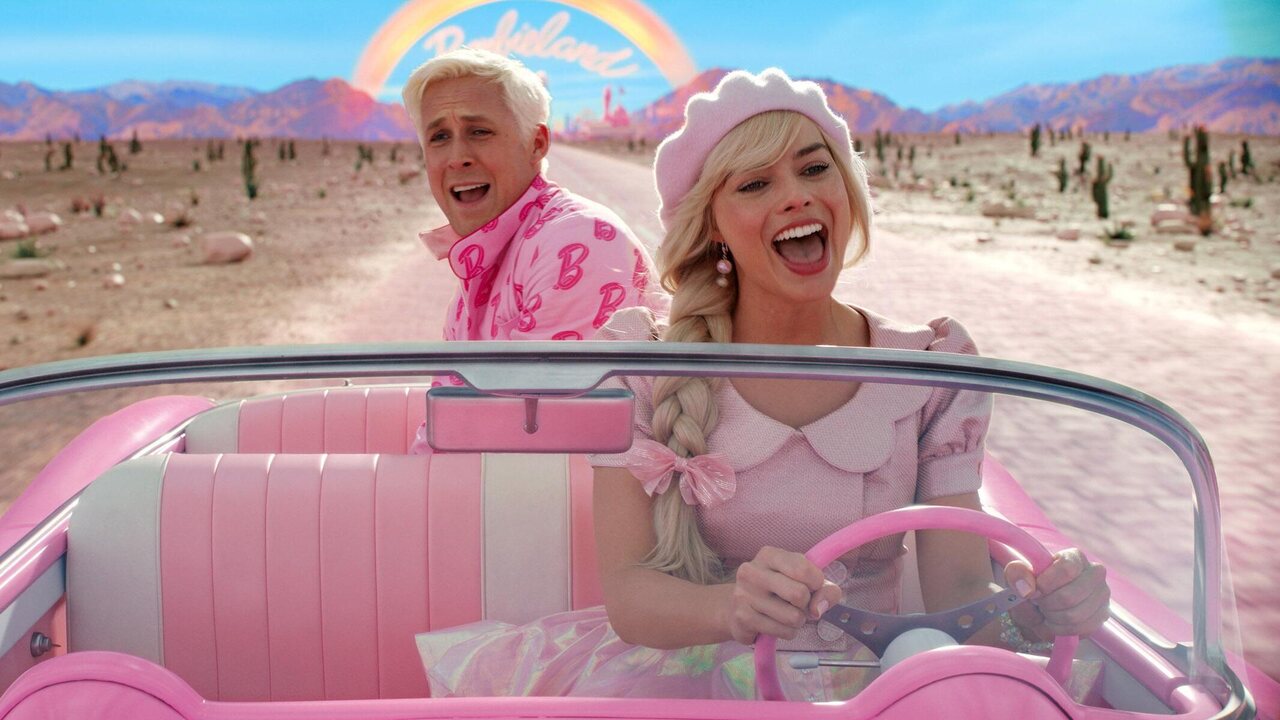 Greta Gerwig's Barbie is giddily conceived and executed. It's funny and exhilarating and, at times, suddenly pierces your skin with sharp emotions. Gerwig's passion is equally shared by everyone involved in this project. The Barbieland is beautifully designed and constructed. This perfect, pink world is imbued with aesthetic charms and imaginative powers that seduce your eyes and leave you open-mouthed. The waves at the beach are stationary and strong. Run towards them, and you will crash into them as if they were walls. Not only that, you will fly backward and land on the ground with a thud. Also, when Stereotypical Barbie (Margot Robbie) is surprised by a passenger, her car flips in the air before landing in its original position. The movie is like a live-action cartoon. It thrills and delights in equal measure.

One of the sources of joy is the impeccable performances. Robbie gets her movements right. She actually looks like a doll when, during her sad phase, she step-by-step sits on the ground and then lies down. There is so much pleasure in simply gazing at the actions of the characters. Kate McKinnon, as Weird Barbie, infuses the frame with liveliness by performing somersaults. Her flexible body demands your admiration, and she cracks you up with her camouflage, which involves her sticking to a wall with one leg stretched upwards. You also savor minor details with relish. Case in point: Stereotypical Barbie stands on her toes even after removing her heels. The cup from which she drinks in the morning is empty. And since Barbies can be picked up and placed anywhere, we watch Stereotypical Barbie gliding in the air.

Women are the rulers in the fantasy realm of Barbieland. Meanwhile, the real world is infected with a patriarchal system where men in black suits in a pink-colored room talk about women's needs and empowerment. The former exists in a neat, utopic bubble (every day is the best), while the latter exists with many complicated feelings and a sense of mortality. When Stereotypical Barbie starts worrying about impermanence, she is sent to the real world for healing purposes. Upon arriving in Los Angeles - with Ken (Ryan Gosling) - Stereotypical Barbie's bubble gets burst by a girl, Sasha (Ariana Greenblatt), who calls her, among other things, a fascist. You see, Barbies think they have made the (real) world a better, brilliant place. The movie opens with an inventive 2001: A Space Odyssey parody that informs us that once upon a time, there were only dolls and little girls, while playing with them, used to act like mothers. And then came Barbie, who allowed girls to think of themselves as astronauts, doctors, writers, and even Presidents.

But as soon as Barbie enters Los Angeles, she witnesses catcalling and experiences harassment (she punches the guy in the face). Ken, on the other hand, loves the patriarchal culture and brings it back to Barbieland. As was evident in Lady Bird and Little Women, Gerwig is excellent at filming dramatic moments. They are so palpable that they leap off the screen and have an emotional effect on us. When Barbie closes her eyes to find the girl who's playing with her, the images that appear on the screen are vivid and intense. Hence, Barbie's tears only seem logical, and the audience almost hears her inner thoughts when she looks at the old woman sitting next to her at the bus stop.

Barbie thinks about death because the girl who plays with her is apparently depressed. This point can be extended to the art and the artists, as there are times when the latter channels his/her opinions by using the former as a medium. The art gets influenced by the personality of the artist. In the film, through human intervention and feelings, Barbie - a plastic doll happy within the confines of fantasy - notices defects in her dream world and fights to reclaim her authority. If you thought Gerwig made Barbie so that some company could sell dolls to the public, think again. The dolls, with their smooth and flawless skins, are shown as vacuous and unrealistic. During the mentioned 2001 parody sequence, when the little girls break their dolls after Barbie's appearance, they also destroy the perception that they can just be homemakers. Gloria (America Ferrera), a Mattel employee, delivers a speech along these lines, and this scene could have easily turned into something uninteresting if Ferrera hadn't spoken her dialogues with so much zeal.

In Barbie, Gerwig fills every frame with feverish energy and colorful details. When I walked into the waiting area of the movie theater, I saw some people in black and some in pink outfits. I instantly understood which group had come for the doll and which for the nuclear bomb. It's an exciting time to be at the movies.

Final Score- [9.5/10]
Reviewed by - Vikas Yadav
Follow @vikasonorous on Twitter
Publisher at Midgard Times