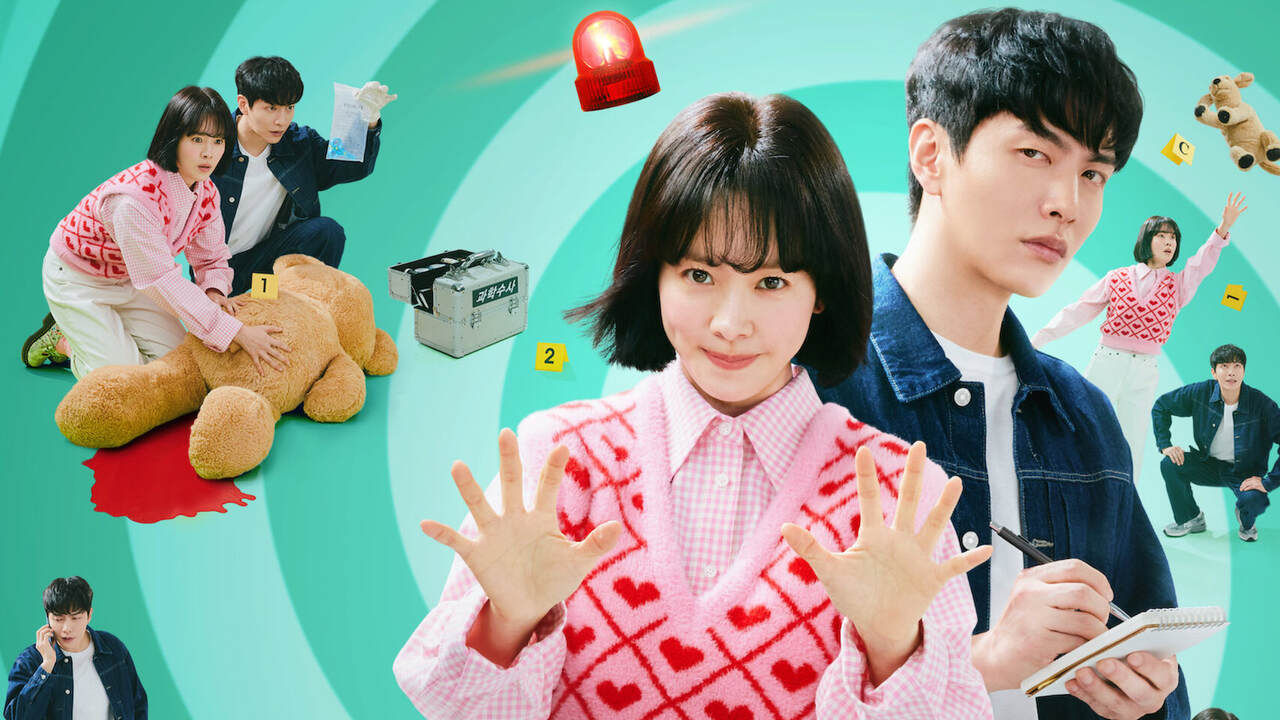 It's easy to get lost in the sweetness of Behind Your Touch. The show is so endearing and light-hearted that you instantly get sucked into its world. I have only watched the first episode, and based on it, I can only say that Behind Your Touch is funny and gripping in equal measure. It starts with a suicide, and there is another "heavy" scene involving a dog later, but these bits don't have any negative impact on the tone. It's a breezy first episode that fills you with excitement regarding the future of this show. I know I will surely watch it every weekend.

As mentioned above, the episode opens with a suicide, and the body belongs to Bong Ye-bun's (Han Ji-min) mother. Since her father also died when she was young, Ye-bun moves into her aunt's (Park Seong-yeon) house and studies to become a veterinarian. Ye-bun's backstory is amusingly revealed to us when she performs a ritual to become a shaman. It's one of those moments that highlights how the show is committed to its comic vision. Well, you can also find this energy in the way Ye-bun's school days are shown to us through comic book-like panels. It quickly and efficiently establishes and strengthens the relationship between Ye-bun and Bae Ok-hui (Joo Min-kyung), her friend. For instance, Ok-hui threatens a boy who breaks Ye-bun's heart.

Ye-bun goes to a veterinary school to impress her grandfather, Jung Eui-hwan (Yang Jae-seong). He never wanted Ye-bun's parents to marry each other, and now when both of them are deceased, he doesn't talk to his granddaughter. When Ye-bun enters the veterinary school, the show jumps forward 15 years, and we see how Jung's Livestock Hospital is renamed Bong's Animal Hospital. If only a new name was enough to attract customers. The hospital is always empty, and if someone walks into the building, chances are they think they are going inside a restaurant.

Ye-bun might be a vet, but she is scared of treating cows. That's understandable, considering she is seen all scared on top of a cow running wild here and there. This incident comes under "violent crime," though detective Moon Jang-yeol (Lee Min-ki) thinks it's all absurd. He also thinks he will return to Seoul within a month, which is something we know won't happen. Jang-yeol will be stuck in this rural village and will have to solve crimes with Ye-bun. Or maybe, his transfer will come at a point when he will become comfortable in his current environment (it's a common cliché).

Anyway, during a meteor shower, Ye-bun is hit by a glowing ball of light while checking up on a cow, and when she wakes up after three days, she realizes that she has gotten psychic powers. All she has to do is touch an animal's rear, and she will notice their memories, actions, and experiences. She touches a fish and sees how it was caught. When she holds a dog, she understands what he is trying to retrieve from under a table. Do these powers work on humans? To find that out, Ye-bun would have to grope a man/woman, and this gives rise to a funny, awkward scene on a bus. Did I mention the show contains some colorful characters, like a man who became a police officer so that he could one day arrest his sister, and there is a general who deceives people by acting as a shaman? Behind Your Touch starts on an excellent note, and I hope the other episodes turn out to be as enjoyable as the first one.

Final Score- [8/10]
Reviewed by - Vikas Yadav
Follow @vikasonorous on Twitter
Publisher at Midgard Times