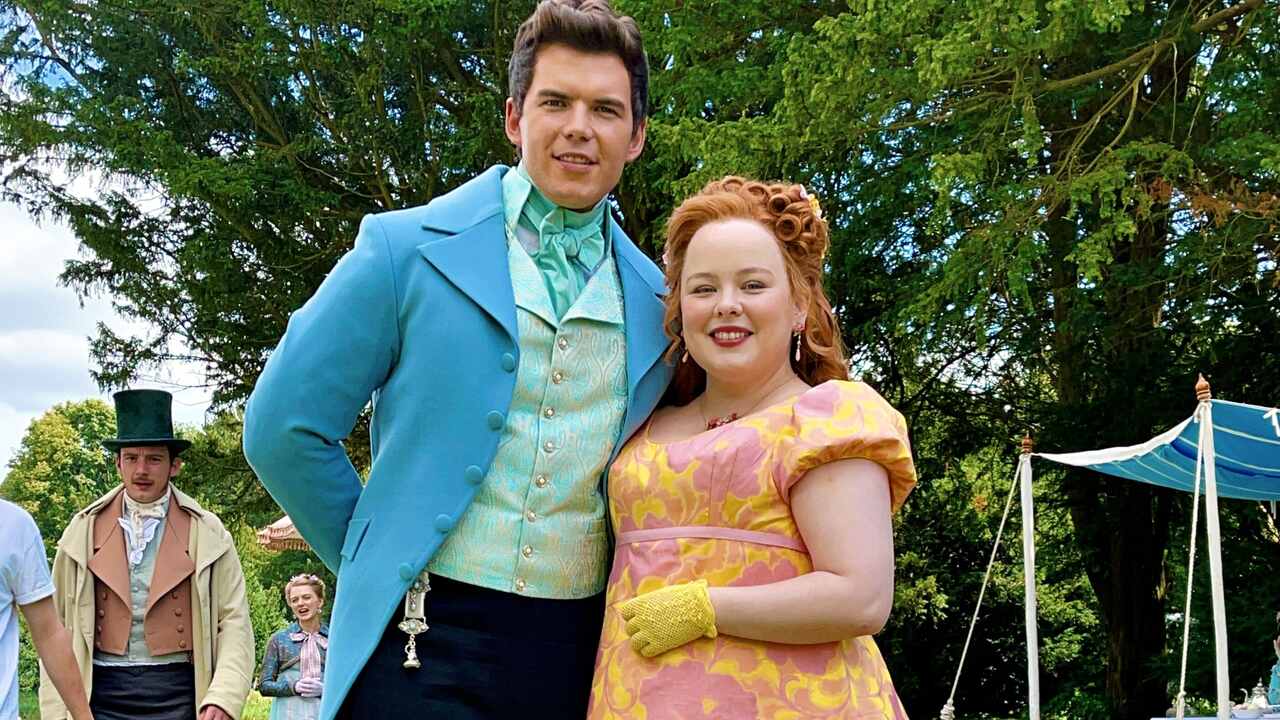 The third season of Bridgerton officially wrapped up filming this past week in London after almost nine months after it began. The third season began filming on July 20 in London, UK.

The production took longer than expected as it was earlier supposed to wrap up by February 2023. The series has already been renewed for the fourth season, so Bridgerton Season 4 is likely to begin production in the Summer of 2023.

Netflix revealed the first episode scene and title from Season 3 during its yearly event, Tudum, last year. The video shows Luke Newton (Colin Brdgerton) and Claudia Jessie (Eloise Bridgerton) chatting about their characters while painting each other's portraits as they were joined by Nicola Coughlan. The first episode which is titled "Out of the Shadows," is written by Bridgerton's new showrunner, Jess Brownell, and directed by Tricia Brock, who helmed the first two episodes of Season 2.

"We've been apart for far too long," reads Nicola. "At last, London's smart set has made its return, and so too has this author. As the season begins, the question on everyone's mind, of course, is, which newly minted debutante will shine the brightest. The crop this year proves to be rather dazzling indeed. Unfortunately, not every young lady can attract the light."
'Bridgerton' Season 3 Plot

Season 3 will focus on Nicola Coughlan's Penelope Featherington - officially called next season's romantic heroine as she gets into her Bridgerton journey. Penelope has finally let go of her crush on Colin Bridgerton after hearing him criticize her to his friends last season. Instead, she's concentrating on finding a partner who would respect her independence, allowing her to maintain her double life as Lady Whistledown away from her mother and sisters. Her search, however, is hampered by her lack of confidence.

Meanwhile, Colin has returned from his summer vacation with a new style and a lot of swaggers. He is disappointed to realize that Penelope, the one person who has always appreciated him for who he is, is turning her back on him. Colin, eager to reclaim her friendship, assists Penelope in boosting her confidence in order to snag the perfect husband. But when his lessons begin to work a bit too well, Colin is forced to confront his genuine feelings for his pal. Penelope's disagreement with Eloise (Claudia Jessie), who has found a new companion in an odd place, complicates matters, while Penelope's growing presence in society makes concealing her Lady Whistledown alter ego all the more difficult.

Below are some behind-the-scenes photos from Bridgerton Season 3 filming shared by Netflix.


'Bridgerton' Season 3 Expected Premiere Date

Although, fans are already getting Bridgerton content this year in the form of the spinoff series, 'Queen Charlotte,' we can still expect the third season to release this year. Since Bridgerton gets filmed on-location, it generally takes only 4-5 months to completely finish post-production. So, we can expect 'Bridgerton' Season 3 to release sometime in November or December 2023, likely during the Christmas Holidays (my guess).

Bridgerton's spinoff series, 'Queen Charlotte' will release on May 4, 2023, on Netflix, the series follows young Queen Charlotte, who embarks on her life-changing marriage with young King George (Corey Mylchreest) and enters a world substantially different from the one seen in Bridgerton. Naturally, a daring leader like Charlotte is the one driving a societal transition that will affect generations of Bridgerton world.

New cast additions include Daniel Francis as Marcus Anderson, a charismatic new addition to the ton; Sam Phillips as Lord Debling, a likable lord with eccentric interests; and James Phoon as Dankworth, a character who lacks wit but makes up for it with dashing looks. The cast also includes Hannah Dodd as Francesca Bridgerton in recasting.

Meanwhile, Phoebe Dynevor has exited the show and won't appear in Season 3 as Duchess of Hastings, Daphne Basset. She joins Regé-Jean Page who exited the show after the first season.

Shondaland-produced Regency-era drama based on Julia Quinn's novels has been already renewed for four seasons. Each volume in the Quinn series is dedicated to a different sibling's love story as they navigate the marriage atmosphere in nineteenth-century London in quest of romance and adventure.

Based on Julia Quinn's best-selling series of novels, Bridgerton is a romantic, scandalous, and quick-witted series that celebrates the timelessness of enduring friendships, families finding their way, and the search for a love that conquers all.

"Bridgerton" is executive produced by Shonda Rhimes, Betsy Beers, and Chris Van Dusen, who also serves as the creator and showrunner.