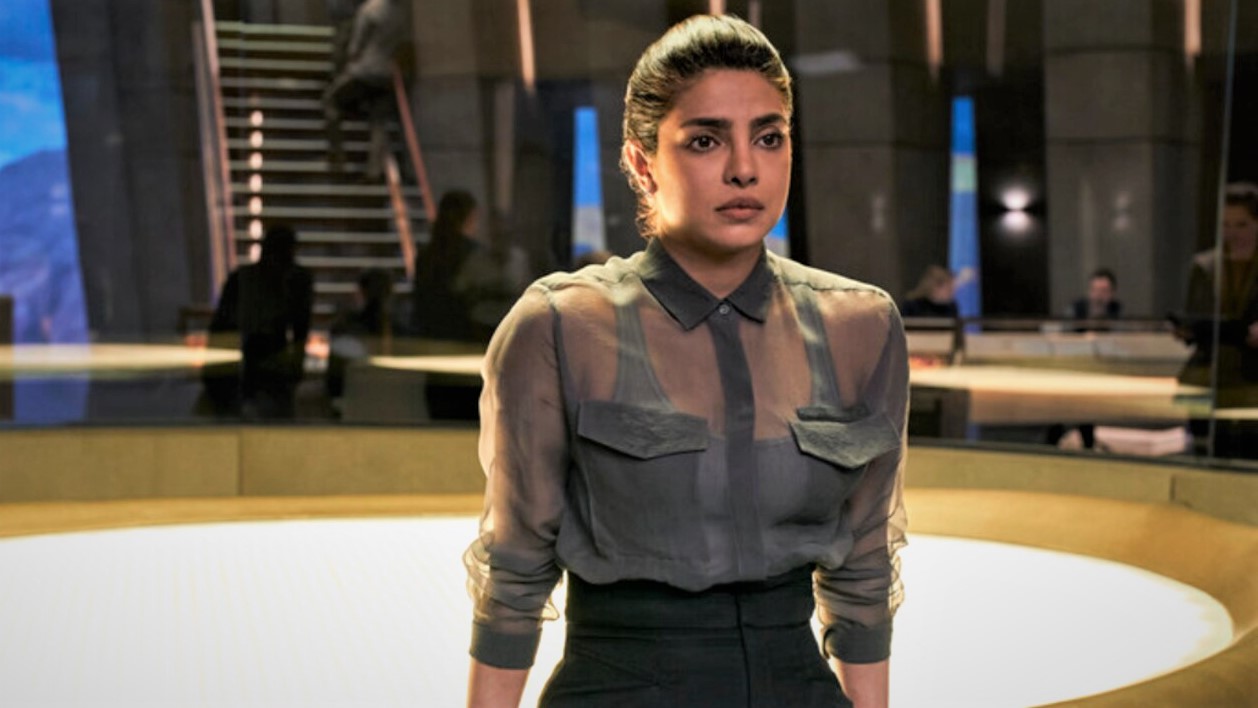 In the previous episode of Citadel, Carter (Osy Ikhile) told Nadia to stay away from him. The new episode opens with the following words from Carter, "You can't trust her." Citadel attempts to build intrigue by painting Nadia with shades of duplicity. Can you trust her? Is she responsible for the collapse of Citadel? What ugly secrets does she hide beneath her gorgeous exterior? The answers may not be too shocking. That's because the screenplay merely jumps from one plot point to the next.

Every detail is inflated with grandness, so the tone has become quite monotonous. This is why the plot revelations don't feel significant or surprising. That's the price you pay when both your intimate moments and action scenes are imbued with the same tonality (they only want to capture your attention). Citadel is all about running from point A to point B. How can you absorb yourself in the drama or identify with the characters when the show is busy traversing multiple locations and timelines?

On the other hand, the twists are really not that astonishing. It is predictable stuff thrown at us without vehemence. When your plot is based on amnesia, you can hide things from the audience and reveal them later in the story without leaving clues or planting the appropriate seeds for the eagle-eye viewers. There are no dots to connect, as everything depends on that moment when a character discloses his intentions. It's still possible to stun the audience with this approach, but the writers of Citadel do not want to take our breath away. They work within a safe zone and deliver mediocre revelations in a lackadaisical manner. One part of the show wants to be about the feelings of the characters, while the other aims for razzmatazz. This leads to a disastrous crash, giving rise to a muddled product that constantly sprints from one thread to another to conceal its mess.

Citadel is like cinematic fast food. You don't mind consuming it, but it's also unhealthy. The actors are easy on the eyes, the locations are expensive, and the frames look polished. Look beneath this shiny surface, and you will discover a derivative structure built with laziness. In the name of "chemistry," you receive beautiful bodies wrapped in sheets. Citadel is uninterested in developing relationships. It just wants to somehow reach the finish line. The entire show is a filler, and if it had been a bit more unsubtle, it would have been named "Time Pass."

My response to Citadel's first three episodes was primarily positive. I guess it came out of naive optimism. I thought the show would either improve a little or become more and more delightfully silly. After five episodes, the action is still weak, and the thrills are still junky. Priyanka Chopra Jonas continues to shine brightly, though I wish Lesley Manville had been given more screen time to unleash and sustain her nasty side. For the final episode, Citadel is preparing itself for a nuclear threat. I am not expecting anything explosive. The missiles have not yet been launched, but the show has started crumbling. Will it all go down with a whimper? I don't give a damn.

Final Score- [5/10]