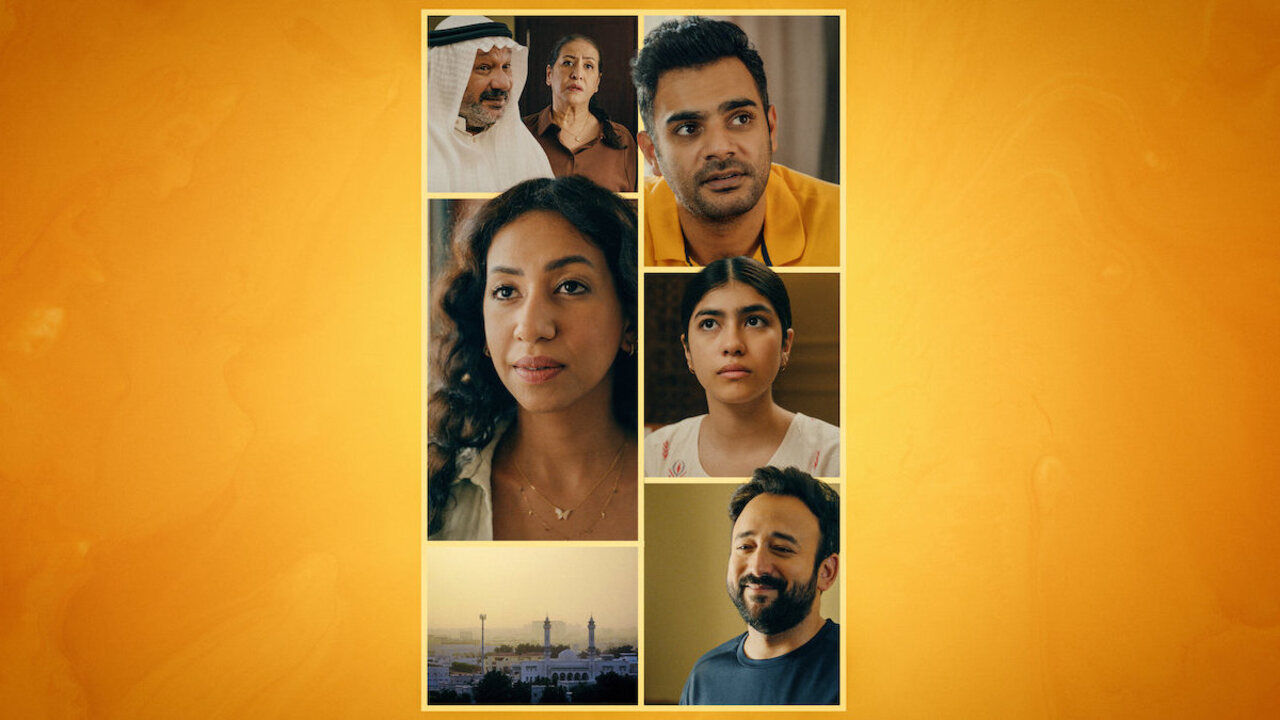 It's probably best to first talk about the issues I had with Crashing Eid because they are quite insignificant. Let's start with the connections the characters have with people outside their circle. There are none (or at least, they don't matter). Razan (Summer Shesha) and her boyfriend/fiancé, Sameer (Hamza Haq), don't have any friends. He is a journalist whose articles get mentioned at one point in the show, but we fail to buy this person as a reporter. He can apparently take a holiday for as long as he wants. Which publication does he work for? We don't hear him having any work-related discussions with his colleagues or boss. Razan, on the other hand, informs her father that she wants to work at some prestigious university in London, but what's the name of this institution? Are these details really not provided to us, or does the fault lie with the subtitles? We don't even learn the name of the school where Lamar (Bateel Qamlo), Razan's daughter, will get admitted. She, too, doesn't seem to have any friends, and she is 15 years old!

The same can be said about Razan's family. Her brother, Sofyan (Yasir Alsaggaf), only talks to - and gets mentally tortured by - his ex-wife (why is she so cruel?). He doesn't have a best friend to talk to. Razan's father, Hassan (Khalid Alharbi), doesn't have a relationship with any other man or his neighbors. His wife, Mona (Amani Idrees), is merely seen talking to her sister. She, too, has no conversation with any other woman or the neighbors. In fact, it seems as if no one else lives in this family's neighborhood. Their driver (and a gardener) are nothing more than mute witnesses (they are simply used for a dialogue that highlights someone's racist behavior). A great drama concentrates on - and expands - these details to create a rich experience. Nothing is left vague or treated as insignificant. Crashing Eid might not be great, but it's exceptionally good. Its dramatic beats are so palpable that you don't pay much attention to what's not present here.

All the actors are in superb form, and as soon as they appear on the screen, you instantly believe that their characters have been living in this world for a long time. Shesha and Haq have a lovely presence that starts to shake as soon as other players enter. The moment when Razan meets Mona for the first time comes with such a (quietly) aggressive tone that you think the screen will be torn into pieces. These two women are the best thing about this show. Their bickering, their accusatory voices, sound familiar. We have all seen some version of this mother-daughter relationship in our life. Razan and her family members remind you of people from your own households. Be it Sofyan, who merely plays video games all day, or Hassan, who brags that he can read anyone. Mona, the dutiful wife who irons her son's clothes and tries to keep an image in front of everyone, is perhaps the most recognizable character.

The drama - and comedy - in Crashing Eid is generated through the disagreement regarding the marriage between Sameer and Razan. She belongs to a Saudi family, and he is British Pakistani. The union of two races and cultures has always been the stuff of nightmares for the older generation. Razan's family, expectedly, tells Sameer to forget about their daughter. Hassan even steals Sameer's passport to do a background check on him (he thinks this new suitor is a spy). All this behavior is wrapped in a light-hearted mood. This doesn't mean the rough edges are smoothened. Crashing Eid never dilutes the characters' ugly words and actions. A video call between Razan's family and Sameer's father makes you clench your teeth. The scene where Mona bribes Sameer is sad as well as funny. The series impressively displays the flaws of the people who we call parents.

Whatever Crashing Eid does, it does very well. This is why it feels a bit weird when Lamar starts pleasing her father. How does a smart girl like her not see the regressive attitude of her father (he asks her to cover her ears)? This is the only point that seems artificially generated for dramatic purposes. Otherwise, Crashing Eid is quite satisfying in other places. If you want to figure out what makes this show better than an inferior production, look at the scene in the last episode where all the family members are gathered. Writer Nora Aboushousha could have produced cheap, rousing sentiments through cheap, rousing speeches. But the confrontation occurs without any screams or tears. It's all low-key yet energetic. Also, note that Sofyan is going through a nasty divorce - a point which could have been used by a character to make a statement like, "If you marry someone from your own race or religion, it doesn't mean you will be happy forever." Thankfully, nothing as obvious as this ever happens. Such lessons are left for us to discover. Crashing Eid is very pleasurable.

Final Score- [7/10]
Reviewed by - Vikas Yadav
Follow @vikasonorous on Twitter
Publisher at Midgard Times