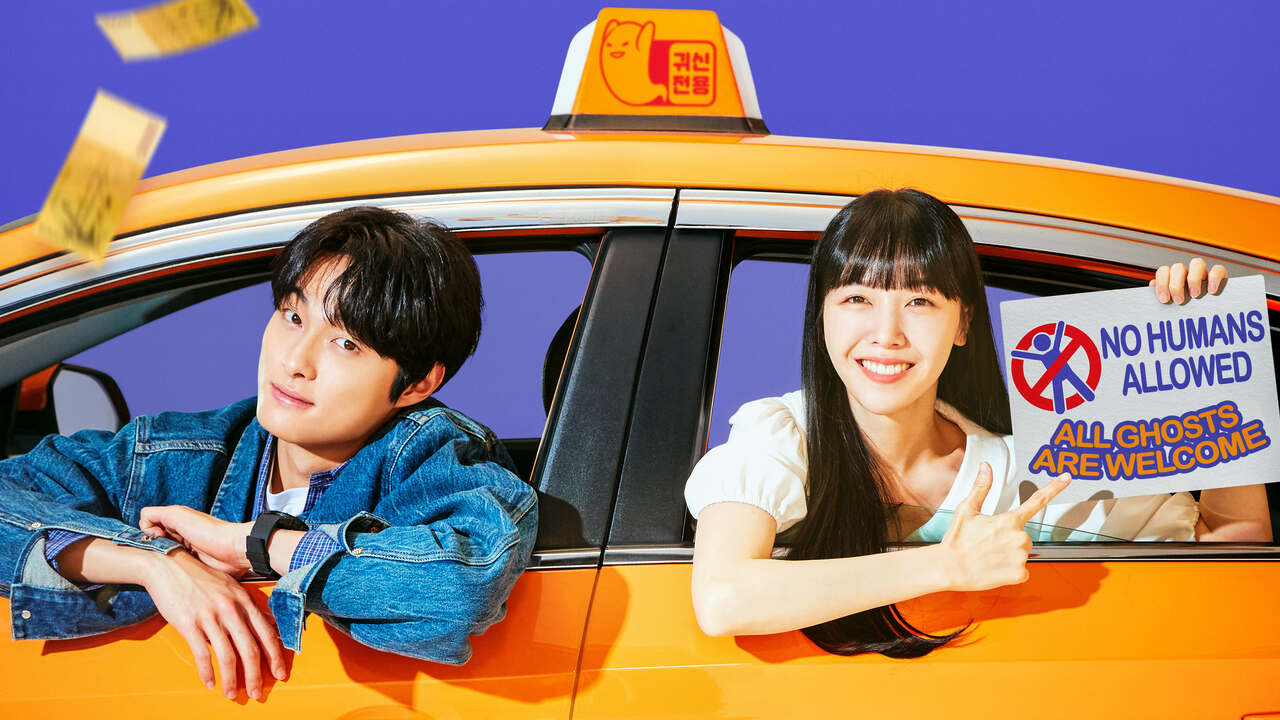 Delivery Man starts with Mr. Seo dropping off his customers at their requested locations. He used to be an aspiring Police Officer and hence is also seen helping a customer when he gets almost robbed. Mr. Seo lives with his grandmother who is often seen using English phrases like once she wanted her omelet sunny side up. The boy has to pay 20 million won if he wants to keep the house otherwise it'll be sold off in the auction. He has trouble thinking about where this amount of money will come from in a month.

In his cab, Mr. Seo finds a smartphone and when he turns that on, he sees a female ghost sitting in the backseat of the car. She was a real ghost and upon seeing her, he passes out and woke up the next morning. As soon as he wakes up, she's again there, unaware of the fact that she's a ghost and not a human being. The ghost is unable to get away from the taxi as she's attached to the phone lying in the cab.

Because of her presence in the car, Mr. Seo's business is going down. People feel cold or pain in their stomach and due to this, the man isn't able to get any customers. Mr. Seo even asks a shaman for help but, she turns out to be a fake. The driver now helps the ghost as they seem to be profitable. When they're not getting any customers to travel in his cab, they better be of some use. The first ghost whom he helped gave him a gold ring so, this is also a beneficial business.

The driver now imagines living a successful life and paying off all his debts. He soon realizes that Kang Ji-Hyun (the female ghost) was lying to him along with a new ghost that they found on the streets, mistaking him to be human. Mr. Seo helps this man, saves his wife from getting scammed, and also saves her life.

Mr. Seo's mother died in a hit-and-run case three months ago and the Police are still not able to find the culprit. Mysteriously, the ghost Kang Ji-Hyun has Mr. Seo's hairband on her wrists. As the ghost can not remember anything so, there's still no explanation for this part. Mr. Seo gave that hairband to his mother when he was in elementary school and his mother wouldn't have given that to Kang Ji-Hyun until she was important to her. They even had pictures together, of the ghost and his mother. This all has an explanation which will be revealed in later episodes.

The detectives are seen investigating Mr. Seo in his mother's case on the date of her death anniversary. It seemed absurd that they'll doubt her son. One detective is even seen following him around and taking pictures. Kim Jin Sook, Mr. Seo's mother seemed to be a friendly person and it's not understandable why even after three months the police haven't even found a single witness. It might be possible that Kang Ji-Hyun was responsible for Kim Jin Sook's death.

Kang Ji-Hyun's ghost is associated with the smartphone and hence, when it turns off she also disappears. Mr. Seo is seen running to places to find a charger and bringing her back from the darkness she was in when the phone was turned off. There's a scene in the third episode where a fellow driver, Eun Soo's mom goes missing. Her mother is seen suffering from a mental condition and follows a girl thinking of her to be Eun Soo.

In my opinion, many parts of Delivery Man feel like this story has already been shown in other series before. Delivery Man currently feels like a newer version of Hotel del Luna and bits of other Korean series. According to me, the story will be about Seo Young Min helping other ghosts to fulfill the purpose that was left incomplete during their lifetime, him falling in love with Kang Ji-Hyun, and then finally the ending will be sad as he'll have to be separated from her. Kang Ji-Hyun is related to her mother and when the truth will come forward, he'll be left heartbroken and she'll be left feeling guilty.

The cast includes Yoon Chan-young, Bang Min-ah, Kim Min-Seok, Choi Tae-Hwan, Lee Gyu-Hyeon, Ha Kyung, and Heo Ji-na. They've all been performing well and it is the mystery regarding Mr. Seo's mother and Kang Ji-Hyun that keeps us hooked to the screen. In each episode, Mr. Seo is seen helping various ghosts. Although he started this as a way to earn money, he now does it because he has a good heart.

The drama has mystery, humor, and a fun vibe which makes it even more interesting. I just hope that the story isn't as predictable as it seems right now because that would be boring and mean that the creators didn't have anything new to show. Let us not reach conclusions right now as there are many more episodes to come, and I hope that this series takes an interesting turn.

Final Score – [7/10]
Reviewed by - Riya Singh
Follow @_riyasinghhh_ on Twitter
Publisher at Midgard Times