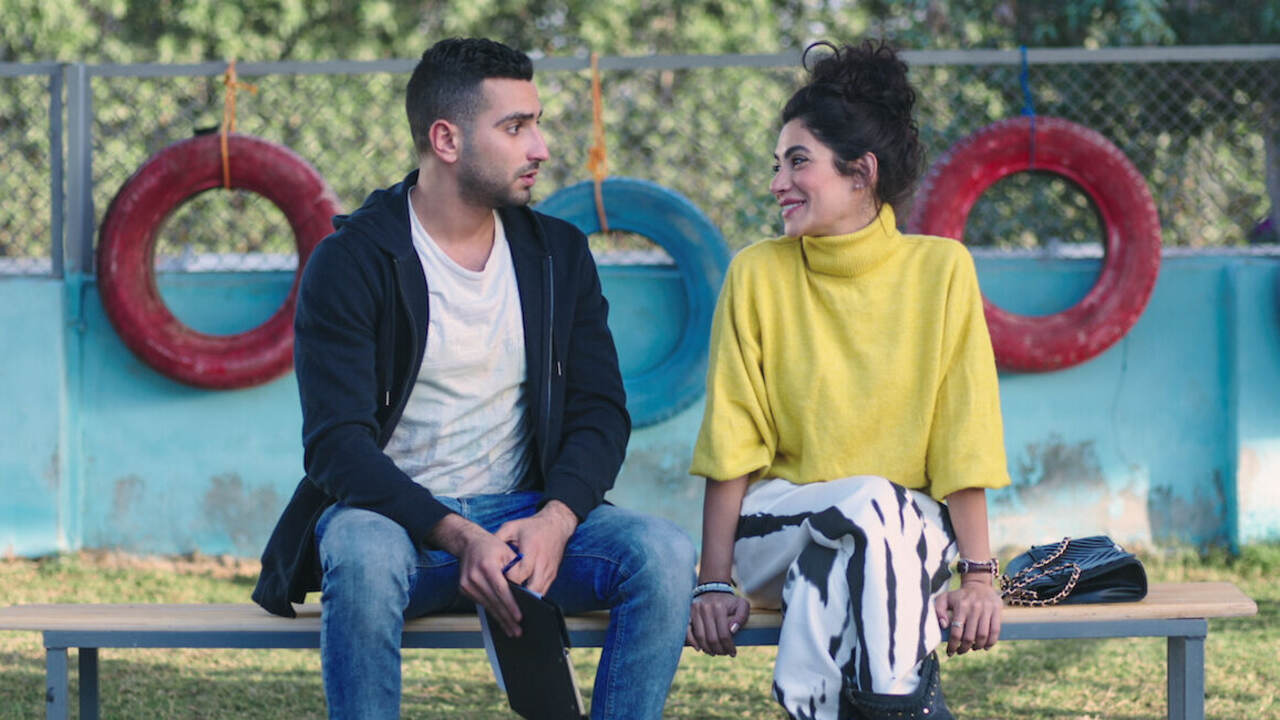 Different Experience is a 2021 movie, now released on Netflix. This movie has tried to explore different concepts and emotions the main character goes through and brings us a good meaningful story. The movie has a run time of 1 hour and 36 minutes, and it has comedy, drama, and romance as its genres.

Different Experience is a movie that shows us the different experiences the main character Nagy goes through. Nagy, who is fed up with his life due to the problems between his parents meets Salma and discovers a new way to live life. This is what the film is all about from the outside but we get to see more than this as we proceed with the movie.

Nagy (played by Egyptian actor Mohammad Al Sharnouby) initially is introduced to us as this dull human who is fed because of the fights between his parents. He feels they never understand his situation by being in the middle of all this, and neither does he understand why they were acting a certain way. The movie has tried to show the parent-child relationship in a broken household and how much a child gets affected even if he or she is an adult. The mental peace that Nagy yearns for in his house is shown very elegantly and makes us understand the importance of a healthy environment.

The film has focused on showing the experiences of Nagy as he deals with several situations and people. The movie does have slight comedy elements and romance. It does not fully depend on these genres though. The genres have a very light presence, and it is not at all prominent in the story the film has delivered to us. The story is more intense and actually can't hold much of the comedy elements.

Nagy's parents are played by actors – Mahmoud El Bezzawy and Dalal Abdel Aziz. Since this film is one of the last works of the actress Dalal Abdel Aziz, it is all the more special. Both actors have carried out their roles in a great way. They were able to bring the don't care attitude towards their child amidst their divorce and make us sympathize with Nagy throughout the film.

Another important role in the film is the character Salma who enters as a love interest in Nagy's dull and sad life. Salma has a very different life from Nagy's and she also views life differently. Of course, she is not just another careless/carefree character that we get to see. As the film reaches the end, we will see different sides of Salma and some of them even might come as a surprise to the viewers. Both Nagy and Salma even though has a rough start, soon get along and bring us a fun side of their character. But nothing is easy between them too, and we will get to know about all that after their story unfolds.

The film has a calm pace. There is a strange tranquillity in the film as well as enough drama that the characters bring in. When the initial parts of the film bring in both the calmness as well as the drama, the second half is mostly delivering drama.

The film does give us a good ending. Nagy's character gets developed in several ways from the start to the end of the film. We see him overcoming problems that he kept to himself and also see him trying to put himself above others. The development in his character speaks volumes about how a normal person might get through problems in his/her life. The film elegantly shows how people can affect our life both in a good and a bad way. Even though the film might seem too simple or not anything unusual, each scene gives us underlying messages about relationships we have with other humans and most importantly ourselves. This film might not seem exciting, but it is still worth a try!

Final Score – [7.5/10]
Reviewed by - Poornima Balsu
Follow @BalsuPoornima on Twitter
Publisher at Midgard Times