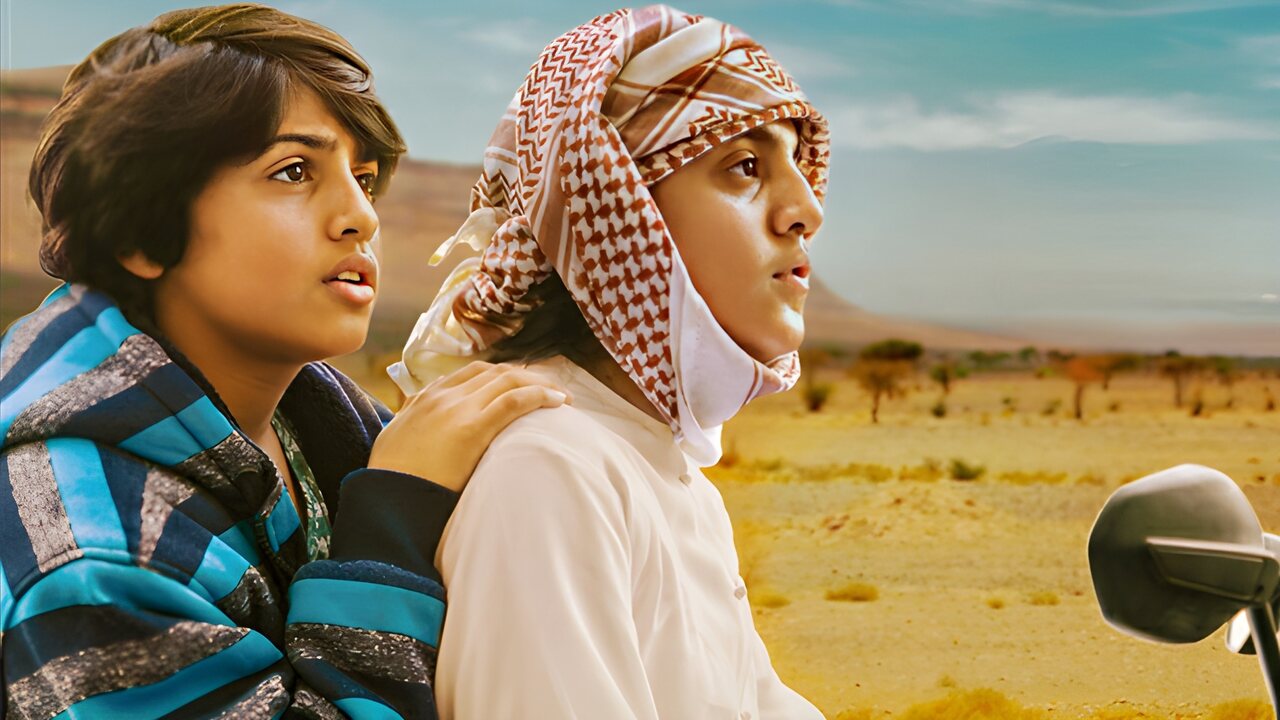 There is a scene in Saeed Salmeen Al-Murry's Going to Heaven where Sultan (Jumaa Ibrahim Al Zaabi) says he misses her mother and can only meet her in heaven. In response, his sister, Fatoum (Hoor Al Zarooni), cheerfully and with innocence, tells him to die. When Sultan's best friend, Saud (Ahmed Ibrahim Al Zaabi), rides his scooter at high speed and is advised to be careful, he says, "We are young; we won't die. Besides, God will take older people first." Death is in the air in Going to Heaven (I mean, just read the title). Characters talk about this topic casually as well as with seriousness. It's not just the humans who are seen through a mortal lens (like that old woman who is admitted to a hospital). Even animals - specifically fishes - die in the film (and go to heaven, if you consider the film's title).

Sultan is an eleven-year-old boy who is despised by his stepmother. I am not sure how close he is to his father, but at least he doesn't hate him like his stepmother. One day, when Fatoum informs Sultan that she saw their grandmother's photograph, Sultan becomes determined to find her and sets out on a road trip with Saud to Fujairah. On their way, they come across Uncle Mohammed (Abdullah Masood), who takes the young boys to their destination. When Saud initially lies to Mohammed, Sultan criticizes his behavior, telling him they will go to hell. Well, I wanted to ask Sultan where his righteousness was when he lied to his parents for the sake of this trip!

Anyway, apart from dealing with death and being a road trip movie, Going to Heaven is about establishing familial relationships with people who are not related to you by blood. Fatoum might not be Sultan's blood relative, but she cares for him with all her heart. She supports him physically (she holds the stool while he grabs a bag) and emotionally (she acts like a fish to cheer him up). On the other hand, Saud doubles up as an older brother. He behaves maturely, while Sultan reacts like a baby (he repetitively cries he wants to see his grandmother, even after losing her address). At one point, Saud gets tired of Sultan's stubbornness and almost decides to leave him alone in Fujairah. But it must be his brotherly instincts that stop him from abandoning his friend. Then there is Mohammed's mother, who becomes Sultan's grandmother.

Going to Heaven is at its best near the opening and closing scenes. It's the portions in the middle that are devoid of feelings. You can sense Salmeen Al-Murry laboring and stretching his film with ridiculous scenes. Did we really need to watch Sultan bury a fish? What else can you conclude from this moment other than the already-established fact that this boy really loves fish? Or what about the scene where Sultan screams for his grandmother in the desert? It's nothing but hokum that takes us out of the story and makes us aware of the fact that we are watching a movie. And when two boys harass Saud, you think the director has run out of ideas and is simply throwing clichés on the screen. And Salmeen Al-Murry doesn't achieve anything affecting by opening the movie with a scene that actually comes later into the story. Going to Heaven could have moved on a straight narrative line, and it would have still been as successful as it currently is. Meanwhile, the actors put their best foot forward, but their performances remain serviceable.

Alas, Going to Heaven is not as heavenly as Salmeen Al-Murry wanted it to be. This road trip has its share of pleasures. Nevertheless, it's also bumpy.

Final Score- [6/10]
Reviewed by - Vikas Yadav
Follow @vikasonorous on Twitter
Publisher at Midgard Times