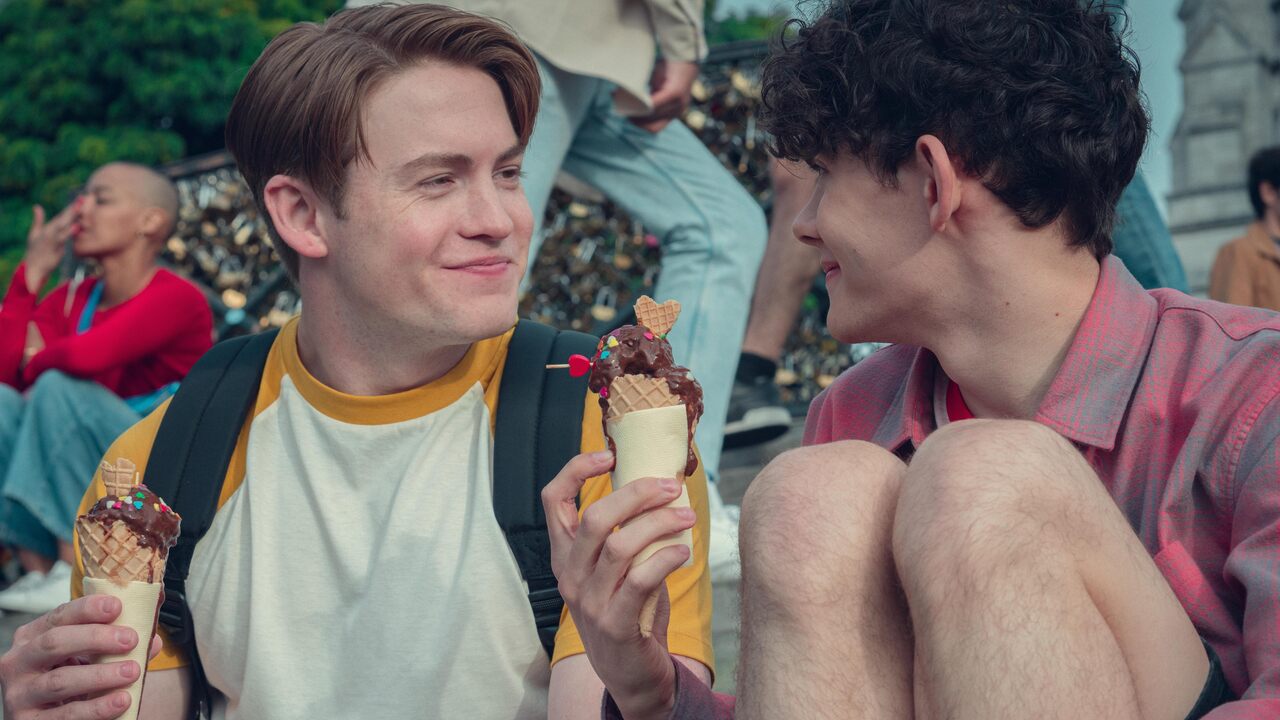 The third season of Heartstopper has officially begun filming this Monday in London, UK, Netflix officially confirmed with an image via their social media accounts. The development comes just a few days after the writer's strike reached a happy ending.

'Heartstopper' Season 3 will take around two months to complete the production. The third season is currently expected to wrap on 1st December 2023, until some unexpected delay happens. As usual, the complete filming will take place in London, UK.

Earlier, Netflix revealed the title of the first episode of the third season while also confirming that Nick and Charlie will be back. Heartstopper Season 3 Episode 1 is titled, "Love," written by Alice Oseman. Today Netflix revealed that the episode witch which the filming has begun, is directed by Andy Newbery. It's not confirmed whether it's the first or any other episode. We can expect 'Heartstopper' Season 3 to premiere around the same period next year as the second season released this year.

Below is the official announcement of Season 3 production by Netflix:

In the final episode of the second season, Nick comes out publicly via Instagram. Elle informs Tao that she is going to Lambert and accepts the proposal to become his girlfriend. Everyone is there for a school prom except Darcy, who later comes up and tells Tara about her family situation. Nick and Charlie's friends leave the prom to party at Nick's house. When Nick and Charlie remain, Nick inquires about his previous bullying experience, which Charlie shares and explains how it prompted him to self-harm. If something happens, Nick advises Charlie to always open up to him. Charlie hesitantly accepts before departing for home.

'Heartstopper' Season 2 was based on Volume 3 of Alice Oseman's beloved graphic novel series with some fresh content, but it is not clear regarding the story of the third season.

The second season cast includes Kit Connor, Joe Locke, Corinna Brown, Yasmin Finney, William Gao, Kizzy Edgell, Rhea Norwood, Sebastian Croft, Cormac Hyde-Corrin, Tobie Donovan, Jenny Walser, Leila Khan as Higgs student Sahar Zahid, Jack Barton as Nick's older brother David Nelson, Thibault de Montalembert as Nick's father, Nima Taleghani as Truham teacher Mr. Farouk, Bel Priestley as Naomi, Ash Self as Felix and Bradley Riches as Truham student James McEwan.

Alice Oseman is the creator of the series and has also written all the episodes based on her best-selling Graphic Novel of 2016.