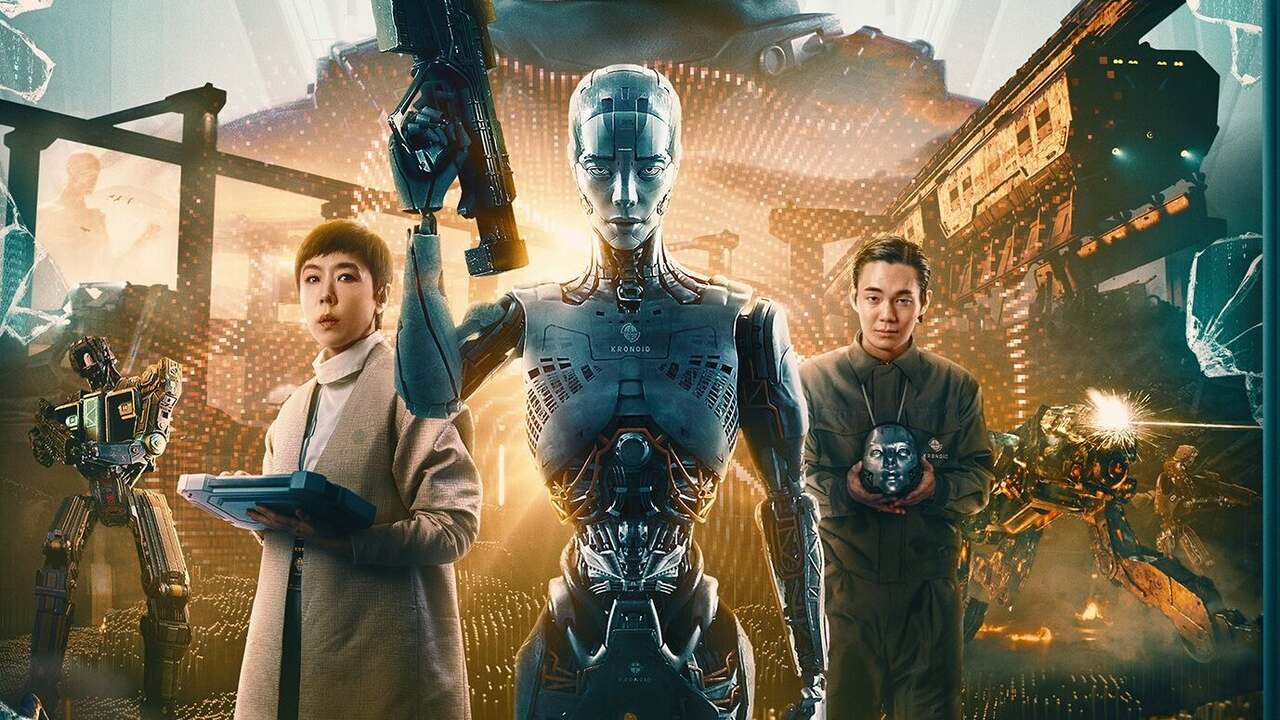 I can't say that the futuristic and dystopian world of Jung_E is inventive. It all looks derivative and only mildly interesting (one of the pleasures here is watching the robotic cops literally jumping into action). This is not a world that looks either inhabitable or expansive. When you see the trams and the buildings, you don't feel you can live in them. Everything looks fake, and you consider it a CGI product. One of the strengths of a great sci-fi film is that it immerses you in its setting. When I watched Blade Runner 2049 for the first time, I believed a society like that exists (for the duration of the film), and I was walking in it along with the protagonist. Jung_E, though, doesn't give you a similar feeling.

I mentioned Blade Runner not merely for comparison but because Jung_E is very much influenced by that sci-fi film. Remember the baseline test replicants took in Ridley Scott/Denis Villeneuve's movie? In Jung_E, we have the equivalent of that test, named the ethics test. And like Blade Runner, this movie, too, is concerned with the question, "What makes someone human? Can a robot who behaves like a human be considered a real human?" An android in Jung_E, unaware of his true identity, wonders if he has lost someone's trust.

If Blade Runner has replicants, Jung_E has AI robots implanted with the "brain" of humans. In this futuristic story, we have brain replication technology. After your death, you can opt to have your brain cloned and continue to live in the body of a robot. Yun Seo-hyun (Kang Soo-yeon; she passed away last year) is a team leader at Kronoid lab and is busy replicating the brain of her mother, Yun Jung-yi (Kim Hyun-Joo), to create a combat AI. This project, whose director is Kim Sang-hoon (Ryoo Kyung-Soo), is called Jung_E.

Yun is considered to be a celebrity. She was a famous fighter, and some think of her as a superhero. The corporate bodies use Yun's status to create toys. Since they have a license to use Yun's image as per their wishes, they also hire someone to create a sex robot bearing her anatomy. Meanwhile, Sang-hoon treats Yun for the benefit of his business. All Seo-hyun can do is watch while others exploit her mother's reputation. Consider Jung_E a superhero film where the focus is more on the superhero's child, who sees people around him treating his father (or mother) as a product.

The problem with Jung_E is that its philosophical musings and sci-fi aspects seem to be fodder for action sequences. The fights are well-choreographed, but they are less creative and more explosive. Amid the razzmatazz of the violence, the human drama becomes a mere footnote. Jung_E's heart is as tiny as the doll Yun receives from her daughter. And like Yun, the movie loses its grip on its heart and emotions, rendering tender scenes impersonal. If you want to watch Yeon Sang-ho's best work, take the Train to Busan.

Final Score- [5.5/10]
Reviewed by - Vikas Yadav
Follow @vikasonorous on Twitter
Publisher at Midgard Times