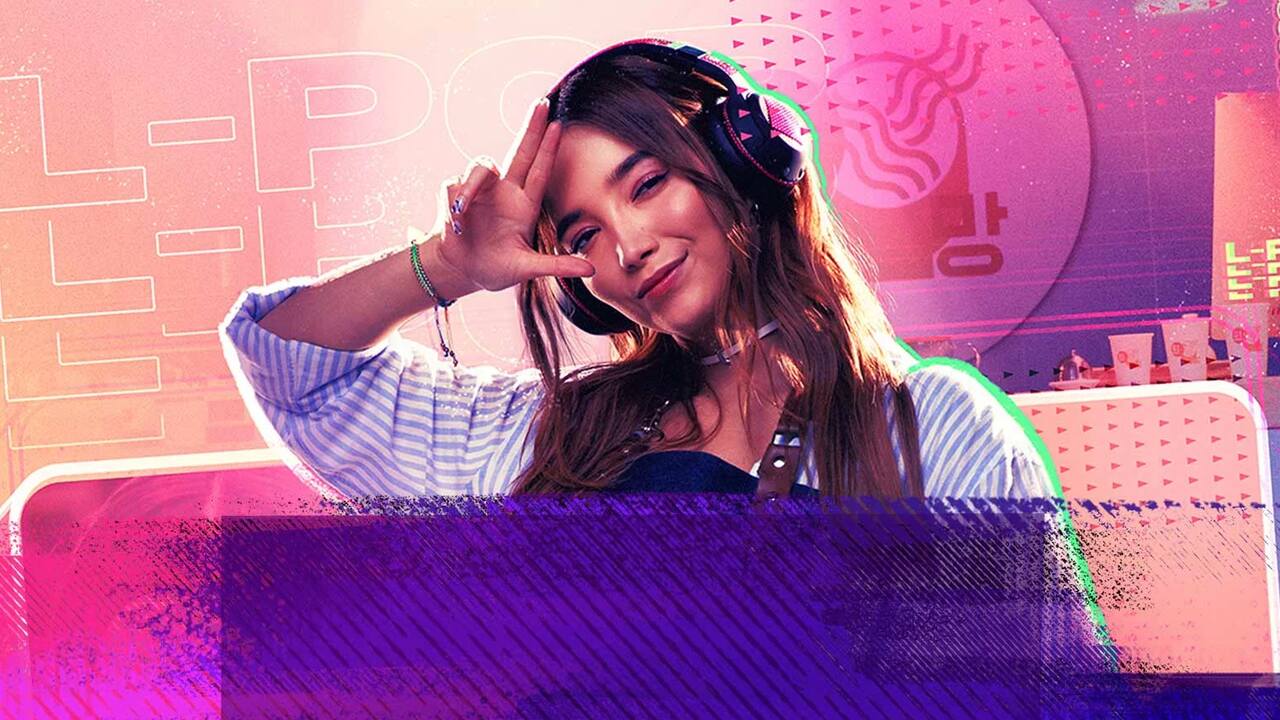 "L-Pop" hit Disney Plus screens in 2023 with the subtlety of a neon-colored meteor crash, and let's be real, it's a spectacle you can't quite look away from. This show is like that one rollercoaster your friends begged you to ride – exhilarating, occasionally nauseating, but ultimately worth the ride.

First things first, Andrea (played by Andrea de Alba) is an aspiring dancer and a K-pop enthusiast. Her journey unfolds with all the grace of a toddler attempting ballet, which is to say, hilariously endearing. She stumbles upon a dance contest with a prize as grand as the Great Wall of China, or in her case, a trip to Korea. So, what's the logical next step? Form a K-pop dance cover group, of course! Who hasn't dreamt of globe-trotting after watching a music video?

Andrea's motley crew of dance buddies includes Ji-Won (Isan Beomhyun Lee), Pau (Alicia Jaziz), and Hye-Jin (Ji Moon). Together, they embark on a musical adventure that seems like it's been fueled by pure, unadulterated caffeine. The chemistry among the cast is genuinely fun to watch, like a sugar rush at a carnival – it might not last forever, but it's a blast while it does.

Now, let's talk about the show's pace. "L-Pop" is as fast-paced as a squirrel on a caffeine binge, and you'll find yourself ping-ponging between scenes quicker than you can say "Gangnam Style." The characters are indeed colorful, but sometimes they feel like a box of crayons thrown into a tornado – you're not quite sure where they'll end up.

Andrea's journey, though, is the emotional backbone of this K-pop rollercoaster. Her relentless pursuit of dreams while dealing with parental expectations is a tale as old as, well, Disney itself. It's like watching a squirrel in a tornado trying to find its nuts – it's chaotic, but you're secretly rooting for it.

Now, let's address the elephant in the room. While "L-Pop" prides itself on diversity, it occasionally leans into stereotypes with the subtlety of a sledgehammer. Yes, we get it, cultural diversity is great, but it's like the show's creators are waving it in your face like a giant foam finger at a sports event. It's all a bit on the nose, but hey, subtlety isn't for everyone.

But let's not forget what's at the heart of "L-Pop" – the passion for music. Andrea's quest to form a K-pop dance group to win a music competition is relatable on a level that transcends language barriers. It's like watching a squirrel in a tornado fight for its favorite nut – it's oddly inspiring.

In conclusion, "L-Pop" is the kind of show you'd watch with a bowl of popcorn and a generous side of self-awareness. It's an explosion of color, energy, and enthusiasm that occasionally trips over its own neon shoelaces. But hey, isn't that what makes it entertaining?

So, buckle up, grab some snacks, and enjoy the wild ride that is "L-Pop." It's like trying to catch a squirrel in a tornado – you might not know where it's headed, but you'll have a darn good time trying to keep up.

Final Score- [7/10]
Reviewed by - Anjali Sharma
Follow @AnjaliS54769166 on Twitter
Publisher at Midgard Times