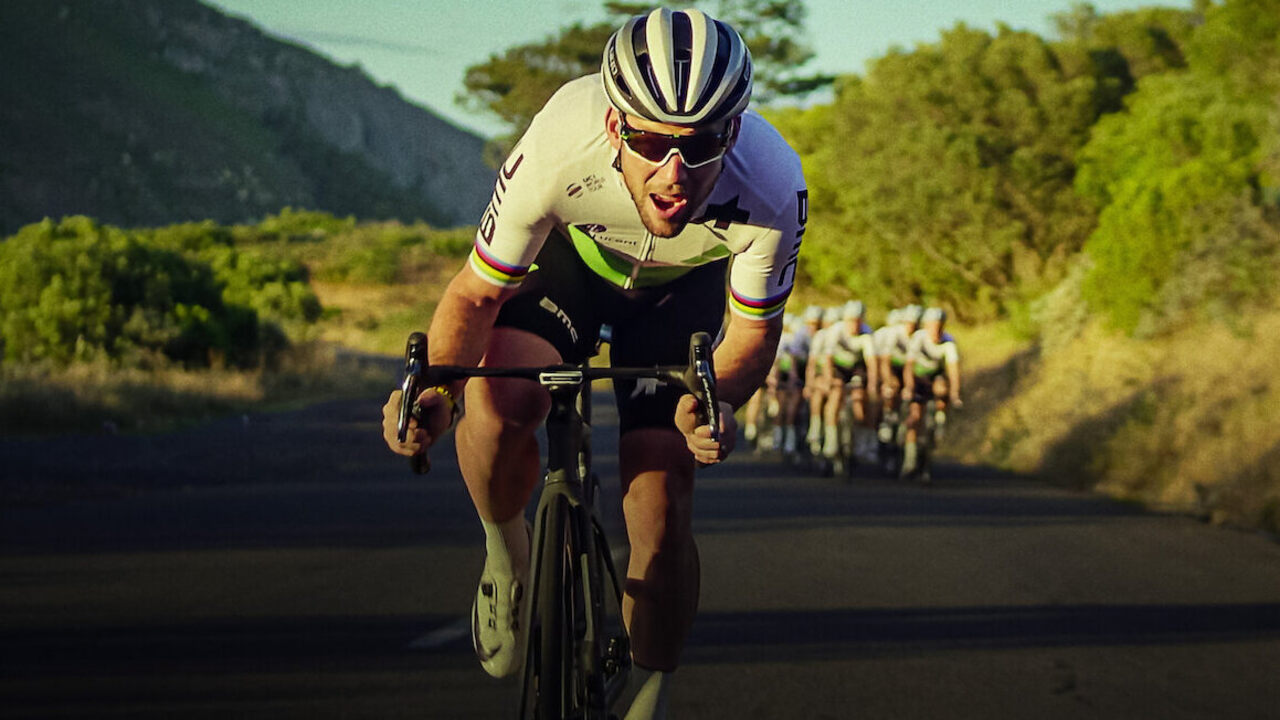 Mark Cavendish is one of the most successful and celebrated cyclists of all time. He has won 30 stages of the Tour de France, the most prestigious cycling race in the world, and has been crowned the world champion in 2011. He is also known for his charismatic personality, his fierce competitiveness, and his never-ending hunger for victory.

But behind the glory and the fame, there is a darker side to his story. A story of injuries, illnesses, depression, and self-doubt that threatened to end his career and his life. A story of how he fought back from the brink of despair and rediscovered his love for cycling and himself.

The film is divided into four parts The first one is called 'The Dream' The film begins with Cavendish's childhood on the Isle of Man, where he developed a passion for cycling.
The second part 'The Glory' then follows Cavendish's meteoric rise to fame and success in the cycling world. He recounts how he joined the British Cycling Academy and how he met his mentor Rod Ellingworth. He also shares his memories of winning his first Tour de France stage in 2008, becoming the world champion in 2011, and dominating the sprinting scene for years.

The third part The Fall then shifts to Cavendish's downfall, which began in 2014. He reveals how he suffered a series of injuries that hampered his performance and forced him to withdraw from several races. He also opens up about his battle with Epstein-Barr virus, a chronic infection that caused him fatigue, fever, and depression. He admits that he lost his motivation and self-esteem and that he contemplated suicide at one point.

In the last part 'The Comeback' The film finally shows Cavendish's remarkable comeback in 2021, when he defied all odds and expectations and returned to the Tour de France after a three-year absence. He describes how he regained his health and happiness with the help of his wife Peta, his children, his friends, and his new team Deceuninck-QuickStep. He also expresses his gratitude and joy for winning four stages of the Tour de France, equaling the record of 34 stage wins held by Eddy Merckx.

The film showcases Cavendish's talent, charisma, determination, and vulnerability in an honest and respectful way in an inspirational way that touched me. For example, the film shows how Cavendish deals with his ADHD and dyslexia, how he expresses his emotions on and off the bike, how he motivates himself and others, and how he copes with his setbacks and failures.

I felt that The film is a powerful testament to the human spirit and its ability to overcome adversity and pursue its dreams. For example, the film illustrates how Cavendish overcame his physical and mental challenges, such as his injuries, his illnesses, his depression, and his doubts. The film also demonstrates how Cavendish pursued his passion for cycling despite all the obstacles and critics.

The film features candid interviews which I felt should be included in all films of the same type with Cavendish and other key figures in his life who provide valuable insights into his personality and career. For example, the film includes interviews with Cavendish's wife Peta, who shares her perspective on their relationship and their family life; Cavendish's mentor Rod Ellingworth, who explains how he helped Cavendish develop as a cyclist; Cavendish's teammate Julian Alaphilippe, and many more

The film just touches on and avoids some of the events or details that might be relevant or interesting to Cavendish's career, such as his participation in other races besides the Tour de France, his involvement in other sports besides cycling, or his hobbies or interests outside cycling.

The film also does not address some of the questions or doubts that I had about Cavendish's comeback in 2021, such as whether he benefited from favorable circumstances, whether he used performance-enhancing substances, or whether he deserved to equal Merckx's record.

Mark Cavendish: Never Enough is a must-watch for any fan of cycling or sports in general. It is a tribute to Mark Cavendish, who proved that he is not only one of the fastest cyclists in history but also one of the most resilient.

Final Score – [7/10]
Reviewed by - Arpita Mondal
Follow @ArpitaMond33387 on Twitter
Publisher at Midgard Times