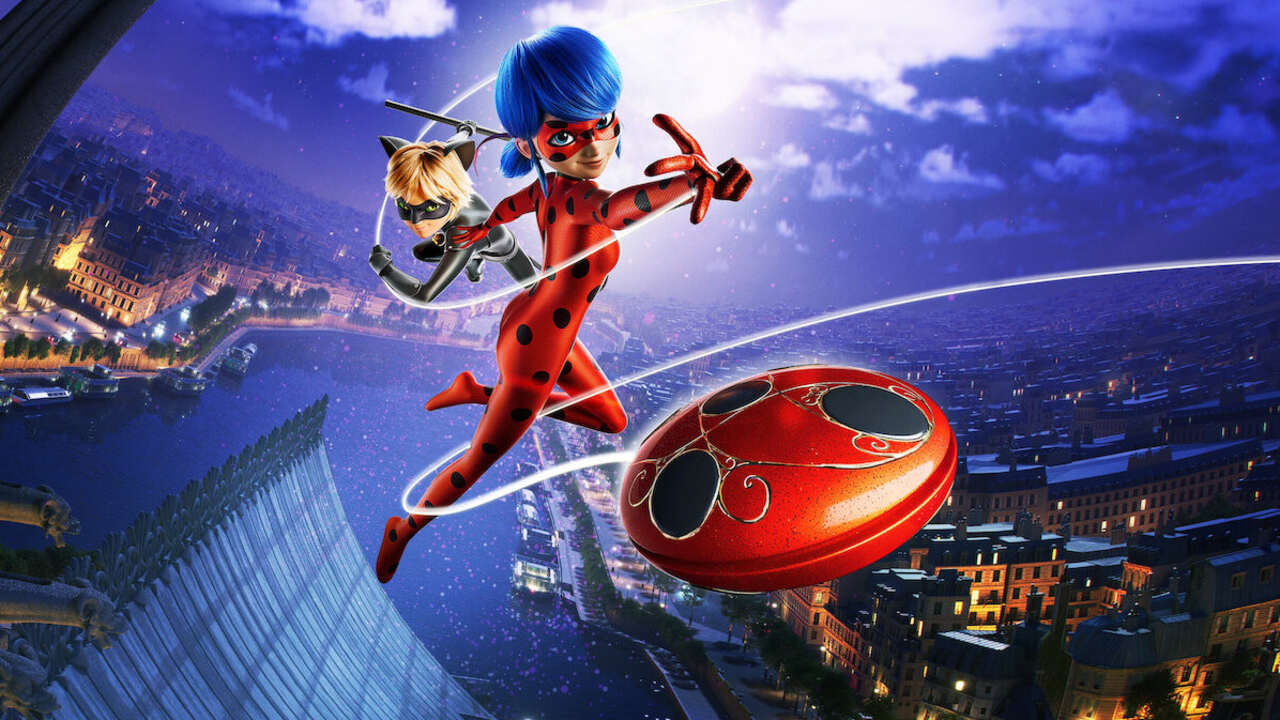 Miraculous: Ladybug & Cat Noir, The Movie is about Marinette, Adrien, and the city of Paris which is constantly under threat due to a villain. The movie starts with Master Fu telling us about the two magical artifacts possessed by him. To combat a villain, the magical gems will be given to two good souls.

Marinette is a shy girl who doesn't have many friends. She wants to believe in herself and have confidence in the things she does. People call her clumsy not knowing that it is her lack of confidence due to which she acts in that way. One day, she saves an old man who was Master Fu. Amused by the girl's pure heart, he gives Ladybug to her. Adrien was also left the ring of Cat Noir by a black cat in his room.

When the time comes, these two local superheroes fight against the mance created by Hawkmoth, who was in reality Gabriel (Adrien's father). He wanted to resurrect his dead wife and to achieve the same, he chose a dark path. The movie is filled with Hawkmoth's mischief. I wish more light was thrown on his personal life, the character was rather neglected. Good character development was required even in the case of Adrien. He was shown to be a lonely boy however, his emotional side wasn't discussed much.

The idea of two school-going children falling in love and saving the whole town of Paris was a little too much for me to digest. Looking at them, they didn't seem more than 10-12 years old. Hence, a love story between them too seemed like a forced affair. At such young age, they were given the duty to save an entire town. It hurt me to watch a son going against his father. Also, if a love story was being shown, the writers could have at least given them ample time to develop affection for each other. Things seem rushed, whether it be the love story or the villain's revenge plan.

Speaking of the animation, visuals, and songs, they all were great. The only thing that could have been done better was the plot instead of this age group, they could have been shown as around 20 years old. The villain too was around 30 to 35 years old hence, the hero should at least be 20 years old. It doesn't make any sense for these young kids to be tortured with a responsibility like this.

I don't think that the audience will like this musical animated film. The songs are beautiful, but apart from some, they seem to be a misfit. I can not expect such young children to go through an identity crisis as Marinette did. Come on, who feels that they are shy at such a tender age? Thoughts like these start to come in one's teens or early twenties. The animators have done their job, and I wish that the writers could have polished their work.

Final Score – [5/10]
Reviewed by - Riya Singh
Follow @_riyasinghhh_ on Twitter
Publisher at Midgard Times