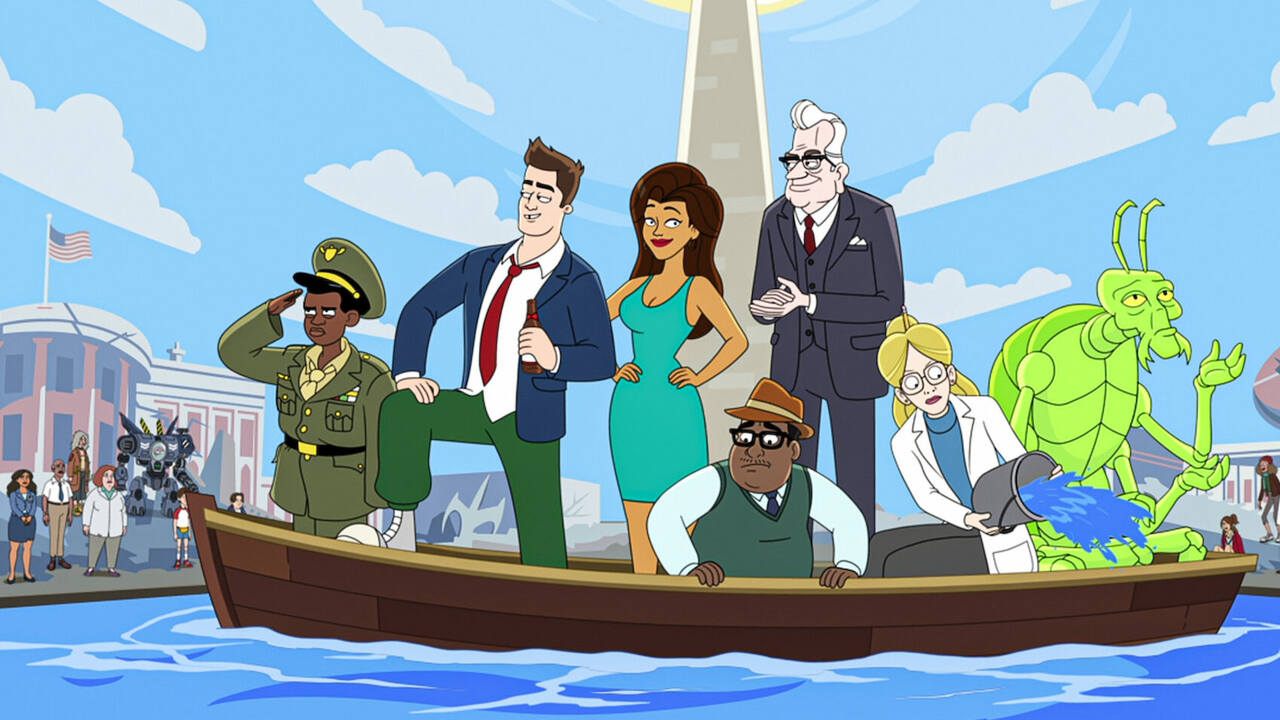 Mulligan is a Netflix Original Animation that is currently streaming. It features actors such as Daniel Radcliffe, Tina Fey, Nat Faxon, and Phil LaMarr among other talents. To say that this show has a star-studded cast would be an understatement. The same can also be said about its creative team though, with the likes of Casey Crowe (Regular Show fame) directing and Sam Means (Parks and Recreating fame) & Robert Carlock (friends fame) writing. Which comes to show that just having an outstanding creative team along with a well-respected voice cast doesn't mean that a show can be good.

Mulligan is about Matty Mulligan (voiced by Nat Faxon) who when found himself at a pivotal moment to save humanity by throwing a grenade into the alien ship that had invaded Earth, seized it, and annihilated them (barring one alien). This saved Earth and led to him being announced President while his then-date Lucy Suwan (voiced by Chrissy Teigen) became the first lady. What ensues when this bonehead of a man is made president with just a thousand people remaining on Earth, all while his Vice President (who is named Senator Cartwright LaMarr and is voiced by Dana Carvey) plans to establish a new world order of his design is what the show is about. There is a wild cast of characters which includes the smartest person left on the planet, Dr. Farrah Braun (Tina Fey), a literal child pretending to be an army General (since he wears the uniform which he finds on the corpse of the actual army general) among others.

The premise isn't something I've seen before (surprisingly) since something similar does happen in a video game called Saints Row 4. Aliens attack, and a weirdo guy defeats the aliens and is therefore announced, as president. Only in the game, he doesn't defeat the aliens and is in a simulation the whole time. I wish that were the case for Mulligan too because maybe then it would be more entertaining (and funny). The biggest problem with this show is that it just isn't really that funny, it has jokes and some of them work from time to time but it just isn't really a show that tickles your funny bone well or even leaves you emotionally restless, Netflix has produced good animated shows before, look no further than Bojack Horseman. A show that is funny and grim with very smart writing. This show lacks it all, it feels like it is set inside the television on those Grand Theft Auto games.

The show has Mulligan and his troops, which includes the rest of the characters including the one left behind alien (who is the star of the show honestly), trying to deal with problems ranging from disguised global issues like climate change to gender equality. It isn't a veiled political drama, it is an honest open one but just because it is honest and open doesn't necessarily mean that it is anything new or fun. It feels very bland to be quite honest.

Artistically, the show suffers from "Poor American Design" A phrase I use when I see really ugly-looking animation produced by American studios. I don't understand why it always looks so unappealing but it does. This, Big Mouth, and Inside Jobs all have art styles that don't suit my palate. They seem just so mediocre and bland. When compared to shows like Bojack Horseman or Midnight Gospel which have gorgeous and memorable character designs and art style, this show falls flat.

The episodes are passable, it isn't all bad, they provide a morsel of jokes that land and character moments that work (mostly just Axatrax the Alien, Dr. Farrah, and Lucy carrying the show). The social issues brought up and discussed in a satirical way are fairly involving enough for you to watch but it just doesn't really create anything special. From a distance, I felt the show looked like a poor man's Rick and Morty because I assumed it would deal more with the aliens, but upon closer inspection, the show tries to be a political introspective with Cartwright representing the allegedly evil white man. There are specific occurrences in the show, for example when there is a stench engulfing the city due to land pollution, Mulligan tries to spin it into a good thing. How? Just like how politicians try to spin bad things into good things. It is a parallel that exists but it isn't far too complex or entertaining, to be frank.

It isn't as bad however as I make it sound, the show gets better towards the last episodes, but by then I think nobody would still be tuned into it. This could've been a better show if they had made it a little more serious maybe. It is crudely mediocre and I didn't enjoy it that much. The saving grace are the characters of Avatrax and Dr. Farrah at times. Other than that it will probably just be another one of the Netflix Animated shows that Netflix drops after the second season (if there is a second season).

Final Score – [5.5/10]
Reviewed by - Aayush Chaurasia
Follow @AayushC44 on Twitter
Publisher at Midgard Times